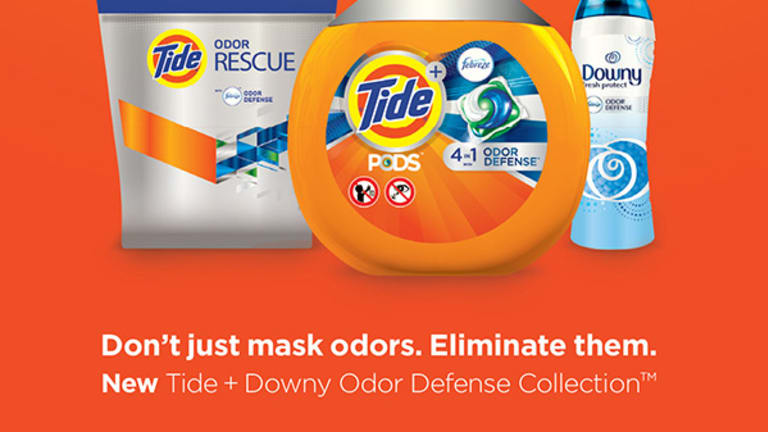 Procter & Gamble Thinks Your Workout Clothes Stink
The consumer products giant sees an opportunity to target the fast-growing athleisure apparel market with a new suite of products.
In a bid to freshen up sluggish demand within its important fabric care segment, consumer products giant Procter & Gamble (PG) - Get Procter & Gamble Company Report will launch a new suite of products in April that target the growing "athleisure" apparel market.
Athleisure apparel, which can be worn for a workout but is also comfortable and stylish enough to be worn all day long, has become a big trend in consumer fashion.  
P&G's multi-pack product, called the Tide + Downy Odor Defense Collection, will consist of three products that are supposed to remove odors that embed themselves in the synthetic and stretch materials that make up today's athletic apparel. So, rejoice wearers of Lululemon (LULU) - Get Lululemon Athletica Inc Report yoga pants and Under Armour (UA) - Get Under Armour, Inc. Class C Report compression shirts. 
P&G says that Tide pods, the newly developed product in the pack, remove residue and surface stains from clothing. Tide Odor Rescue with Febreeze Odor Defense is an in-wash enhancer that is designed to remove dirt and odors trapped deep in the fibers of athleisure gear, provided it's used with the Tide pods and a third product -- Downy Fresh Protect beads that "seal in" freshness, per the company's marketing.
P&G hopes the suite of products prevent what is known as "rebloom," which is when clean workout clothes start smelling bad moments after they are put on. The reason? Typical detergents tend to not deeply clean synthetic materials, according to P&G.
The packs will be available at mass merchants, but not retailers such as Macy's (M) - Get Macy's Inc Report and Dick's Sporting Goods (DKS) - Get Dick's Sporting Goods, Inc. Report that sell athletic apparel, according to the company. P&G intends to market the cleaning system on TV, digital and direct to consumer.
"We are seeing the sports apparel market growing, and that poses some challenges to the fabric care market," said P&G spokeswoman Tracey Long to TheStreet, adding that the high synthetic count and stretch material inherent to athleisure apparel tends to trap odors. Long added, "more laundry loads are being done with sports apparel than for basic denim."
A good number of people are wearing athletic pants and tight-fitting, yet stylish athletic shirts each day. Hence, P&G sees an opportunity worth exploiting.
According a recent study by P&G, nearly three out of four consumers (71%) consider active-inspired clothes as part of their "normal" everyday clothes. Moreover, P&G found that people are wearing active-inspired attire to run errands (56%), to travel (47%), to go shopping (41%) and even when going out to dinner (16%).
And the trend toward athleisure is unlikely to abate anytime soon. According to research firm Allied Market Research, the global sports apparel market is expected to generate revenue of $184.6 billion by 2020, growing at a compound annual growth rate (CAGR) of 4.3% from 2015 to 2020. That is a lot of clothes made with synthetic and stretch material that will need to be cleaned.
P&G's latest bit of product innovation can only help its fabric and home care segment, its largest single segment which includes brands such as Tide, Ariel and Downy but which has been hurt by competitive activity. The business represented about 30% of P&G's net sales and 25% of net earnings for the fiscal year ended June 30, 2015.
Organic volume, which strips out the effect of acquisitions and is a good measure of consumer demand, was unchanged year over year during the second quarter ended Dec. 31. In the first fiscal quarter, organic volume dropped 2% for the fabric care segment. 
"Fabric care is always a competitive space, but we will continue to innovate," said Long.