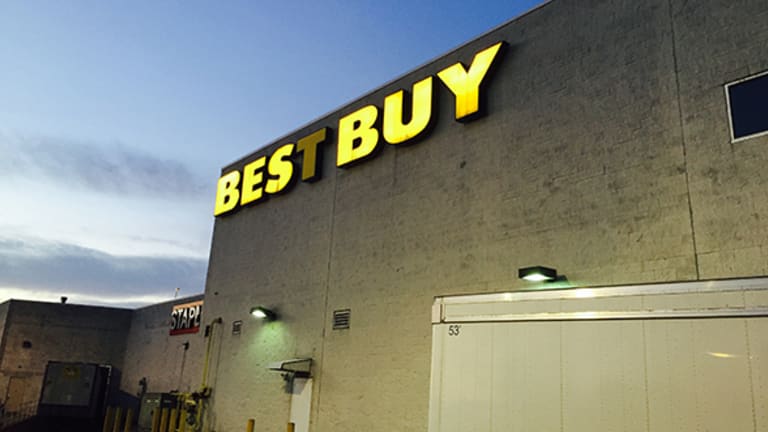 Publish date:
Problems Mounting for Best Buy Despite Earnings Beat
Best Buy reported better-than-expected fourth quarter earnings, but several glaring problems were apparent in the latest report.
Best Buy reported better-than-expected fourth quarter earnings, but several glaring problems were apparent in the latest report.
The problems for Best Buy (BBY) - Get Best Buy Co., Inc. Report are quietly mounting.
On Thursday, the electronics retailer reported earnings adjusted for one-time items of $1.53 a share, beating Wall Street forecasts for $1.39 a share. The company's bottom line was juiced by two factors. First, the company continued to benefit from a cost-cutting program unveiled in 2012 called "Renew Blue." Last year, Best Buy's costs of goods sold fell a whopping $958 million year over year, $510 million in the fourth quarter alone, providing a nice cushion to profits.

Also offering a cushion to profits? Gobs of share repurchases.
In FY16, the company achieved what was a three-year goal set forth on March 2015 to repurchase $1 billion of its stock. Best Buy repurchased 32.8 million shares for a total of $1 billion last year, of which 21.5 million shares, or $615 million, were repurchased in the fourth quarter. And the share repurchases won't be stopping anytime soon: execs outlined today a new $1 billion in share repurchases to take place over the next two years.
But, Best Buy's top exec may have said it all about the near-term issues the company is poised to face. "In the short-term, we will be characterized by our strong cash-flow-generating capabilities and our intent to regularly return excess free cash flow to shareholders," said Best Buy's chairman and CEO Hubert Joly in a statement.
That's not exactly a ringing endorsement for a business that badly needs to start growing revenue -- after all, there are only so many costs a company can cut to make an earnings number.
Shares of Best Buy initially fell about 3% in pre-market trading on Tuesday, but subsequently recovered and are up slightly.
TheStreet takes a look at three of the most glaring problems Best Buy exposed with its latest results.
1. Online sales badly lagged Amazon.
Best Buy has worked hard under Joly to upgrade its online shopping experience. For instance, it has made it faster to checkout and has allowed inventory sitting in a store to be shipped to an online shopper. Yet, despite its efforts digitally Best Buy continued to lag its chief online foe Amazon (AMZN) - Get Amazon.com, Inc. Report last year.
Best Buy's domestic online sales for the fourth quarter rose 13.7% year over year, and were up 13.5% for all of 2015. Meantime, Amazon saw its fourth quarter and full year North America sales rise 24% and 25%, respectively. As a real kick to Best Buy's face? Amazon's sales of electronics and general merchandise increased 28% in the fourth quarter, about two times the rate of growth delivered by Best Buy.
2. Profit margins are quietly under siege.
Best Buy's fourth quarter gross margin improved to 21.6% from 21.2% a year earlier. The company pointed out that it benefited from a "65-basis point impact from a periodic profit sharing payment based on the performance of the company's externally managed extended service plan portfolio and improved rates in the mobile and computing categories primarily, driven by our more disciplined promotional strategy." Whatever that means.
The more pressing issue at hand was profit margin pressure in the important items Best Buy needs to make money on during its critical holiday season.
According to Best Buy, its profit margins were hurt in the holiday season by selling more lower-margin wearable devices and fewer higher-margin digital imaging products, as well as declining prices for TVs. Best Buy also made an investment in offering better prices on its services such as computer repairs and home installation that apparently didn't pan out -- comparable store sales for services fell 11.9% in the quarter. For the year, same-store sales of service declined 11.4%.
3. Sales remain under pressure.
On Jan. 14, Best Buy said its U.S. same-store sales for the nine-weeks ended Jan. 2 fell 1.2%. The sales trend didn't get any better the remainder of the month. Fourth quarter domestic same store sales ended up declining 1.7%.
And based on Best Buy's first quarter outlook, sales still haven't stabilized.
Best Buy expects total revenue in the first quarter to decline 2.4% to 3.6% year over year. Same-store sales are seen down 1% to 2%. Underscoring the profit margin pressure on many of its products, Best Buy forecast first quarter earnings of 31 cents a share to 35 cents a share. A year ago, earnings came in at 37 cents a share.
For the year, Best Buy anticipates "flat" revenue and "flattish" operating income growth.
"From a financial perspective for fiscal 2017, based on current industry dynamics and how we see the various product cycles playing out in our domestic business, we are expecting revenue declines in the first half followed by growth in the back half," said Best Buy executive vice president and CFO Sharon McCollam in a statement.
With respect to the first quarter, McCollam added, "in the domestic business, we believe that the softness that we saw in the NPD-tracked categories and mobile phones will continue."