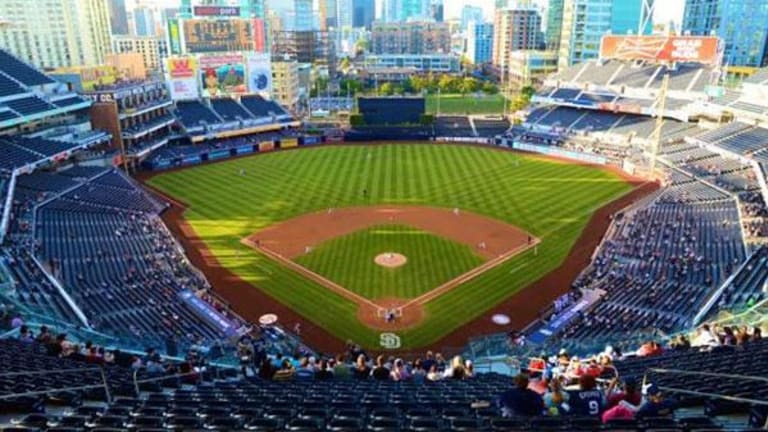 Prices for 2016 MLB All-Star Game Tickets Dropping on Resale Market
MLB All-Star Game ticket prices are plummeting in the days leading up to the first pitch.
Planning a late trip to the2016 MLB All-Star Game? It's probably best to hold off as long as possible or grab tickets in the next few hours.
According to online aggregator TiqIQ, prices for the 87th edition of the All-Star Game have plummeted since both league rosters were announced last Tuesday night. The average resale price for 2016 All-Star Game tickets is now $506.23. That marks a 36% drop from last week, when tickets averaged $790.42 Tuesday afternoon.
A number of factors may be contributing to the dip. First of all, is fatigue: Southern California cities have held the MLB All-Star Game six times over the last 40 years, more than any other North American region. Secondly, there is a shortage of hometown heroes (first baseman Wil Myers will be the struggling San Diego Padres' lone representative). Finally, there have been a number of roster scratches due to injury.
Still, the get-in price has remained about the same. The cheapest ticket is currently listed at $238 in Section 321, which is in the upper deck along the right field line. That is up $7 from last Thursday, when tickets started at $231 for a nearby section.
Too expensive? The more-affordable Home Run Derby, which starts this evening at 8 p.m. ET, was a cheaper option. The three-round tournament features eight of baseball's most powerful sluggers in a three-round tournament. 
If you're going to watch on television, the Baltimore Orioles' Mark Trumbo, whose 28 home runs lead the league, is the top seed in the contest. Last year's Derby winner Todd Frazier of the Chicago White Sox is the second seed. He has 25 home runs. Cincinnati's Adam Duvall, Seattle's Robinson Cano, Florida's Giancarlo Stanton, San Diego's Myers, Colorado's Carlos Gonzalez and the Los Angeles Dodgers' Corey Seager will also compete.
There will be no shortage of star power on Tuesday night. Four Boston Red Sox players will start for the American League, including designated hitter David Ortiz, a likely hall of fame inductee who is playing his last season. Ortiz has over 500 career home runs. 
The starting pitcher could be Chris Sale of the White Sox, Steven Wright of the Red Sox or Cole Hamels of the Texas Rangers.
Five of the Central Division-leading Chicago Cubs will start. The starting pitcher will likely be Johnny Cueto of the Western Division-leading San Francisco Giants or Florida's Jose Fernandez.
This article is commentary by an independent contributor. At the time of publication, the author held TK positions in the stocks mentioned.