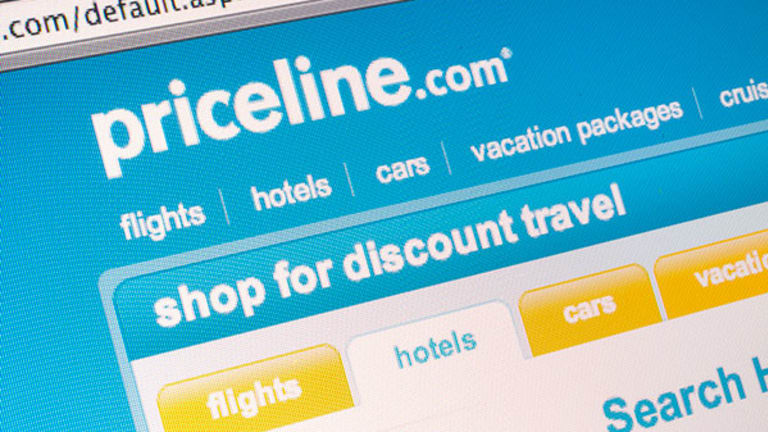 Priceline Stock Too Pricey When Compared to Expedia
Priceline may not be able to sustain its current strong performance in the quarters ahead.
Finding cheap airfare or great online travel deals is often one click away. It's an industry pioneered by Priceline Group.undefined . But there's nothing cheap about Priceline stock today, which -- at around $1,472 -- is priced at 32 times trailing earnings, or 11 points higher than the S&P 500undefined index. In addition, its stock is priced at twice the average P/E of its peer group (P/E 16), according to Yahoo! Finance.
Headquartered in Norwalk, Conn., Priceline reports third-quarter earnings before the opening bell Monday. Beyond its pricey stock, investors are also risking 30% year-to-date stock gains, including a share price that has soared almost 35% in the past twelve months, crushing the rest of the market. But its solid execution, which has resulted in double-digit, earnings-per-share growth, is not likely to be duplicated in the quarters and years ahead.
Consider, even based on forward 2015 consensus estimates of $57.09 a share, PCLN stock is still priced at 25 times those estimates, against a forward P/E of 17 for the S&P 500. So where's the value? Sure, the stock still has a consensus buy rating, but its average analyst 12-month price target of $1,500 implies just 2% gains from current levels. Not to mention, Priceline pays no dividend. It would seem there's more implied risk in holding these shares than any potential reward.
By contrast, shares of Expedia (EXPE) - Get Free Report are priced at a P/E of 21 -- in line with the rest of the market. Expedia, which pays a dividend yield of 0.74%, is projected to grow its five-year earnings at the same average annual rate of 18% as Priceline. (Expedia's numbers will surely change, however, as the company announced this week it is buyingHomeAway (AWAY) for $3.9 billion). 
Expedia currently outperforms Priceline in quarterly revenue growth (11% vs. 7%). This is important to note when comparing their price-to-sales ratio of 2.7 for Expedia, compared to almost 8 for Priceline.
From my vantage point, Priceline -- the king of online deals -- doesn't look like a great deal today, given these comparison to Expedia. Sure, Priceline has benefited from stringent cost-controls, which has boosted its profits. But the stock has been rewarded for these improvements. And it's now time to seek value elsewhere.
This article is commentary by an independent contributor. At the time of publication, the author held no positions in the stocks mentioned.