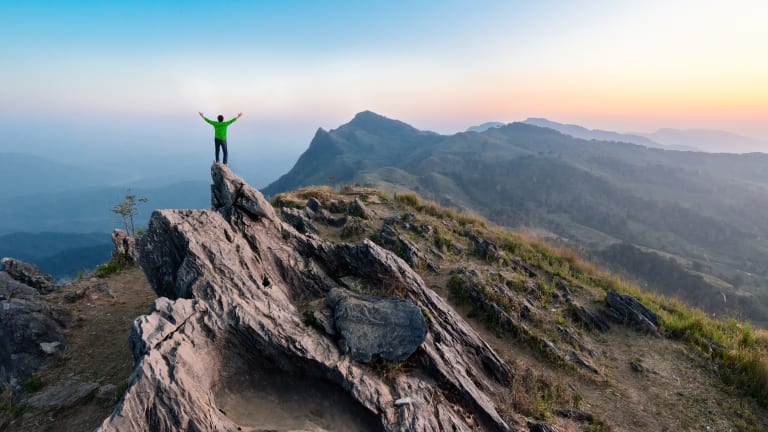 The Stock Market Isn't Stupid High: Market Recon
Many decisions are made by either artificial intelligence, or mathematical formulas. Here's what that might meant for the stock market.
"Men fail much oftener from want of perseverance than from want of talent." -- William Cobbett
Bringin' It
Last week, earnings season finally got underway, after what seemed like an eternity. I know that this sentiment is ridiculous. The job just seems easier, at least to this guy, when we are both reacting to and preparing for quarterly earnings releases, than when we traipse through the weeks in between. We've heard from some heavyweights in the banking sector. For the most part, they all beat EPS expectations. There were some misses on revenue. Book value showed some growth. All in all, the numbers were for the better. Profits were still taken across the group, which is not really all that surprising. This group is more reliant upon forward-looking expectations for policy than might be some others. This week, we will hear from 59 more firms that currently reside within the S&P 500. That will more than triple the aggregate total of such firms that have reported their third-quarter data.
Human Response
By definition, economics is the branch of knowledge of, or the social science that is concerned with, the production, consumption and transfer of wealth. That sounds a bit clinical for me. Economics, and by extension price discovery, when you boil down to it, are both quite simply put, the study of human response to conditions of scarcity and surplus. Micro or macro, it's all about the human response. All of the complexity, such as policy, are input laid out in an effort to herd the masses toward desired results. The desire of whom? How does it feel to be thought of as sheep? We now live in a world where many decisions are made by either artificial intelligence, or mathematical formulas such as algorithms designed to work faster and far more efficiently than humans ever could. But even then, that driver is still both the cause and effect of human response to changing market conditions.
Let's return to price discovery. That is what matters to this crowd. True, day-to-day price discovery at the point of sale has been perverted. I don't think anyone will argue that marketplace transparency has diminished greatly since the glory days of open outcry at a centralized location. What those who had the power to tilt the marketplace as well as market models to their liking have less control over is market trajectory. Where the markets go over time is still the result of human response to already mentioned conditions of surplus and scarcity. The pillars of such response would be currency valuations and interest rate expectations. This is where monetary and fiscal policy come in, on both a domestic and a global level.
Such a Deal
Now, let's go back to earnings. Earnings are the reflection of a firm's success in the environment created by that human response, as well as the firm's own ability to avoid, service or advantageously navigate its own debt levels. Let's keep in mind that improved earnings results are indeed the horse that we rode in on. This happened in an environment created through those policy inputs that herded the sheep (human response) into risk assets. Is there risk in the marketplace now? Of course. There's always risk. Is risk at an extreme right now, because at current levels, equity markets are perceived as over-valued? Well, honestly, the S&P 500 and Dow Jones Industrials are both trading at 19 times projected 2018 earnings. That is high. That is not stupid high.
Risk to the downside will come from the central bank. The same central bank that created the risk on environment through artificial interest rates, as well as adding mass amounts of liquidity to the banking system is trying to move the other way. Under the Fed's balance sheet management program, by April, the central bank will be a net-subtractor of liquidity, as opposed to a net-increaser. Yes, they are still buying more than they are selling, at stage one. Then there's the fed funds rate. Boston's Eric Rosengren just told you that he is still looking for three to four rate hikes in 2018. He is not alone. The dot plot just reaffirmed the FOMC's expectation in aggregate for three hikes next year last month.
Outcomes
The marketplace has already bought into the December rate hike. Futures markets are currently expressing an 88% chance of the FOMC putting an increase to the target for the fed funds rate to the tape at that time. That's what we call "priced in". As for the Fed's dot plot, nobody is yet on board. Futures markets are only pricing in a rough 50% chance for the first increase of 2018 to occur sometime between June and August. August presents as the fifth meeting of the eight scheduled for next year, meaning that if the market is accurate -- and the market has been far more accurate than the dot plot over the years -- a passive Fed would then really have to get very aggressive later in the year.
One caveat would be that Janet Yellen may not be running the show in 2018, and the Fed's Board of Governors will likely look a bit different. Need upside risk? Okay, did you guys hear the one about tax reform?
Pay attention to forward guidance this season. I know you always do, but let's see how often tax reform or repatriation is even mentioned. My guess is not much, if at all. This is where your downside risk to dollar valuations, and a potential boost to economic growth, would come from. This is why the Dow Transports, even after their recent run, are still trading at a discount to the Industrials and the broader markets. It's simply not priced in, and now it looks like although congress will likely tackle a budget resolution very soon, that healthcare will likely move back to the front burner over said tax reform.
Bang the Drum Slowly
Think again. The current president ran as a Republican, but what he truly is, is an independent. The long-running gridlock that prevented Washington from accomplishing much over recent decades is at the time a three-way brawl. Assuming that both tax reform and the Fed's hoped-for trajectory for interest rate policy fail to materialize in significant manner, then markets will ultimately, in my humble opinion, continue to grind higher, which is why I will remain decisively net long. Now, I understand headline risk will be an issue, and let's not forget the global antagonists in North Korea. The best we can do is cover our bases as best as we can, which means hedge ourselves a bit, and proceed.
Chart Of The Day
Taking a quick glance at six-month performance regarding the Dow Transports, one can see the spectacular moves across this space over the last two months. Those moves have pushed the transports closer to the performance enjoyed by the broader markets year to date. The Chaikin Money Flow has been very strong, and still is, indicating institutional investment. However, there are some cracks in the pavement. Relative Strength is coming out of a technically overbought condition, while the moving average convergence divergence (MACD) appears to be confirming a bearish crossover, at albeit lofty levels. This could be telling us that this index will have to test support before it can make another run at resistance.
Sarge's Trading Levels
These are my levels to watch today for where I think that the S&P 500, and the Russell 2000 might either pause or turn.
SPX: 2571, 2563, 2557, 2548, 2541, 2535
RUT: 1521, 1515, 1508, 1501, 1492, 1484
Today's Earnings Highlights (Consensus EPS Expectations)
Before the Open: (SCHW) - Get Charles Schwab Corporation Report ($0.41)
After the Close: (BRO) - Get Brown & Brown, Inc. Report ($0.49), (CE) - Get Celanese Corporation Report ($1.92), (KMG) ($0.53), (NFLX) - Get Netflix, Inc. Report ($0.32), (SONC) ($0.43)
______________________________
Join Jim Cramer, CNBC's Jon Najarian and Other Experts Oct. 28 in New York
Jim Cramer will host CNBC's Jon Najarian, TD Ameritrade's JJ Kinahan, famed analytics expert Marc Chaikin and other market mavens on Oct. 28 in New York City to share successful strategies for active investors.
You can join them as they discuss how smart investors can make the most of options trading, futures contracts, fundamental and quantitative analysis and great ETFs to buy right now. Participants will also get a chance to meet Jim and other panelists and take photos.
When: Saturday, Oct. 28, 8 a.m.-3 p.m.
Where: The Harvard Club of New York, 35 West 44th St., New York, N.Y.
Cost: Special early bird price: $150 per person. (Normal price: $250)
Click here for the full conference agenda or to reserve your seat now.
More of What's Trending on TheStreet:
At the time of publication, Stephen Guilfoyle had no positions in the stocks mentioned.