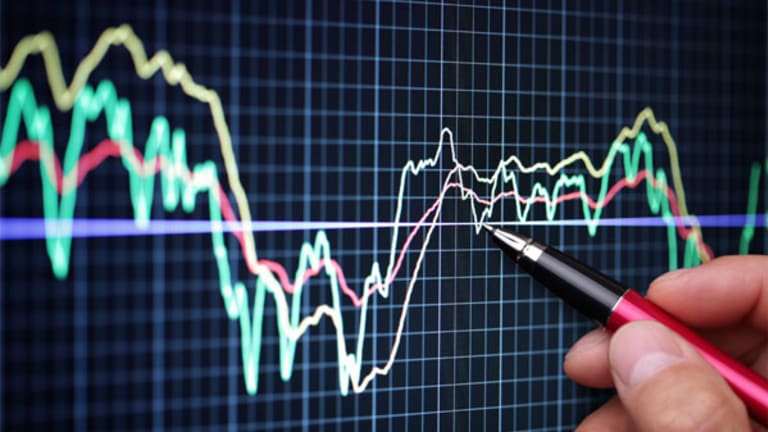 Pretty in Pink (Sheets)
The stocks of these big foreign companies, traded on the Pink Sheets in the U.S., offer high dividends and potentially high rewards.
NEW YORK (TheStreet) -- Investors shouldn't overlook stocks listed on the Pink Sheets, which has some fine companies despite its sketchy reputation.
Many are foreign companies comparable to industry leaders in the U.S. Some pay high dividends, attractive in a market in which the average yield for a member of the
S&P 500 Index
is about 1.9%.
RWE AG
(RWEOY)
,
Swisscom
(SCMWY)
and
J Sainsbury
(JSAIY)
are three high-yield blue chips on the Pink Sheets that may be appealing to long-term investors.
RWE is a Germany-based conglomerate with a market cap of $22 billion and a price-to-earnings ratio of about 22. It is comparable with
General Electric
(GE)
in its range of operations.
RWE's dividend yield is 6.98%. The yield for GE is 2.79% with a P-E ratio of about 20. RWE is a lightly traded stock with an average volume of fewer than 20,000 shares, compared with GE's average daily volume of 37 million.
Swisscom provides telecom services in Switzerland and Italy, and has a dividend yield of 4.57%. By comparison,
AT&T's
(T)
yield is just over 5%. Swisscom's P-E is under 15, and the company's market cap is over $26 billion. Volume for Swisscom is about 6,000 shares a day, compared with 25 million for AT&T.
Sainsbury has a chain of supermarkets and convenience stores throughout the United Kingdom. Like grocers in the U.S. such as
Safeway
(SWY)
and
Kroger
(KR)
, Sainsbury has a slim profit margin. Still, it has a healthy dividend and should have the cash flow to increase its dividend yield from its present 3.90%. Safeway yields 2.4%, Kroger 1.6%.
For long-term investors, the low betas and low volume of many Pink Sheet stocks may be alluring. A study by Russell Investments found that low-beta stocks have the highest returns over time. That makes sense because if a shareholder is pleased with the performance of a company, there is no reason to sell the stock. If no one is selling, then the price movement will be limited, which means the beta will be low.
Low volume for a stock means the market for it can be inefficient as there can be a mismatch between buyers and sellers due to few transactions. So shares may be undervalued because of the lack of liquidity.
Income investors will want dividends that are sizeable and secure. That is certainly the case with RWE, Swisscom, and J Sainsbury. With the stocks' low betas and low volume, investors may find opportune moments to buy that should result rewarding long-term returns due to inefficiencies in the market.
At the time of publication, the author had no position in any of the stocks mentioned.
This article was written by an independent contributor, separate from TheStreet's regular news coverage.
Jonathan Yates is a financial writer who has had thousands of articles appear in periodicals and Web sites such as TheStreet, Newsweek, The Washington Post and many others. He has degrees from Harvard University, Georgetown University Law Center and The Johns Hopkins University.