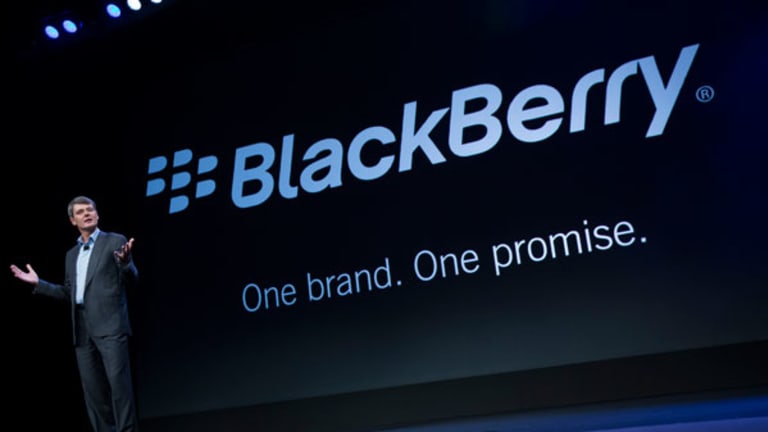 Prepare for More BlackBerry Losses
The only way for BlackBerry to survive at this point is to increase its spending.
NEW YORK (TheStreet) -- It's beginning to appear as if the feel-good turnaround story that BlackBerryundefined investors were hoping for is not going to happen. I say "beginning" here as a courtesy, because I never really believed that any type of meaningful recovery was possible. But here's the frustrating part about this; BlackBerry has done just well enough recently to give investors false hope.
However, as in sports like football and basketball, when you've been too far behind and needing a miracle, very seldom does the hail-Mary pass or the desperation three-point shot from half court work in your favor. Unfortunately for BlackBerry, although the game is now over, the suffering won't end -- not for at least several more quarters. Accordingly, investors have some very important decisions to make. And the way I see it, any verdict that involves holding this stock is the wrong one.
There was a point when I referred to BlackBerry as the second coming of
Nokia
-- describing the nature by which a once dominant market leader was slowly becoming irrelevant. Today, given Nokia's
, and the subsequent climb of Nokia's stock, BlackBerry would only be so lucky to draw this same comparison. The company's current outlook in the face of stiff competition from
Apple
(AAPL) - Get Apple Inc. Report
and
Google
(GOOG) - Get Alphabet Inc. Class C Report
suggests nothing but impending losses for the foreseeable future.
Last week, upon suggesting that the company
important data regarding the progress of the its subscription service business, it was also clear that management was keen on what's around the corner. The only way for BlackBerry to survive at this point is to increase its spending. There is no other way around it. The fact that the company refused to disclose unit shipment data for its smartphones serves as the perfect example.
Weak phone sales suggests weak adoption. Unfortunately for BlackBerry, the enterprise customers that were looking for ways to leverage and/or diversify into various operating system offerings no longer have a reason to include BlackBerry. As much as they would have liked to, their employees -- by virtue of their spending -- have shown no interest in the new BlackBerry 10 software.
Meanwhile, recent data compiled by independent research firm IDC, revealed that BlackBerry's global market share was cut by more than half in the recent quarter, falling from 6.6% global share to 2.9%. This is while both Apple and Google occupied a combined 92% share of the smartphone market.
While Apple and Google showed moderate growth,
Microsoft
(MSFT) - Get Microsoft Corporation Report
was able to exploit BlackBerry's weakness, bumping BlackBerry down to the fourth spot of the order. Poor device sales are one thing, and in BlackBerry's case, it's no longer a surprise. However, the implication will have severe consequences on the services business, which
over the past six months.
For instance, in the recent quarter the company's global subscriber base declined by another 5% to 72 million. This comes on the heels of a 4% drop from 79 million in the fourth quarter. So after the service business peaked at 80 million last summer there has been nothing but customer cancelations. Now, with weaker-than-expected device sales, enterprise customers have to consider shutting off (altogether) their BlackBerry Enterprise Servers (BES) -- if they still have one.
BES has been what has kept BlackBerry afloat amid poor sales. It served as the engine that allows users to get their emails and synchronize corporate calendars in a secure manner. The other option was to upgrade to the new BlackBerry 10 operating system. But what would be the purpose? Though the cost savings would be ideal, a shutdown of BES would also render the devices useless as they would lose what had once made them popular in the first place.
BlackBerry understands this reality. On June 25 management announced Secure Work Space, which is a newer version of BES. Unfortunately, it's not a "new" idea. BlackBerry also had this same service, but it was called Mobile Fusion, which brought along similar features that supports devices from competing platforms, including Apple's iOS and Google's Android. I don't believe this is going to work -- not without significant marketing expenses.
Ultimately, it is the CIOs of large enterprises that determine what type of mobile-management platforms they invest in. And with Microsoft having now leaped over BlackBerry to number three in global market share, it would make sense for CIOs (if given a choice) to chose Microsoft's competing mobile-management platform called Intune, which offers similar-to-better functionality as BES. Plus, since BES doesn't support third-party tracking tools that most CIOs want, Intune seem the better choice, since it does.
BlackBerry still doesn't get it. Even when it is at a clear disadvantage, the company still can't figure out a way to give customers what they want. Now, management has decided to become less transparent and won't give investors the data they need to make more informed decisions. Despite these realities, I still see overwhelming support from some investors. Let's check back in three months and see how that's working out.
At the time of publication, the author was long AAPL
.
Follow @saintssense
This article is commentary by an independent contributor, separate from TheStreet's regular news coverage.
Richard Saintvilus is a private investor with an information technology and engineering background and the founder and producer of the investor Web site
. He has been investing and trading for over 15 years. He employs conservative strategies in assessing equities and appraising value while minimizing downside risk. His decisions are based in part on management, growth prospects, return on equity and price-to-earnings as well as macroeconomic factors. He is an investor who seeks opportunities whether on the long or short side and believes in changing positions as information changes.