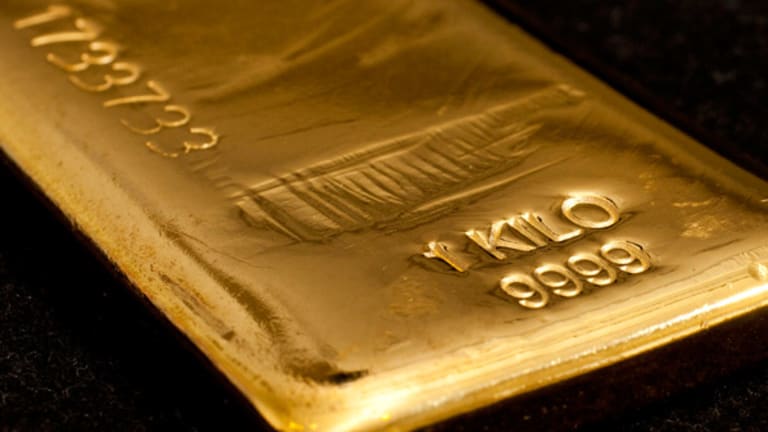 Precious Metals and Miners Flash Short-Sell Signal
It has been a bumpy ride for precious metal investors and it's not over yet.
NEW YORK (TheGoldAndOilGuy.com) -- It has been a bumpy ride for precious metal investors over the past couple of years. Unfortunately, I do not think it's over just yet.
The good news is the bottom has likely been put in for gold, silver and gold miners. However, the recent rally in these metals and miners looks to be coming to an end. While we could see another pop in price over the next week or so the price, volume and momentum seem to be stalling out.
What does this mean? It means we should expect short-term weakness and lower prices over the next month or two. Below are three charts I posted several months ago on my free
list. These forecast were based on simple technical analysis using cycles, Fibonacci and price patterns. As you can see, we are not trading at my key pivot level where I expect selling pressure to start to increase and eventually overpower the buyers, sending the prices lower.
Gold Trading Weekly Chart:
Here you can see that gold is technically in a bear market when viewing it on the weekly chart. If you were to pull up a daily chart you would likely notice how the price of gold is trading at a key resistance level on the chart and has reached its full flag measured move.
What does this mean? It means the odds are pointing to lower prices for gold in the next few weeks. Keep in mind I do feel as though a major bottom has been put in place for the precious metals sector. So buyers are likely to step back in around the $1,300 area.
Silver Trading Weekly Chart:
Silver has a little bit different-looking chart but the same analysis applies here as it did in gold.
Gold Miners Trading Monthly Chart:
Gold miners may have bottomed on this monthly investing timeframe chart but the daily chart you will see next clearly shows short-term weakness has started.
Gold Miners Trading Daily Chart:
This daily chart really shows my thinking for miners and the precious metals sector as a whole. The recent weakness in gold miners to the down side points to distribution of shares. This is very negative for the price of physical gold and silver as gold mining stocks tend to lead physical metals.
The yellow box shows a possible major stage 1 basing pattern forming. If this is the case, then we will have a great opportunity in the coming months when the precious metals down trend completes a reversal and starts heading higher.
How to Trade Precious Metals and Gold Miners:
In short, I think that staying in cash or shorting metals is the play for the next couple weeks. After that, anything can happen. Until price breaks down or finally completes the basing pattern and confirms a market bottom I would be very cautious trading here.
In the last week members of my trading newsletter took profits on our short
S&P 500
trade and we closed a long trade in natural gas for a quick 6.5% gain. Join our community of traders and have your money on the right side of the market!
This article was written by an independent contributor, separate from TheStreet's regular news coverage.
Chris Vermeulen is founder of the popular trading sites www.thegoldandoilguy.com and www.ActiveTradingPartners.com. There he shares his highly successful, low-risk trading method. Since 2001, Chris has been a leader in teaching others to skillfully trade in gold, silver, oil and stocks in both bull and bear markets.