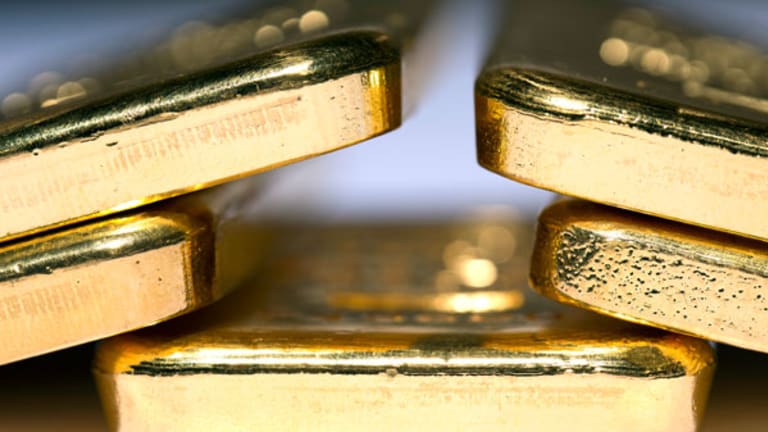 Precious Metals: A Golden Fall
Good new and bad news this week. Gold is in serious trouble -- but that means prices are low.
Good new and bad news this week. Gold is in serious trouble -- but that means prices are low.
NEW YORK (TheStreet) -- Good news and bad news this week. The good news is stocks continue to work, as markets are acting well. We are going to have buy after buy rolling through for the summer, and that is great news.
If you've been reading my work, you know that we've been waiting in cash mostly since March, but now we are back and taking trades in the right stocks at the right times. It is working very well, so far.
As for gold, it broke down hard last week and saw lots of follow-through. Gold is in serious trouble and not something I'll be looking to trade for some time -- perhaps even many years, as its bull market may be done now.
That is not set in stone if gold can hold the $1,000 area, and we should see that happen by the fall.
The other piece of good news is that there are always places to make money. Gold was a great place to do it for a decade, but not anymore.
Let's take the longer view and look at the monthly charts who give a much better big picture view.
Gold (GLD) - Get Report lost 3.29% this past week and broke lower out of the pattern on the daily chart I showed the last few weeks. Volume has been heavy on the downside, which shows lots of conviction.
Gold doesn't look so bad on the monthly chart, but the action is telling me that we are going to test $1,200 pretty soon. If that can't hold, then we are going back to $1,000.
Gold has to hold $1,000 or it will move back to $700.
So many people remain stuck in the "gold is king" mindset -- they think of manipulation and everything else that keeps their hopes alive for gold going higher.
I really don't care much about the why; I care about the what. Gold is not looking good, regardless of why.
There are places to make money, and gold is not one, unless you're shorting it.
Up next: silver and platinum.
Silver (SLV) - Get Report fell 3.34% on the week and is breaking major support now.
Silver is not able to hold above $20, so it is going back to $15.
As with gold, the major downtrend line is dictating where the price goes.
There is nothing about this chart that screams manipulation to me.
We see these patterns every day everywhere, and it is just an exhausted chart that looks to still be heading lower.
If you made me look at this without letting me know it was silver, I'd say stay away for now, unless the downtrend line is broken.
You may disagree with me, and that is fine.  I am just telling it as I see it, with no biases either way, unlike so many writers who are stuck in one direction.
Platinum (PPLT) - Get Report slid 1.49% on the week and will follow gold whichever way it goes, most likely.
This monthly chart shows two levels simply.  Above $1,500 would be good and a break of $1,300 would be bad and likely move platinum back near $900.
While platinum is an industrial metal, it still moves in the same direction that gold does most of the time.
Up next: palladium.
Palladium (PALL) - Get Report gained 0.75% on the week and still is showing nice strength.
Palladium has been performing much better than the other metals.
This chart looks great and may soon be set to break out above major resistance at $850.
A move above $850 is the buy level.
But with gold weak, it may have a bit more trouble than it should moving higher.
If it can get past the initial breakout area on heavy volume, it may just continue higher. But the breakout level could be tough.
A bit of a catch 22 this weekend as we're really excited to be back trading and making some cash but gold is not looking good at all.
All I can do is take what's given to me.
Thank you very much for reading and you can find out more about what I do for members as we focus on leading stocks for the most part at http://wizzentrading.com
>>Read More: People Express Revival - Airline Magic or Wishful Thinking?
>>Read More: 10 Stocks Legendary Value Investor Benjamin Graham Would Buy Now
>>Read More: Vermont Wants Aetna, Cigna and Other Health Insurers Dead
>>Read More: The 25 Companies With the Best Compensation and Benefits
At the time of publication, the author held no positions in any of the stocks mentioned.
This article represents the opinion of a contributor and not necessarily that of TheStreet or its editorial staff.