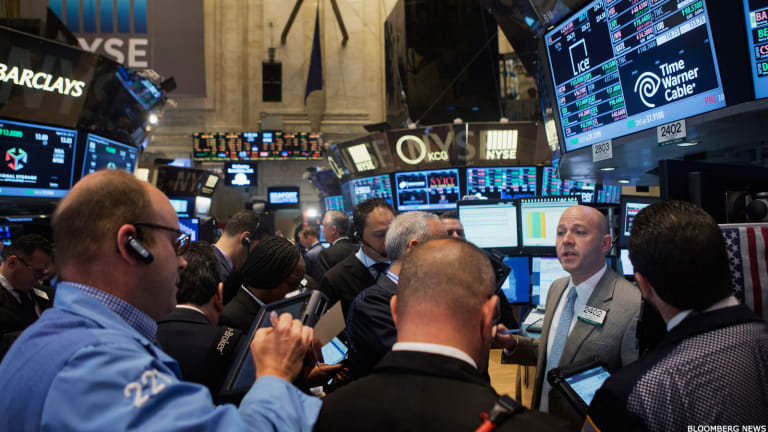 Power Up Your Portfolio With These 5 Utility Trades
These five technical setups are showing solid upside potential right now.
It's hard to think of a sector more boring than utilities. Power, gas and water companies are the definition of "widow and orphan stocks": big dividends and low risk. But what you might not realize is that this boring sector has provided some action-packed gains in 2016.
Since the calendar flipped to January, the Utilities SPDR ETF (XLU)  has managed to work its way 13.5% higher on a total returns basis. Meanwhile, the S&P 500 has barely managed to break even over the same timeframe. That's some meaningful outperformance from this boring corner of the stock market.
And the biggest moves may still be yet to come in some select utility stocks. To find the ones that are still delivering a charge, we're turning to the charts for a technical look at five stocks that are showing breakout potential as we head into April.
In case you're unfamiliar with technical analysis, here's the executive summary: Technical analysis is a way for investors to quantify qualitative factors, such as investor psychology, based on a stock's price action and trends. Once the domain of cloistered trading teams on Wall Street, technicals can help top traders make consistently profitable trades and can aid fundamental investors in better planning their stock execution.
Without further ado, here's a rundown of five technical setups that are showing solid upside potential right now.
ONE Gas
Up first on the list is natural gas utility ONE Gas (OGS) . ONE Gas has been a stellar performer in 2016, rallying more than 19% since the calendar flipped to January. But don't worry if you've missed the move in this mid-cap utility mover -- shares are signaling a potential second leg higher this week.
ONE Gas is currently forming an ascending triangle pattern, a bullish continuation pattern that's formed by horizontal resistance up above shares (up at $60 in this case) and uptrending support to the downside. Basically, as ONE Gas bounces between those two technically significant price levels, this stock has been getting squeezed closer and closer to a breakout above $60. Shares are flirting with that big breakout level this week.
Relative strength, (not to be confused with RSI at the top of the chart) adds some extra confidence to the upside in ONE Gas a right now. That's because our relative strength line is holding its uptrend from last fall, indicating that this stock is still outperforming the rest of the market long-term. As long as that uptrend in our side-indicator stays intact, ONE Gas should keep on outperforming the rest of the market.
FirstEnergy
We're seeing the same price setup in shares of $14 billion utility FirstEnergy (FE) , albeit in the very short term. Since the first week of March, FirstEnergy has been forming an ascending triangle of its own, with a breakout level up at $36.50. If that $36.50 level gets taken out this week, then it's time to be a buyer.
Why all of that significance at the $36.50 level? It all comes down to buyers and sellers. Price patterns, such as this ascending triangle setup in FirstEnergy, are a good quick way to identify what's going on in the price action, but they're not the actual reason a stock is tradable. Instead, the "why" comes down to basic supply and demand for FirstEnergy's shares.
The $36.50 resistance level is a price where there has been an excess of supply of shares; in other words, it's a spot where sellers have previously been more eager to step in and take gains than buyers have been to buy. That's what makes a breakout above $36.50 so significant -- the move means that buyers are finally strong enough to absorb all of the excess supply above that price level. Remember to be reactionary here. This stock isn't officially a high-probability buy until our $36.50 line in the sand gets crossed.
New Jersey Resources
New Jersey Resources (NJR)  is another mid-cap utility stock that's been outperforming in 2016. Year-to-date, this natural gas distributor is up 10%, beating the rest of the market by a big margin. And now a not-so-typical price setup is signaling the potential for another leg up.
New Jersey Resources is currently forming a rounding bottom pattern, a price pattern that looks just like it sounds. The rounding bottom indicates a gradual shift in control of shares from sellers to buyers. Typically it's a price setup you'll find at the bottom of a downtrend, not the top of an uptrend as in the case of NJR. But even though the price action isn't textbook, it's tradable: The buy signal comes on a push above resistance at $36. Shares closed a few cents above that level in yesterday's session, but NJR isn't an official buy until this stock holds materially above that $36 price ceiling.
If we see the breakout confirmed in today's session, then risk management becomes key for anyone who decides to be a buyer. The 50-day moving average has been acting like a good proxy for support in the last month or so, which makes it a logical place to park your stop loss on this trade.
American Water Works
The good news is that it doesn't take a technical trading whiz to figure out what's going on with the chart of American Water Works (AWK) . The price action in this $12 billion water utility is about as simple as it gets. American Water Works has been bouncing its way up and to the right in a well-defined channel since last summer. From here, it makes sense to buy the next bounce.
The price channel in American Water Works is formed by a pair of parallel trendlines that have identified the high-probability range for shares. Put simply, every test of the bottom of that price channel has provided investors with a high-probability buying opportunity in this stock. And as shares retreat from the top of their range here, it makes sense to wait for a minor correction to buy the next bounce off of support.
Waiting for that bounce is important for two key reasons: it's the spot where shares have the most room to move up before they hit resistance, and it's the spot where the risk is the least (because shares have the least room to move lower before the channel breaks, and you know you're wrong). Remember, all trend lines do eventually break, but by actually waiting for a bounce to happen first, you're ensuring American Water Works can actually still catch a bid along that line before you put your money on shares.
Dynegy
It's been a pretty rough year for shares of Houston-based electric utility Dynegy (DYN) . Unlike the rest of its utility sector peers, this stock hasn't been hitting new highs in the last year -- in fact, it's down 53% in the last 12 months. The good news is that long-suffering shareholders could be in store for a reprieve this spring. Dynegy is finally starting to look "bottomy."
Since the start of 2016, Dynegy has been forming an inverse head and shoulders pattern, a technical reversal setup that indicates exhaustion among sellers. And after the selloff that shares of Dynegy have seen in the last year, it's no surprise that sellers are feeling winded. You can spot this price pattern by looking for two swing lows that bottom out at approximately the same level (the shoulders), separated by a lower low (the head). The buy signal comes on a move through Dynegy's neckline at the $14 level.
Once shares trigger a buy signal with a move through $14, it makes sense to park a protective stop on the other side of the 50-day moving average. The 50-day has done a good job of identifying Dynegy's right shoulder since the start of March; if it gets violated, then Dynegy's breakout is busted, and you don't want to own this stock anymore.
Disclosure: This article is commentary by an independent contributor. At the time of publication, the author held no positions in the stocks mentioned.