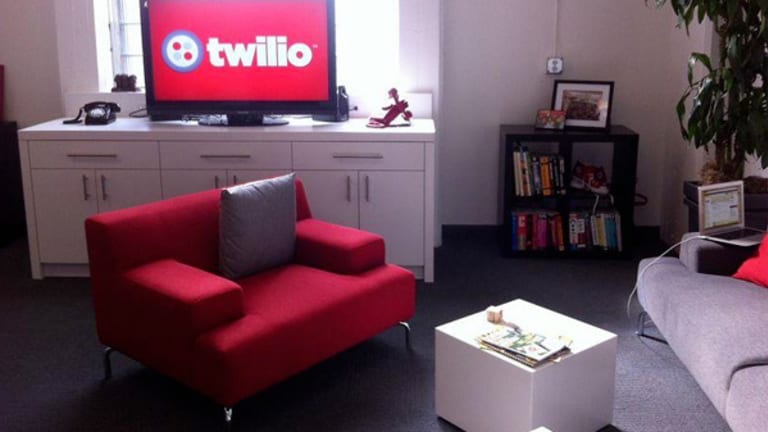 Post IPO, Twilio Is a Good Buy for Those Who Can Tolerate Some Risk
The tech stock enjoyed a stunningly successful initial public offering last week.
IPOs have had a mixed year.
Not so tech unicorn Twilio (TWLO) ,which has more than doubled in value from its $15 a share IPO last week. The company finished Wednesday trading at $37.08 a share, a 23% increase over the previous day. 
Twilio's performance has beaten Wall Street estimates. Its increasing revenues and prospects amidst robust demand for the types of services it provides make it a good opportunity for investors. To be sure, there are uncertainties in the post-Brexit period but Twilio is well-positioned to beat the market.
Apps like Uber, Nordstrom and Airbnb use Twilio, valued at $1.5 billion, to send messages and make automated phone calls to users.
Like many other tech unicorns growing at a fevered pace, Twilio is also far from turning a profit. It registered a loss of $35.5 million in 2015. But Twilio also doubled its revenue to $166.9 million. Twilio is also set to record the highest estimated revenue growth at over 60% among its peers including Salesforce.com and Workday.
Moreover, It has barely dented its industry's $47 billion market, according to International Data Corporation research. There's plenty of room for it to expand.
With over $100 million in cash and no debt, Twilio can direct all its funds on expansion.
Profitability is also showing signs of improvement. Net margin improved year over year from -30% in the first quarter to -11%.
To be sure, Twilio took a massive risk by listing just before the Brexit vote. The share price jumped 92% on the first day but fell 8% on the day results were announced.
Twilio has not been secretive about its plans to expand international sales. But that will expose its to the sort of foreign exchange risks that have arisen in recent days. The British Pound has fallen to a three-decade lows, and several economies' central banks are taking measures to weaken currencies to remain competitive.
Also, Twilio might boast 900,000 registered developer accounts. However, fewer than 100,000 of these are paying customers. Also, services like Facebook's WhatsApp, which contributed to 15% of Twilio's 2015 revenues, Box, and Zendesk do not even have long-term contracts with the company, leaving the relationship vulnerable to threats from competitors.
Still, the pros of investing in Twilio outweigh the cons. Also, with uncertainty looming there are few tech IPOs from which to choose.
Twilio's revenue multiple has already doubled to 12.5 making it more expensive every day in a risky market. If you can stomach the price and risk, act soon.
---
Five Years From Now, You'll Probably Wish You'd Grabbed This Opportunity:As we've just explained, small caps are a smart bet now. If you're looking for other growth opportunities, we've found a genius trader who turned $50,000 into $5 million by using his proprietary trading method. For a limited time, he's guaranteeing you $67,548 per year in profitable trades if you follow his simple step-by-step process. Click here now for details.
This article is commentary by an independent contributor. At the time of publication, the author held no positions in the stocks mentioned.