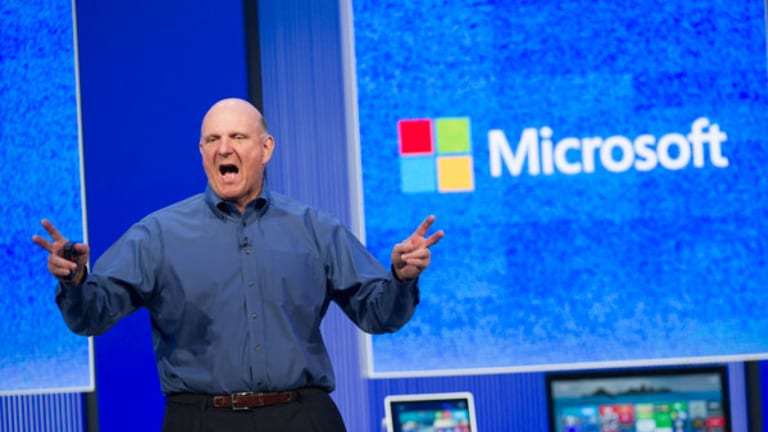 Post Ballmer, What's Next For Microsoft?
With or without Ballmer, Microsoft still has problems.
NEW YORK (TheStreet) -- "The launch of Windows 8 is the beginning of a new era at Microsoft. Investments we've made over a number of years are now coming together to create a future of exceptional devices and services, with tremendous opportunity for our customers, developers, and partners."
Those were Steve Ballmer's words only 10 months ago. So it came as a surprise to learn that
Microsoft's
(MSFT) - Get Free Report
declared new era will be without Ballmer, who, on Friday, announced that he will be retiring in 12 months.
Several weeks ago, I asked rhetorically
This is a question that I ask every three months upon the release of every earnings report. And following the company's disappointing results for Windows 8 and its Surface tablet, it was clear that patience had its limits. And I believed that the company's board finally realized that if Microsoft was going to ever reemerge as a technology force, it was going to be sans Ballmer.
Under Ballmer's leadership, Microsoft lost roughly half of its value. And following his announcement Friday, given that the stock jumped 7%, which equated to $24 billion more in market cap, there's no point in debating that Wall Street cared very little for Ballmer. Although I haven't been Ballmer's biggest supporter, I've been nonetheless pleased with the manner in which he's been able to maximize Microsoft's profits.
However, that's the extent of any positive remarks that I can say about him. And given how dominant Microsoft was when Bill Gates handed over the reins in 2000, I believe anyone with an MBA could have grown Microsoft's profits just as impressively. You have to remember that PC sales grew at an average of almost 20% per year for 17 years -- from 59 million units in 1995 to more than 350 million in 2012.
Read: McDonald's Now on the Value Menu
Ballmer, unfortunately, has been unable to respond to the decline in PC sales -- to put it mildly. And given his questionable history of execution, the Street never really bought into the idea that Widows 8 or Surface could compete effectively against the products from
Apple
(AAPL) - Get Free Report
and
Google
(GOOG) - Get Free Report
. Although Microsoft still rakes in plenty of cash, success in the technology sector can be summed up in one word -- innovation. And under Ballmer, Microsoft has never demonstrated that it understood the meaning.
Ballmer also never truly understood the needs of the mobile consumer, until it was too late. Sadly, he also doesn't seem to understand why Windows 8 and Surface have been colossal failures. Consumers want ease of use, not added complications. Why is it that Office does not come standard with Surface? That Office needs to be purchased separately speaks to the disconnect that exists between Microsoft and consumers.
If that weren't bad enough, while losing the consumer market, Ballmer began to lose the strong grip that Microsoft had in enterprise. Rivals like
Oracle
(ORCL) - Get Free Report
and
Salesforce.com
(CRM) - Get Free Report
have begun to make tremendous strides in the cloud and software as a service (SaaS) market. Essentially, not only has Microsoft failed to answer Apple and Google, but the company has not been able to effectively respond to these new threats. For Ballmer, it's been 13 years with a laundry list of failures.
The sad part about all of this is that Steve Ballmer, by all accounts, is not only a decent guy, but also a wonderful ambassador for Microsoft. Unfortunately, though, those qualities are just not good enough, not at such a critical point in the company's history. Microsoft is in dire need of someone with a methodical sense and who isn't afraid to take some risks.
Read: As Car Sales Drop, Owner Loaning Takes Flight
I'm sure names of plenty of candidates will surface and the search committee, which will be headed by independent director John Thomson and include Bill Gates, will have a tough decision to make. On more than one occasion, I've mentioned Scott Forstall, Apple's former Senior Vice President of iOS, as a suitable replacement. I believe Forstall will ignite Microsoft in a way that Ballmer never could.
What's more, given Forstall's knowledge of Apple's iOS and its advantages, this should help Microsoft compete more effectively. It also helps that Forstall has an axe to grind -- so to speak. Forstall would look to lessen Microsoft's dependency on its core Windows and Office franchises, while broadening the company's reach to compete with Google and
Amazon
(AMZN) - Get Free Report
in cloud services. It goes without saying that Forstall's expertise in mobile will immediately serve as an advantage.
Read: Airlines Still Live on the Edge
A year from now Wall Street won't have Ballmer to kick around anymore. I'm sure it's tough on Ballmer's ego to see how well the stock performed with his announced departure. But I wouldn't get carried away just yet. This is merely the first step in acknowledging that Microsoft needs to go in a new direction. But this company hasn't solved any of its problems. They will simply be inherited. And I don't believe that Ballmer's replacement will get the benefit of 13 years to learn on the job.
At the time of publication, the author held shares of AAPL
.
Follow @saintssense
This article was written by an independent contributor, separate from TheStreet's regular news coverage.
Richard Saintvilus is a co-founder of
where he serves as CEO and editor-in-chief. After 20 years in the IT industry, including 5 years as a high school computer teacher, Saintvilus decided his second act would be as a stock analyst - bringing logic from an investor's point of view. His goal is to remove the complicated aspect of investing and present it to readers in a way that makes sense.
His background in engineering has provided him with strong analytical skills. That, along with 15 years of trading and investing, has given him the tools needed to assess equities and appraise value. Richard is a Warren Buffett disciple who bases investment decisions on the quality of a company's management, growth aspects, return on equity, and price-to-earnings ratio.
His work has been featured on CNBC, Yahoo! Finance, MSN Money, Forbes, Motley Fool and numerous other outlets.
Follow @saintssense