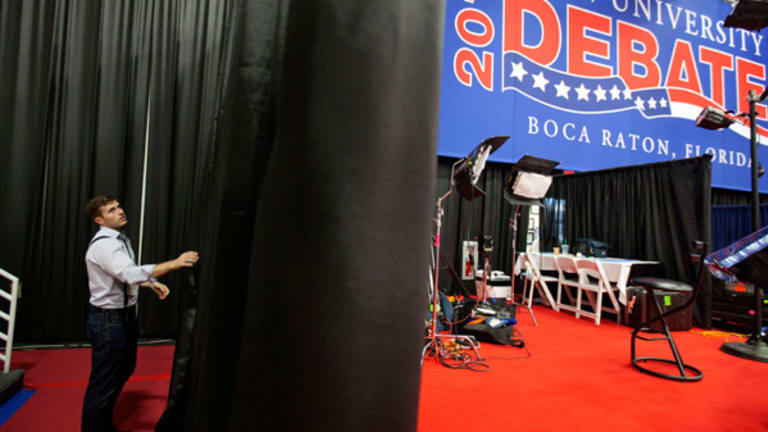 Poll: Who Won the Third Presidential Debate?
President Obama and former Massachusetts Gov. Mitt Romney locked horns in the third, and final, presidential debate on Monday.
NEW YORK (
) -- President Barack Obama and former Massachusetts Gov. Mitt Romney locked horns in the third, and final,
late on Monday, tussling over a wide range of foreign policy issues.
Notably lacking the verbal fireworks that characterized their previous encounter, both candidates seemed wary of launching a knockout blow, perhaps for fear of missing.
Nonetheless, there was plenty of sparring over a host of issues, from the handling of the Iraq war, to America's relationship with China and Russia, Israel, and, repeatedly, military spending.
One exchange, in particular, grabbed plenty of post-debate attention, when Obama aimed a jab at Romney over his criticism that the U.S. Navy has fewer ships than in 1916.
"We also have fewer horses and bayonets, because the nature of our military's changed," the president
. "We have these things called aircraft carriers, where planes land on them. We have these ships that go underwater, nuclear submarines."
Romney, for his part, fought hard to bring the debate back to economic issues. "We can't have 23 million struggling to get a job," he said, early on in the debate, laying the foundations for a series of attacks on the Obama administration's economic performance. "We have got to get our economy going," he added.
The former Bain Capital CEO also fired back when the president questioned his rival's ability to make the correct foreign policy decisions, replying that "attacking me is not an agenda."
Both candidates ended the debate at Lynn University in Boca Raton, Fla., with impassioned pleas to voters.
"If I have the privilege of being your president for another four years, I promise you I will always listen to your voices," said Obama. "I will fight for your families and I will work every single day to make sure that America continues to be the greatest nation on earth."
"This nation is the hope of the earth," noted Romney. "We need strong leadership. I'd like to be that leader with your support. I'll work with you. I'll lead you in an open and honest way, and I ask for your vote."
Some 56.23% of respondents to
TheStreet's
poll of readers following the second vice-presidential debate
Romney the winner, with 35.42% saying that Obama came out on top. A mere 8.34% of respondents felt that the debate ended in a tie.
--Written by James Rogers in New York.
>To submit a news tip, send an email to:
.