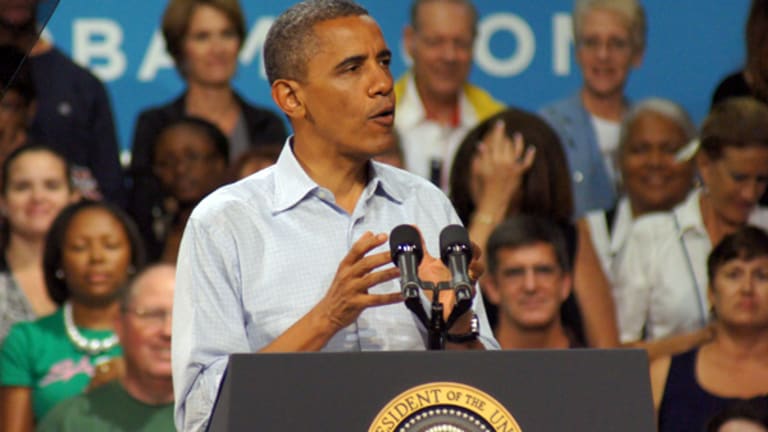 Poll: Who Won the Second Presidential Debate?
Obama and Romney locked horns again on Tuesday. Who do you think won the second presidential debate?
Obama and Romney locked horns again on Tuesday. Who do you think won the second presidential debate?
NEW YORK (
) -- President Obama and his Republican challenger Mitt Romney locked horns in a
on Tuesday, with the two candidates slugging it out on a wide range of issues.
Obama, who attracted criticism for his lackluster performance in the first presidential debate, cut a much livelier, more aggressive figure during the clash on the campus of Hofstra University on Long Island. Romney, however, repeatedly went toe-to-toe with the president in an entertaining encounter.
The town-hall format saw both men face questions from members of the public, spanning a wide range of topics. These encompassed job creation, taxes, the auto bailout, workplace inequality, and the recent tragic attack on the U.S. consulate in Benghazi, Libya.
Silicon Valley was also highlighted by both candidates, with Obama referring to two of America's biggest tech companies to underline his immigration policy.
"When we think about immigration, we have to understand there are folks all around the world who still see America as the land of promise," he said. "And they provide us energy and they provide us innovation and they start companies like
Intel
(INTC) - Get Report
and
Google
(GOOG) - Get Report
."
Romney also cited the U.S. tech sector to explain his tough stance on China. "China's been cheating over the years. One by holding down the value of their currency. No. 2, by stealing our intellectual property; our designs, our patents, our technology," he said. "There's even an
Apple
(AAPL) - Get Report
store in China that's a counterfeit Apple store, selling counterfeit goods."
The former Massachusetts governor also touched on growing concerns about the
posed by China, warning that "they hack into our computers."
It was the highly charged, face-to-face sparring between Obama and Romney though that garnered most of the post-debate headlines. Ignoring the debate format which prohibited direct interactions, the candidates repeatedly addressed each other to trade barbs, most notably over energy and the White House's response to the Benghazi attack.
The verbal tussle, which went past its allotted 90 minutes, followed a similarly full-blooded vice-presidential debate between Joe Biden and Paul Ryan last week. Some 62% of readers
by
TheStreet
said that Ryan, the Wisconsin representative, came out on top in the vice-presidential debate.
Obama and Romney meet again for the final presidential debate at Lynn University in Boca Raton, Fla., on Oct.22.
--Written by James Rogers in New York.
>To submit a news tip, send an email to:
.