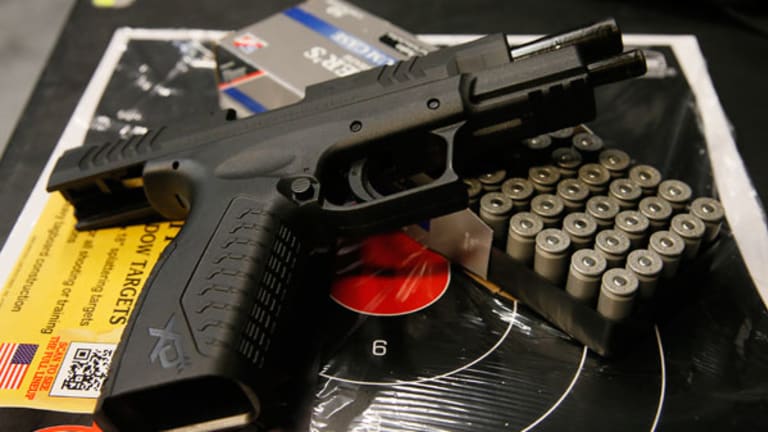 Please Don't Take Your Guns to Chipotle Mexican Grill
The dining chain walks a fine line in the debate over the right to carry guns inside a restaurant.
The dining chain walks a fine line in the debate over the right to carry guns inside a restaurant.
NEW YORK (TheStreet) -- Chipotle Mexican Grill (CMG) - Get Report was all over the news this week but not for its newest tasty dish, earnings or stock movement.
Instead, the fast casual restaurant chain, with over 1,600 stores, found itself caught in the crossfire of debate on the right to carry guns, including into your local restaurant. Since this company depends on getting customers through the door, Chipotle has found itself walking a fine line on this issue.
After photos surfaced of pro-gun activists bringing their assault rifles into a Chipotle restaurant in Texas, a campaign was launched to ban guns from all Chipotle locations. A petition from Moms Demand Action for Gun Sense in America gathered over 10,000 signatures from people upset about seeing guns in the Chipotle. Moms Demand Action was started after the Sandy Hook Elementary School shooting in Connecticut. The group has over 110,000 members.
Chipotle has responded by asking customers not to bring firearms into any of its restaurants. The chain acknowledges that guns in its restaurants could be "potentially intimidating or uncomfortable for many of our customers." But Chipotle also said "there are strong arguments on both sides of the issue." A Twitter campaign using the hashtag #BurritosNotBullets was launched.
It doesn't help that Chipotle was in the middle of a February incident in Utah when a man dropped a bag and his weapon accidentally discharged in the restaurant. No one was injured from the bullet hitting the floor. The incident gave anti-gun groups like Moms Demand Action "ammo" about the potential dangers of guns in restaurants, which was further primed by the recent Texas incident.
Chipotle is headquartered in Denver. The state is home to two of the most gruesome shootings of the last 25 years -- Columbine High School and the Aurora theater shooting.
Chipotle isn't the first restaurant to be a target of pro-gun groups. In 2013, Starbucks (SBUX) - Get Report restaurants were the target of pro-gun supporters, who even launched a "Starbucks Appreciation Day" where people were asked to take pictures of themselves with guns and Starbucks drinks. The popular coffee chain had to issue a statement that it was not behind the movement and later asked customers to leave their guns at home when coming to a Starbucks.
One particularly difficult issue for Starbucks was the decision to close one store for several days to head off  pro-gun activists who had planned several demonstrations in Newtown, Conn. -- yes, where the school shooting took place.

By asking customers to respect its request and leave their firearms at home, the chain did not have to ban guns, which would anger people on one side of the issue. Most anti-gun activists were also happy. But for Starbucks the main concern was not losing any customers.
Another restaurant caught in the middle of the gun debate was Jack in the Box (JACK) - Get Report. At a Fort Worth Jack in the Box, employees saw armed men entering their store. Their reaction was to call police and lock themselves in the freezer. These armed men ended up being part of a pro-gun group making a demonstration of their right to carry a firearm.
Their action, however, brought 12 police officers to the restaurant in what they thought was an armed robbery attempt. Police were angry they had been given no prior warning of the event. Moms Demand Action has since taken on Jack in the Box to ban guns completely.
Jack in the Box chose to also ask patrons to leave their guns at home to "protect their employees and patrons" and create "a warm and inviting environment for all of our guests and employees." The company said it respects the rights "of all our guests" and preferred they leave their guns at home.
The chain would have had a hard time banning guns in all its stores, since 80% of locations are franchised. Franchisee are allowed to post their own rules at locations.
For Jack in the Box, with locations in 19 states, the event ended up being something of a PR nightmare. Alienating customers in one of its biggest states could significantly hurt sales.
By contrast, the bigger Chipotle has been one of the best performing restaurants and stocks for quite some time.
In its recent first quarter, Chipotle posted same-store sales growth of 13.4%. This continues a trend of seeing positive same-store sales growth. Total sales grew 24.4% to $904.2 million. Chipotle opened 44 new restaurants in the first quarter and remains on track to open 180 to 195 restaurants during the fiscal year.
For investors this is a good thing. Since its 2006 IPO, Chipotle shares have gained 1,095%. In the last five years, shares are up 537%.
Chipotle is in the business of food, not guns. By simply asking customers to leave their guns at home, the chain hopes it avoided further issues and outright boycotts by its customers.
At the time of publication, the author held no positions in any of the stocks mentioned.
Follow Chris on Twitter @chriskatje
This article represents the opinion of a contributor and not necessarily that of TheStreet or its editorial staff.
>>Read more: GM Needs to Do This Now to Avoid Bankruptcy