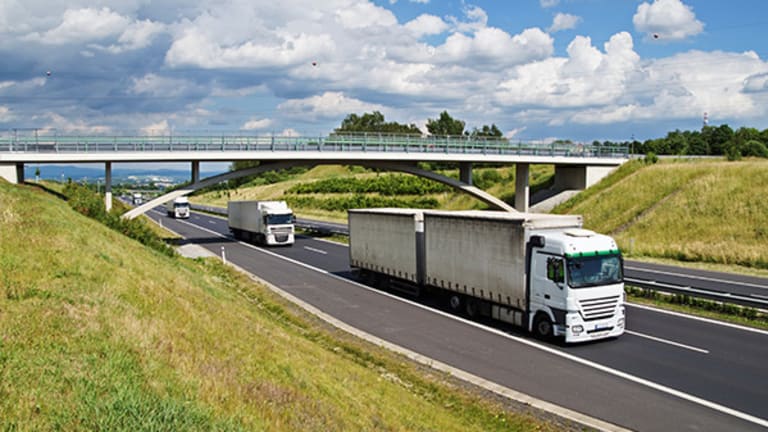 Play Strong Defense With This Undervalued Transportation Company
The global recovery continues apace, but it is shaky and vulnerable to a multitude of risks. XPO Logistics benefits from the economic recovery, without being overly dependent on it.
Is the glass half empty or half full?
Considering the lingering legacy of the 2008-2009 financial meltdown, we should be grateful the glass exists at all.
The global economy doesn't appear headed for a full-blown recession, but it faces a host of risks. That is why investors should focus on defensive growth plays that benefit from economic recovery but typically prove resilient against corrections.
A superb defensive growth candidate is XPO Logistics (XPO) - Get Report , which is scheduled to report second-quarter earnings next Wednesday. In an industry dominated by FedEx and United Parcel Service, few investors have even heard of XPO Logistics, but it is a smarter buy than its two larger rivals. 
Global growth remains on track, albeit modestly and unevenly. Perhaps most encouraging are the latest gross domestic product figures from China, which show that its economy grew by 6.7% in the second quarter, the same as in the previous three months and considerably better than most analysts had expected.
The International Monetary Fund, meanwhile, forecasts global growth at 3.1%, a reduction from previous estimates but hardly a harbinger of recession.
XPO Logistics offers transportation and logistics services, mostly in the U.S., that include freight brokerage, intermodal, less-than truckload, truckload, forwarding services and time-critical shipping.
With a market capitalization of $3.2 billion, XPO Logistics also provides warehousing and distribution, freight bill auditing and payment services, and lean manufacturing support. Industries served include aerospace and defense, agriculture, e-commerce, food and beverage, health care, high tech, life sciences, manufacturing, medical equipment, retail, and telecommunications.
The mammoth duopoly of FedEx and UPS has largely neglected to provide one-off deliveries, less-than truckload, and forwarding services. XPO Logistics has tapped these under-served needs, giving it a source of growth that eludes the big boys in logistics.
XPO Logistics also is in the vanguard of intermodal shipping services, which is containerized freight that moves via rail, ship or truck.
Shipping is a traditional recovery play, but investors should remain wary of cyclical stocks because many of them could plunge if some of the risks now bedeviling the global economy actually come to pass. The smarter tactic is to buy cyclical companies with special strengths that help cushion them from downturns, and XPO Logistics is a prime example.
After a tough year for XPO Logistics, earnings growth is expected to resume this year and beyond.
Analysts estimate that the company will post second-quarter earnings of 19 cents a share, compared with a loss of 16 cents a year earlier. Third-quarter earnings are estimated at 35 cents a share, versus a loss of 15 cents a year earlier.
For full-year 2016, earnings are projected at 75 cents a share, compared with a loss of 4 cents in 2015. For 2017, earnings are projected to rise to $1.52 a share.
Shares of XPO Logistics are trading at more than $28 apiece. The average analyst one-year price target for the stock is $38.17, which would represent a gain of nearly 32%.
The stock's forward price-earnings ratio is 19.13, low compared with the P/E of 23.67 for the transportation industry.
---
A financial storm is brewing. When it hits, weak companies and their investors will be washed away. Here are seven companies to own no matter what the economy is doing. Each one of these powerful yet overlooked companies barely notices when the market tumbles. And they will skyrocket when it rebounds. Investors can pick up all seven for pennies on the dollar. To get the names of these seven survivor stocks, click here.
John Persinos is an editorial manager and investment analyst at Investing Daily and a regular commentator on the financial television show "Small Cap Nation." Follow him on Twitter.
At the time of publication, he held no positions in the stocks mentioned.