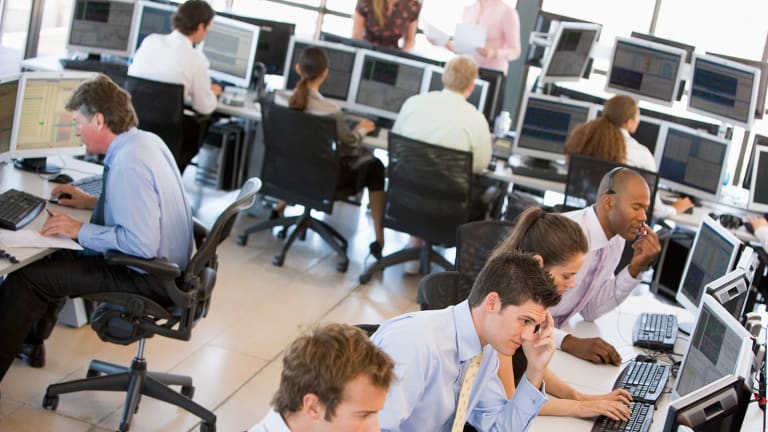 Plantronics' Poor Earnings, Legal Troubles and Credibility Issues Should Scare Investors
Insider selling, outlook cut, legal issues and document destruction raise concerns at Plantronics.
NEW YORK (TheStreet) -- Communication headset manufacturer Plantronics (PLT) - Get Plantronics, Inc. Report reports results this week and the company is set to disappoint on more than just revenues.
Plantronics has already warned Wall Street of a revenue miss, but other myriad issues should give investors pause, including the possibly nefarious destruction of documents related to a lawsuit against the company. 
Expectations is earnings of $0.61 per share on revenues of $200.3 million for the March quarter. Those expectations were revised following the company's March 30 pre-announcement that its revenue for the quarter would be approximately $200 million and earnings would fall "below the previously provided range." Wall Street had been expecting Plantronics to deliver revenue of $207 million for the quarter and earnings of $0.69 per share.
That negative prognosis, which follows a December quarter earnings shortfall, notwithstanding, there are several reasons investors should be filled with caution and concern when it comes to Plantronics and its shares. These include a hefty bout of insider selling just several weeks ago and a legal complaint by headset competitor GN Netcom that should to come to a head in the coming weeks.
The following list of key executives either exercised options and sold shares or simply exited in February and March:
Donald Houston, senior vice president, sales,
Marvin Tseu, independent chairman of the board,
Joseph Burton, senior vice president of technology, development and strategy and chief technology officer
Kenneth Kannappan, president and chief executive officer
Interestingly, it was Houston who sold the greatest number of shares during those two months. While there could be several reasons for Houston's selling, the optics of a negative pre-announcement and selling by the senior vice president of sales to the tune of several thousand shares -- or, more than $650,000 -- should put investors on alert. Houston may have other credibility issues, too.
Plantronics filings with the Securities Exchange Commission show its involvement in several lawsuits. In October 2012, GN Netcom sued Plantronics, alleging violations of the Sherman Act, the Clayton Act, and Delaware common law. Despite the company's public view denying the allegation, the legal complaint by GN Netcom against Plantronics is coming to a head.
From Plantronics 10-Q filed December 27, 2014 the company says this about the lawsuit:
In its complaint, GN specifically alleges four causes of action: monopolization, attempted monopolization, concerted action in restraint of trade, and tortious interference with business relations. GN claims that the Company dominates the market for headsets sold into contact centers in the U.S. and that a critical channel for sales of headsets to contact centers is through a limited network of specialized independent distributors ("SIDs"). GN asserts that the Company attracts SIDs through exclusive distributor agreements and alleges that the use of these agreements is illegal. The Company denies each of the allegations in the complaint and is vigorously defending itself.
Court documents obtained from Public Access to Court Electronic Records, however, point to embarrassing, possibly nefarious activity inside Plantronics. In the deposition of the sales head Houston in the GN Netcom vs. Plantronics (Case 1:12-cv-01318-LPS), it was revealed that despite the legal hold mandate to preserve documents in the case, Houston "was instructing employees who worked under him to delete e-mails that were clearly relevant and responsive to pending discovery having to do with the distributors that are at issue in this case."
Those actions cast doubt on Plantronics position in the GN Netcom lawsuit. On May 11, a teleconference has been scheduled with Magistrate Judge Burke to discuss alternative dispute resolutions between the two companies. While it's nearly impossible to guess the final outcome, at a minimum, and as the court filings show, investors need to re-think management credibility at Plantronics.
This article is commentary by an independent contributor. At the time of publication, the author held no positions in the stocks mentioned.