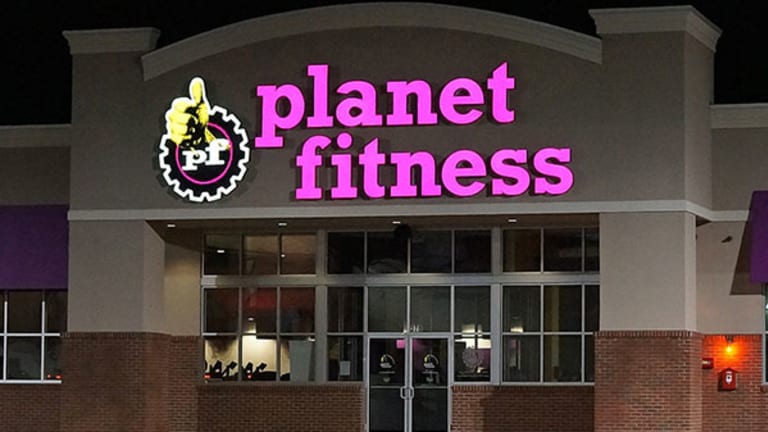 Planet Fitness Succeeds on Back of Dying Brick-and-Mortar Retail
Planet Fitness is opening a dizzying number of new gyms in the U.S. and has now begun an international expansion. Brian Sozzi interviews Planet Fitness CEO Chris Rondeau.
Planet Fitness is opening a dizzying number of new gyms in the U.S. and has now begun an international expansion. Brian Sozzi interviews Planet Fitness CEO Chris Rondeau.
NEW YORK (TheStreet) -- The healthy U.S. expansion and popularity of privately held gym chain Planet Fitness may come as a surprise, given mass retail store closures and the aging of the baby-boomer generation.
Call it survival of the fittest.
Planet Fitness, which uses a franchise model and low cost membership hook, now has 855 domestic gyms opened in the highly fragmented fitness industry. If it were to stop accepting new agreements today, Planet Fitness would have a development pipeline numbering well north of 1,000 locations. According to research firm IBIS World, the 50 largest gym companies control only about 30% of the market, and there are only a dozen or so companies that own more than ten centers.
Must Read:
Dunkin' Donuts CEO Is Pushing to Win the Battle for Breakfast
One key to the surging expansion is that franchisees are feasting on the carcasses of former retail real estate, exited by the likes of Staples (SPLS) , Barnes & Noble (BKS) - Get Report , and Office Depot (ODP) - Get Report in the past few years. "For us, the expansion side of things is great, the landlords are looking at us more as a traffic-driver and anchor," said Planet Fitness CEO Chris Rondeau in an interview with TheStreet.
In SEC filings reviewed by TheStreet, Staples and Office Depot alone have shuttered 245 stores in 2014. Office Depot is on track to close 400 stores as part of its combination with former rival Office Max by 2016, while Staples expects to depart from 140 stores this year. Barnes & Noble is in the midst of reducing its retail estate by one-third by 2023, as it detailed in early 2013. 
The next real estate opportunity for Planet Fitness, and other consumer-services companies, could be within those sites formerly occupied by mall anchors Sears (SHLD) , J.C. Penney (JCP) - Get Report , and Macy's (M) - Get Report . Said Rondeau, "we used to stay away from them (malls), but the rents are becoming real good, and the malls are being repurposed."
Through the second quarter, Sears has closed 96 domestic Sears and Kmart locations. The struggling retailer intends to exit up to 130 locations in 2014. Sears' recent decision to lease 522,000 gross square feet to European fashion retailer Primark over the next 12 to 18 months may mean a Planet Fitness eventually gets planted on the first floor. J.C. Penney and Macy's will have closed a combined 38 stores in 2014.
Must Read:
Papa John's Founder, CEO on the Pizza Wars: "Now We're Back to our Culture of Tinkering" 

A socioeconomic trend benefiting Planet Fitness and publicly traded rivals
Lifetime Fitness
(LTM) - Get Report
and
Town Sports International
(CLUB) - Get Report
are the aging of the babyboomers. With about 77 million boomers in total, many seeking to extend their lifespans to spend their spoils from years of work, gym memberships are likely to trend higher. Rondeau told
TheStreet
, "Yes, with a $10 price point, for a person on a fixed-income if definitely makes sense, for seniors especially."
Gyms themselves could also morph into a one-stop shopping environment for a workout and the type of basic healthcare services being increasingly offered at Walmart WMT and Walgreen WAG. But Rondeau was quick to point out that Planet Fitness is "working closely with insurance companies, more on the reimbursements, and how we can work closer together."
At the time of publication, the author held no positions in any of the stocks mentioned.
This article is commentary by an outside contributor and separate from TheStreet's news coverage.