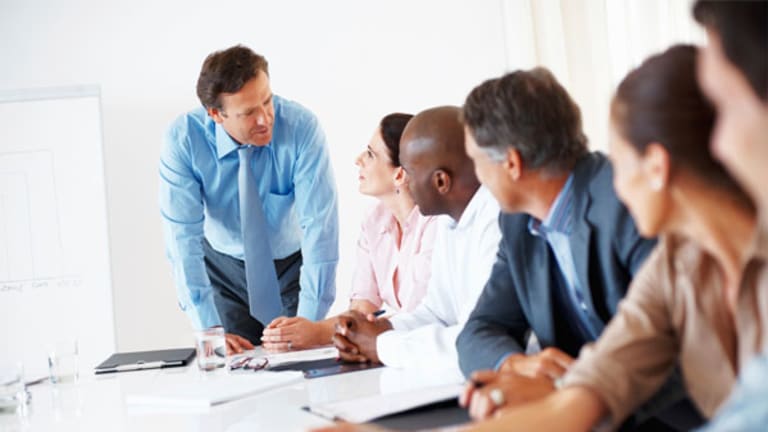 Planet Fitness' Domination Has Only Just Begun
Planet Fitness overtakes the health club industry with compelling membership rates and friendly customer service.
NEW YORK (TheStreet) -- You won't find jacked, sweaty bodybuilders pumping iron at Planet Fitness, nor will you find skinny folks sipping drinks from the juice bar. That's by design, according to Dorvin Lively, CFO at the rapidly growing gym chain.
Planet Fitness was founded by Mike Grondahl in 1992 as a welcoming place to work out at prices more affordable than upscale competitors Lifetime Fitness (LTM) - Get Free Report and Town Sports International (CLUB) - Get Free Report. The business attracts people who have never gone to a gym before, benefitting from the movement by the general population toward a healthier, more active lifestyle. The U.S. has 32,000 health clubs, according to industry research firm IHRSA. More than 62.1 million Americans used a health club in 2013. Since 2008, U.S. health club memberships have risen 16%, with growth clocking in at 5.3% in 2013.
Planet Fitness has more than 800 locations in the U.S., which see some 4 million workouts a week from base members who pay $10 a month, and Black Card members that shell out $19.99 for perks ranging from unlimited tanning to being allowed to bring a friend for free.
"From a system-wide base, total sales for 2013 were $890 million," Lively said in a recent interview. Lively said Planet Fitness has "tripled the number of clubs in the last five years (it opened 149 clubs in 2013) and has intentions to "open more than that this year."
What you won't get from the company's catchy television commercials is the fact that many Planet Fitness locations moved into spots vacated by large box retail stores, such as stores once operated by Office Depot (ODP) - Get Free Report, which merged with OfficeMax, and Staples (SPLS) . Lively said "existing franchisees are committed to open 1,000 clubs," many of which will be in a 20,000-square-foot model. The closed big box stores offer a turnkey venue for those new sites.
Customer service also is a high priority at Planet Fitness, according to Lively. For instance, there are no plastic swipe cards for members to gain entry to the gym. Instead, employees key in the member ID number so they can greet the person by first name. Planet Fitness also incentivizes its employees in unique ways, such as gym cleanliness, as opposed to asking employees to boost membership through high pressure sales tactics, which is common at many health clubs. 
Having secured an investment by San Francisco-based private-equity firm TSG Consumer Partners in 2013, Planet Fitness won't be trading publicly (ticker symbol "BUFF" perhaps?) anytime soon. That could change in the future though as Planet Fitness nears 2,000 locations and seeks to replicate its domestic success overseas. The international opportunity could be huge: In 2013, the global health club industry amassed $78.1 billion in revenue as more than 165,000 clubs attracted 138.7 million members, according to IHRSA.
3 Things a Glad Trash Bag Could Teach You About the U.S. Economy
A Chobani IPO has to Happen, and Here is Why
-- By Brian Sozzi CEO of Belus Capital Advisors, analyst to TheStreet. This article represents the opinion of a contributor and not necessarily that of TheStreet or its editorial staff. Brian Sozzi is the CEO and Chief Equities Strategist of
. He is responsible for developing and managing an equities portfolio of mid- and large-cap positions, in addition to leading the firm's digital content initiatives. He is also a personal finance columnist for
Men's Health
magazine.