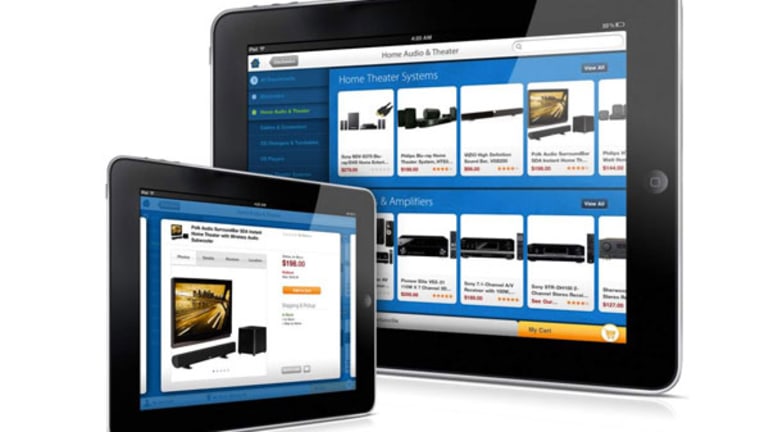 Pizza Hut Unboxes Tabletop Ordering Technology
Customers at Pizza Hut will soon be able to customize their pizzas and order directly from their interactive tabletop.
Customers at Pizza Hut will soon be able to customize their pizzas and order directly from their interactive tabletop.
NEW YORK (TheStreet) -- Ever wondered why you need a server at a restaurant and couldn't just place the order yourself and have someone deliver your food like you do at home? With evolving technology, that wish may reality. Pizza Hut, one of three large restaurant chains that make up Yum! Brands (YUM) - Get Report, is leading the way in tabletop tablet ordering.
Pizza Hut recently unveiled its new technology in a YouTube video. Diners select sauce type, crust type and toppings all by using pinch and swiping motions. After choosing their pizza, the couple is able to play games and pay for their bill all while still sitting at the table. The video has more 1.3 million views and continues to gain steam across industry news websites.
The Pizza Hut technology is made possible by Chaotic Moon, which provided the company's recent updated mobile ordering. The mobile app features a store locator, easy ordering, and the ability to store favorite items for future orders. Chaotic Moon has worked with huge companies like Game Stop (GME) - Get Report, Toyota (TM) - Get Report, and Starbucks (SBUX) - Get Report.
Pizza Hut has more than 6,200 locations in the United States, 4,000 of them being dine-in locations that could see the upgrade. Pizza Hut does not have a timetable for a rollout and is not sure all locations will get the technology. The technology is being equated to the "concept car of pizza ordering" and could vault Pizza Hut to the lead in the connected pizza ordering market. Rival Domino's (DPZ) - Get Report saw a huge increase in sales as it invested heavily in online and mobile ordering before its rivals did.
Sports bar chain Buffalo Wild Wings (BWLD) is also using tabletop tablets to differentiate its dining experience for customers. The technology, available in 150 locations, allows customers to order and pay at the table and play trivia and poker. Buffalo Wild Wings plans on rolling out the technology to 500 locations by the end of 2014. The company's goal is to have tablets at tables in all 1000 locations by the end of 2015.
Pizza Hut remains the pizza leader in the United States, but has failed to capture gains in technology advancements of online ordering and mobile ordering like rivals Domino's and Papa John's (PZZA) - Get Report.
In the last fiscal year, Pizza Hut saw same store sales decline 2%. In the fourth quarter, same store sales declined 4%. Shares of Yum! Brands were up 13% in 2013, but remain flat through the first three months of 2014. Yum! Brands remains well positioned to rebound in international markets and recent investments in upgrading Taco Bell sales through the addition of breakfast and Pizza Hut through tabletop ordering will help boost sales for the current fiscal year.
At the time of publication the author had no position in any of the stocks mentioned.
This article represents the opinion of a contributor and not necessarily that of TheStreet or its editorial staff.