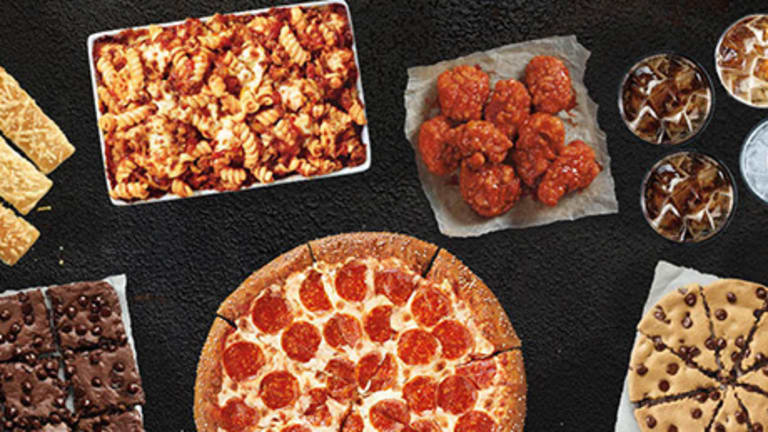 Editor's pick: Originally published Jan. 4. Updated to add analyst comments and include details on Burger King's new value platform. 
In an effort to bounce back from a disappointing 2015, Pizza Hut is hoping five bucks is too tasty of a deal for diners to pass up.
Starting Monday, the Yum! Brands (YUM) - Get Yum! Brands, Inc. (YUM) Report -owned pizza giant, which operates more than 6,000 locations in the U.S., will begin offering what it calls the "$5 Flavor Menu." The menu offers consumers a choice of several items, including a medium one-topping pizza, eight buffalo wings, and a pasta dish, for $5 each. The only catches: a person has to order two or more items from the menu and there is an extra charge for pan pizza, which varies depending on location.
"Five dollars is a price point that is easily recognizable by consumers," said Jeff Fox, chief brand and concept officer at Pizza Hut in an interview. Fox added that "five dollars is probably a category breaking price point." The price certainly breaks from the typical cost of a medium pizza at Pizza Hut, which normally goes for between $9 to $10.
The five-dollar menu comes on the heels of Pizza Hut's re-commitment to value showing signs of gaining traction in what has been an ultra-competitive fast food pizza market. Late last year, the company launched the "Anytime Deal" (two medium pizzas for $6.99 each), and the "Triple Treat Box" (two medium one-topping pizzas, an order of breadsticks and a Hershey's ultimate chocolate chip cookie, all for $19.99).
Partly as a result of its new promotions, Yum! expects Pizza Hut's same-store sales in the U.S. to rise 3% in the fourth quarter after being unchanged in the third quarter.
Fox declined to comment whether the items on the new menu will be profitable, or are simply loss leaders to get people through the doors and trading up to more expensive items.
Still, Pizza Hut will likely have ended 2015 lagging the sales gains at rivals Domino's Pizza (DPZ) - Get Domino's Pizza, Inc. Report and Papa John's (PZZA) - Get Papa John's International, Inc. Report , two chains that spent the year offering competitive prices on pizzas and other grub. Domino's U.S. same-store sales surged 11.5% in the third quarter following a 12.8% gain in the second quarter, while Papa John's clocked in with a 3% U.S. same-store sales increase in the third quarter after delivering a 5.5% gain for the second quarter.
And like Pizza Hut, those rivals will be offering special deals on pies to kick off the new year.
On Monday, Papa John's will start offering an additional large, one-topping pizza for 50 cents when one is bought at full price. A large pepperoni pizza at Papa John's costs about $13.50, so for $14, a customer can get two large pizzas. At Domino's, customers will be able to pay just $5.99 for a medium two-topping pizza, pasta, breadsticks and several other items. As with Pizza Hut's new deal, a customer has to buy two items from the promotional Domino's menu to get the special price.
Pizza Hut's $5 for a medium pizza is cheaper than Domino's, but comes with one less topping. Oh, the choices.
The pizza business is pretty saturated at this point, so the latest promotions are meant to drive traffic, according to Technomic senior principal David Henkes. "While certain chains are doing great (as is the fast casual pizza business), it's a bit of a take-share game with the independent pizza chains right now," says Henkes.
All of the pizza chains, though, will be facing serious competition from others in the fast food business this month. Taco Bell, another Yum! Brands-owned chain that operates over 6,300 restaurants in the U.S., will launch a $1 value menu in January, while McDonald's plans to debut its new McPick 2 menu this month as well, offering a pair of items from a list of favorites, including the McDouble or McChicken, for $2.
And just as commercials for McDonald's new McPick 2 value menu began to air on Pandora on Monday, rival Burger King, part of Restaurant Brands International (QSR) - Get Restaurant Brands International Inc Report , is also getting into the fast food discount battle. On Tuesday, Burger King will launch its 5 for $4 value menu that allows consumers to purchase five specific menu items -- a bacon cheeseburger, small fries, small drink, four-piece chicken nuggets and a chocolate chip cookie -- for four dollars.
As for why someone should choose a $5 pizza from Pizza Hut over a $2 McDouble at McDonald's, Fox said it all boils down to bang for one's buck. "A medium pizza could feed more than one person -- if you order a one-topping pepperoni pizza, or get pasta or wings -- now you make a meal," said Fox.