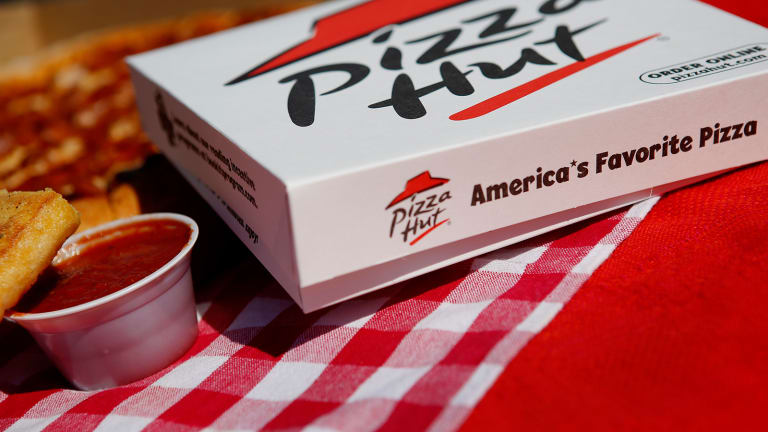 Publish date:
Pizza Hut Adds a Slice of Tuition Assistance to Its Worker Benefits
The pizza chain joins the growing list of fast-food companies offering to help their employees pay for college.
The pizza chain joins the growing list of fast-food companies offering to help their employees pay for college.
The battle to attract and retain fast-food workers just keeps getting more and more competitive.
On Wednesday, Yum! Brands (YUM) - Get Yum! Brands, Inc. (YUM) Report -owned Pizza Hut announced a program in partnership with Excelsior College to provide tuition assistance to its employees and their immediate family members. Through "The Life Unboxed EDU" program, every Pizza Hut employee and their immediate family members will get a discount of 45% off undergraduate tuition at Excelsior College, an accredited online college. For graduate students, the discount is 15%.
On top of the discount, Pizza Hut will pay up to $5,250 per year in tuition, books and fees for each salaried, full-time corporate employee participating in the program. Payments are made upfront by Pizza Hut as opposed to being reimbursed later.
Currently, 65 Pizza Hut employees are enrolled in the pilot program, with over 100 more in the application process. Taco Bell has a similar program in place, while Yum! Brands did not share whether KFC would be offering anything similar. 
"We know this will certainly not hurt us in the retention space, but it's not the reason that we did it -- it's about helping people to become their best, make friends and have fun," said chief people officer of Pizza Hut U.S. Amy Messersmith in an interview. Pizza Hut declined to share the precise cost of the pilot. 
The discount certainly makes things more affordable for a typical Pizza Hut worker, who oftentimes are teens deciding what to do with their lives. Applying Pizza Hut's 45% discount, the cost of tuition and supplies for a typical part-time student going for an undergraduate degree at Excelsior would fall to $3,790 from $6,890.
Pizza Hut joins several fast-food giants that are going beyond boosting wages and are offering educational benefits for workers as the labor market tightens.
In April, Starbucks (SBUX) - Get Starbucks Corporation Report began offering full tuition at Arizona State University's online program, giving employees the opportunity to earn a free bachelor's degree. Starbucks now reimburses tuition costs at the end of each semester, as opposed to the end of each year, as it did under a previous two-year tuition assistance plan. Over the next 10 years, Starbucks plans to spend at least $250 million to help 25,000 employees graduate.
On July 1, Chipotle (CMG) - Get Chipotle Mexican Grill, Inc. Report  started giving all of its employees, including part-time workers, tuition reimbursement, paid vacation time and sick leave pay. Previously, those benefits were given just to salaried workers. According to the company, Chipotle now reimburses 90% of tuition, books and fees up to the IRS's limit of $5,250 per year.
Even McDonald's (MCD) - Get McDonald's Corporation (MCD) Report has unveiled a tuition reimbursement plan, though it's far less wide-ranging than those on offer from its rivals. In April, the Golden Arches announced that it would expand its college tuition assistance programs to workers at all of its U.S. stores. Its program offers $700 per year for workers and $1,050 for managers to be used to attend classes online or in person.
According to the National Restaurant Association, overall restaurant employment has increased about 3.6% through the first 11 months of 2015, on pace for the fourth consecutive year with growth of at least 3.5%. In addition, 2015 will mark the fifth consecutive calendar year in which restaurants added at least 300,000 jobs.
In the November edition of the National Restaurant Association's Restaurant Industry Tracking Survey, one in five restaurant operators said that recruiting and retaining employees was the No. 1 challenge facing their businesses.
There has been a sharp decline in the number of teenagers willing to dip their toes in the labor pool, says the National Restaurant Association. In 2007, 16-to-19-year-olds represented 20.9% of the restaurant workforce. By 2014, these teens made up only 16.6% of restaurant employees.