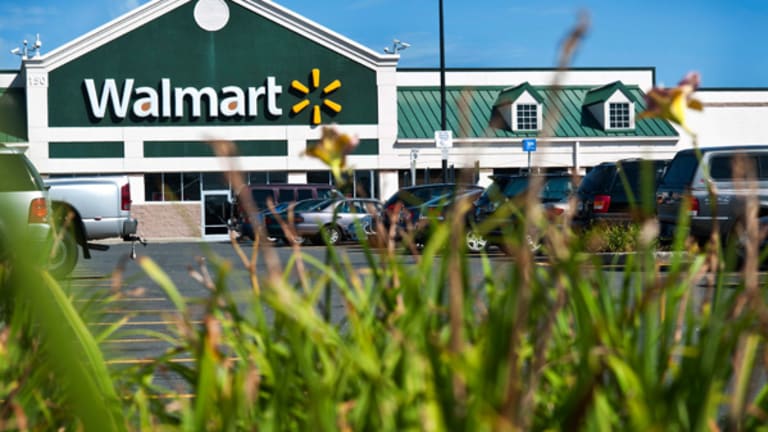 Mistreated Walmart Employees Speak Out Against Company (UPDATED)
We're witnessing systemic failure at Walmart. It's so bad, Walmart could become the next Sears.
**UPDATE: Given the enormous interest and response from readers, including many Walmart employees, vendors and other associates, I will continue to update this story on a new Page Five as more emails come in. Of course, if we receive an official Walmart response, I'll include that as well.

"Your reporting about Wal-Mart deserves wide distribution. Shareholders should be in open revolt about this train wreck of an organization."

--Reader Email
NEW YORK (TheStreet) -- As I have noted in recent days, the response to my recent Wal-Mart Stores (WMT) - Get Walmart Inc. Report stories has been nothing short of overwhelming.
It all started with 24 Pictures From a Walmart Store That Make Sears Look Classy.
A considerable portion of it comes from readers who work at Walmart. Many of the emails I have received from Walmart employees, independent of one another, corroborate one another. I'll publish a representative sampling in this article.
Of course, I keep identities anonymous if that was what was requested. In other cases, I mention specific stores but do not include details that would out specific individuals.
I have repeatedly asked Walmart for comment and have received no response.
The responses I received from readers indicates a systemic problem at Walmart -- one created by folks at the corporate level, not on the ground, in retail stores. In fact, given the position Walmart appears to have put many of its retail workers in, it's amazing enough of them can keep it together well enough to keep the business running. Without considerable intervention, this can't possibly end well. In fact, I really believe we're watching a failure unfold in front of our eyes. But it's one we're watching spring from the ground up, even though the people on the ground should not be held culpable. 
If Walmart doesn't act fast to right the ship, disgruntled employees and dirty stores might become more than a minor irritation. They could further damage the business and, in turn, the company's stock price.
First, consider the following (lightly edited, bold emphasis added) email from a Walmart employee, who will remain completely anonymous:
Regarding your photos of Wal-Mart article, when I read it I just had to laugh. I work at a Wal-Mart and I can tell you with no uncertainty that the single reason for all of the problems in those photos is understaffing. This is not a store by store problem, either; it is a corporate problem. Corporate decides how many hours we are allowed to schedule employees with each week and how many employees we are allowed to hire, and it usually falls short of what we, the employees, feel we need.
For instance, resets used to be done by a 3rd shift team, but they were a small team and could only ever get grocery resets done, so we in the general merchandise area had to do our own during the day. It's irrelevant now, as the reset team has since been eliminated.
I address the excuse that the mess I photo-illustrated at the South LA Walmart exists because of "resets" (wholesale reshaping/restocking of large sections of a store) in Monday's Walmart: Retail's Biggest Embarrassment.
The emailer continues by outlining what happens on the ground as a result of this understaffing:
Every week for the last 5 years, and every DAY for the last 2-3 months, 1st and 2nd shift employees at our store have been responsible for stocking freight from the previous day's trucks because we don't have enough 3rd shift stockers to accomplish this. That means every single day we have pallets on the floor in almost every general merchandise department, with associates -- who are supposed to be focused on other things like helping customers -- stocking shelves. With so much time dedicated to stocking, we have little time left to put away carts of junk or clean up aisles (as seen in your photos). If we try to do our real job duties instead, we get yelled at by management for not dealing with the freight. Most days the backup of freight in the back room is so bad we literally can't move back there, which means if a customer wants something that's back there, they aren't getting it.
The emailer closes with this:
You are right to say executives should be embarrassed of all this.
Another emailer corroborates the original emailer's statement regarding "resets" with the following correspondence:

About your article on WALMART I am a vendor in 25 WALMARTS. That is their way of doing resets. I see it every week in all the stores. They do not have enough people working the floor to get these things done quickly, that is their real problem. They have always done resets this way but in the past they had more workers and it got done more quickly and really was not noticed.
But I want to point out something stated towards the end of that original email. Something that came up more than once in independent email correspondence I received from Walmart employees, connected to one another, as far as I know, only by the fact that they happen to be present (or, in some cases, past) employees of Walmart:
Most days the backup of freight in the back room is so bad we literally can't move back there, which means if a customer wants something that's back there, they aren't getting it.
A former employee at the Walmart store (#2135) in Cobleskill, N.Y., emailed me a dozen or so pictures, taken in late 2012, that back up what the previous emailer says has been going on "for the last 5 years ..." This "backup of freight ... so bad we literally can't move (in the store's back room):
Several other images show additional merchandise sitting in the stockroom under similar conditions.
This same employee introduced the next image with the following description:
This is how they let employees who aren't trained to stack pallets put pallets together to be pulled to the floor they just take someone anyone off the floor to unload the trucks when there short
I was hesitant to post pictures from 2012. However, email after email, as well as my own observations in South LA, convinced me that not much has changed at Walmart.

Consider the following:
I work for the inventory service that services Wal-Mart. I concur with your shots of the store, except on inventory day when the shelves are filled to overflowing. I personally have counted over 700 shirts on a shelf. Most of the times we get there, the shelves are full of dust bunnies that have been there for an incredible time hiding under the newly placed stock. I have many other of my fellow workers that will testify to this truth.
The only thing I ask is that you do not use my name in regard to publishing this letter. I (unfortunately) have to hold on to this so-called job and if word gets out, I will lose it.
And this from another Walmart employee:
If you would please exempt my name from the article if my complaint makes it. I work in a Mississippi Walmart and as much as the truth hurts (Walmart treats its associate horribly) ... I have sadly worked with this company for two years and have been miserable since the start. I wouldn't recommend any individual to apply within this company if all stores operate anywhere near as poorly as mine. I work overnight and the workload is completely uneven. When the 10:00 [p.m.] crew comes in sometimes we have to unload trucks, take freight to the floor, work that freight, unload the meat truck when it comes in and continue working freight in the process of doing other crap. Seems like stuff we should do right I know but that's complete shit.
And then there's this from yet another Walmart employee:
Your comments about the bad shape Walmart is in are spot on. I have worked for them for 24 years. While some of their stores run a much tighter ship than the one you visited many are just like the one you showed. The reason? NOT ENOUGH PERSONEL !! The corporation has cut back on employees and the local GMs are incentivised to cut even more than the corporate directive. The store that are maintained well are done so by near slave treatment of their workers. In my facility they ask if you have in questions , problems or concerns during meetings but if you voice any you are punished for speaking up. The local managers are given free reign to treat folks as bad as the wish by virtue of the fact that if you go above anyones head nothing gets done in any but the truly most horrible of cases. Those case are usually the ones where the manager has done something directly against walmart. If a manager does something that only hurts an associate then it is likely nothing will be done to help the associate. In most cases the associate who complains gets hassled til the either quit or some lame thing can be brought agaist them to fire them. Bad Bad Bad is the situation at walmart.
Do you see a pattern developing here?
When I initially published the images from South LA, I thought the story would end up being more about perceived neglect of that community by Walmart. However, the response has indicated otherwise.
Clearly, in the name of cutting expenses, Walmart continues to not only mistreat workers (at least in some instances), but that mistreatment trickles down to the customer level. If it keeps up, we could have another Sears Holdings (SHLD) on our hands. It seems the only thing that saves Walmart is that, in many communities, its store is the only one or one of just a few options.
The embarrassing displays are not isolated to relatively poor areas such as South LA. Have a look at pictures a customer sent in from the Exton, Pa., Walmart. The median income for a family in Exton exceeds $80,000 annually.
Back to South LA. The condition of the Walmart there isn't lost on shoppers, who absolutely do have other options in the dense, wide-ranging Southern California region.
Consider the following correspondence:
Thank you so much for bringing attention to the condition the Baldwin Hills Walmart store. It's absolutely deplorable!
I happened to go there yesterday (3/14), simply to pick up tickets from their Ticketmaster counter ...
I then visited the ladies room, which was filthy, hot, & smelly with trash everywhere & toilets that wouldn't flush properly. I was totally offended. I told the manager & encouraged other customers who where in the restroom complaining to do the same.
I am embarrassed every time I visit this location, which has dwindled down to never, as I stated I was only there to pick up concert tickets.  I grew up in this neighborhood; our residents deserve the same service, cleanliness, & selection that I see in Buena Park or Torrance locations. This store needs to be turned upside down ...
I blame the Walmart Corporation because they are allowing this store to fly well under the radar of decency. ALL of their locations are a reflection of their overall standard/quality of operations.
If you're an investor, consider this writing on the wall. It's sure as heck not an example of a management team exercising fiscal responsibility on behalf of its shareholders. In fact, it's just the opposite. At this point, you should be beyond ashamed to even own Walmart stock.
Click to Page Five for more emails from Walmart employees and associates ... 

Every time I turn around another email comes in so I'll continue to update this story with what I reckon isn't just coincidence or sour grapes. Rather, I think we're seeing real-time evidence of the issues Walmart faces and must take action to rectify immediately. 
First, keep my name out of it. Second, everything you've been writing about Walmart is spot on. I know; I've worked at 3 different stores in 2 states over the past 4 years. They all have the same problem. Employees are bullied and are expected to do the work of 10 people because corporate refuses to allow the individual stores any kind of leeway when it comes to hiring or hours. It's pretty much an abusive environment and a hellhole, and you'll be hard-pressed to find anyone who doesn't hate working there. Of course, you will find people that are either paid to lie about it or who are afraid of losing their jobs before they've got another to replace it. I'm in the latter category, but I am actively looking for an escape route now. It's harder to find than most people think. Wish me luck. And remember, keep my name out of it.
----

----
I do price matching at a Columbia MO Walmart for a local competitor. What has shocked me the most is that they pull the merchandise to redo an area....and leave it bare for two or three days. They bring their reshot carts to an area and have left them for several days also. From a business standpoint, it just doesn't make sense.
----
The associates at my Wal-Mart store would completely agree to everything that is being said about the company. Not enough associates , cut hours and Management is working everyone that is there to the point of completely exhaustion. I have been with the company 10 yrs next month.
----
After reading through you Walmart articles I must say that I am in full agreement with you. I have seen all of what you are talking about firsthand.  Just last year I took a temporary position at the local Walmart here for the holidays.  I worked the overnight stocking part. Usually in the grocery area. We were told, point blank, that if a product didn't fit in the proper place that we were just to "put it someplace" as they wanted very limited stock to be returned to the back room.  Why was this?  Because the back room was so over-loaded there was VERY little space for additions. 
----
Please do not use my name. I need to keep this job until I can retire next year. I agree with all the comments that have been made about Walmart. I have been with the company for over seven years and have worked in three Walmarts in three states. Each one of these Walmarts has gotten progressively worse. I currently work for a rural Walmart in Southern Michigan. I find it deplorable that we are so understaffed that assistant managers have to work freight, zone, push carts, run registers and still do their everyday jobs.
----
I recently read your article on Walmart and everything everyone is saying is true. I worked for them for 5 years. I recently quit because of how unappreciated and worthless the company made me feel ... I probably will regret it when I have to pay rent this coming month but I am so happy with my decision now on wanted to thank you for your article and showing people the truth.
----
All of these issues were present in Wal-Mart when I left the company 8 years ago after 13 years as a manager. We always needed to "beat" last year in sales and expenses. If sales weren't there, we had to cut payroll. We would literally get a call in the morning from the district manager complaining that our payroll percent was too high and get ordered to cut a certain amount of hours out THAT DAY'S payroll. We would have to get on the phones and call employees and cancel their shifts and walk the store sending people home. But we were still expected to have a stocked, clean store. obviously that wasn't and isn't possible. Trust me, as a manager I wanted a well run store and knew what needed to be done, but I wasn't allowed to.
----
Thank you for shedding light on one of the many issues WM has, I am an ex Assistant Mgr with 10yrs there and a bachelors degree in business, I have seen what really happens under the mat and have been the puppet of "upper mgmt". I finally had enough one day and walked out, I was never contacted from anyone in the company. I assume it is easier to just let me go than to have someone who questions immoral directive. 
----
I retired from Kmart (Sears Holdings) after 23 years. I started working for them in 1984 and reading the comments on Walmart  are exactly what we said over the years as Kmart declined. Cut staff, cut budget, cut hours to the point that it was a slave environment. Associates suggestions were not acknowledged, management meetings were unproductive as managers were not allowed input. Stores got dirty, staff was non-existent for the most part. Resets were not completed because staff was unloading trucks. Never enough time and never good enough. Walmart is the same story, different name and different day. Please do not use my name.
----

--Written by Rocco Pendola in Santa Monica, Calif.
Disclosure: TheStreet's editorial policy prohibits staff editors, reporters and analysts from holding positions in any individual stocks. Rocco Pendola is a columnist for
TheStreet
. Whenever possible, Pendola uses hockey, Springsteen or Southern California references in his work. He lives in Santa Monica.