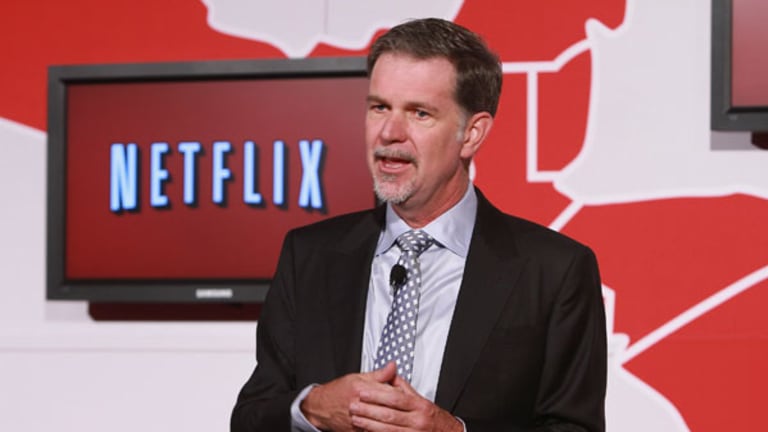 Picture This: Microsoft Buys Netflix, Makes Hastings CEO
In some alternate reality -- which might be the one we all think we're living in -- it's a match made in heaven.
NEW YORK (TheStreet) -- It's no surprise that Netflix (NFLX) - Get Netflix Inc. Report CEO Reed Hastings makes the rounds as a possible contender for the forthcoming CEO vacancy at Microsoft (MSFT) - Get Microsoft Corporation Report.
I emailed Hastings to ask if he had an interest and, shockingly, he did not reply. Not even with a curt one-line riff. But he's no stranger to Microsoft. And Netflix, despite pop belief, desperately requires a bailout.
It's a match sort of made in heaven. At least the heaven where Silicon Valley fat cats, Wall Street's elite and guys whose retirement sends their personal wealth soaring go to rest. I need to check on this, but that place might actually be called
hell
.
Hastings isn't on the MSFT Board of Directors anymore, but that's neither here nor there. The move has
written all over, except, over the course of a year, Hastings could spin Microsoft stock much higher than 70-some odd percent.
Look at what he has done at NFLX. On the back of Facebook posts,
and
are they live or are they Memorex
conference calls, now happily moderated in real-time by the most bullish Wall Street analyst and financial reporter, he's set to rock his stock to $300 for the second time in just over two years.
There's no question Hastings can convince his pals on the Microsoft board that it not only needs him, but needs Netflix integrated into Xbox and as a catalyst for the company's failing mobile efforts.
Talk about saving Netflix. Microsoft has more than enough cash and cash flow to cover all of Netflix's current debt, off-balance sheet obligations, international expansion, future content acquisition as well as subsidize many more years of the same. It would be like Netflix never had income statement, balance sheet and business model problems in the first place!
Hastings could stop charging for Netflix. Or execute the ultimate public relations coup by lowering prices to say $5.99 a month. Work some holiday promos where if you buy a Microsoft mobile device, Netflix is free for 36 months or until you're admitted to the ER for binge viewing -- whichever comes first.
Hastings playing with Microsoft's cash hoard would make Mayer's spending spree at
Yahoo!
(YHOO)
look tame. It would be like unleashing credit card-toting teenage girls on a One Direction merchandise stand with no line!
There's no better way for Microsoft to get back to fooling everybody, at least for a couple of years, than by handing the conversation over to the spin master Hastings
and
buying Netflix in one failed (or is it fell?) swoop.
--
Written by Rocco Pendola in Santa Monica, Calif.
Rocco Pendola is a columnist and
TheStreet's
Director of Social Media. Pendola makes frequent appearances on national television networks such as
CNN
and
CNBC
as well as
TheStreet TV
. Whenever possible, Pendola uses hockey, Springsteen or Southern California references in his work. He lives in Santa Monica.