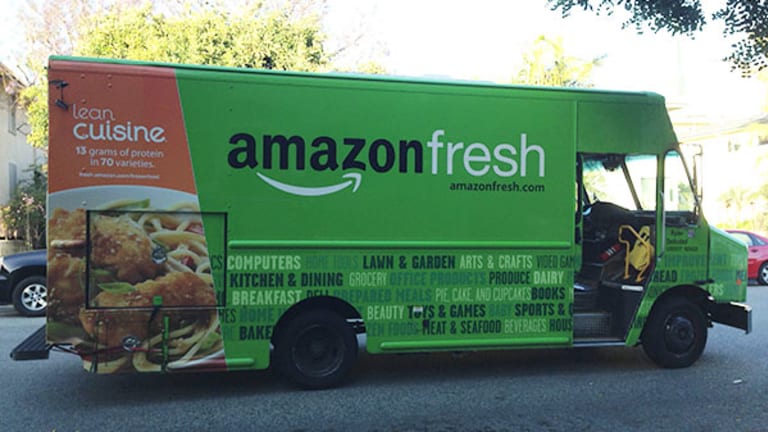 Physical Retailers Still Have No Answer for Amazon
Lost, lame and pathetic -- Sears's model of closing stores and Best Buy's showroom within a showroom concept barely begins to address retail's Amazon.com-induced woes.
NEW YORK (TheStreet) -- I've written quite a bit about the individual and collective woes of physical retailers such as Sears Holdings (SHLD) , J. C. Penney (JCP) - Get J. C. Penney Company, Inc. Report, Best Buy (BBY) - Get Best Buy Co., Inc. Report and Barnes & Noble (BKS) - Get Barnes & Noble, Inc. Report.
As I note in the 2013 version of The Death and Life of Great American Retailers (you can see the 2012 edition HERE), all is not lost at a name like Barnes & Noble. That's not to say the company will make a comeback. It's unlikely, however the potential's there with a wholesale change in attitude and approach.
At a company such as Sears, where redeeming qualities no longer exist, there's probably not even room for optimism. Here's an organization with a leader and, as a result, some rank and file who think the company's on the right track. For goodness sake, the Sears Twitter (TWTR) - Get Twitter, Inc. Report account brushes off talk of flagship store closings with the intelligence-insulting and blissful ignorance of "You can always find us online".
These guys seem to think closing brick and mortar locations and focusing on e-commerce provides a remedy for years of neglect and a butt whipping at the hands of Amazon.com (AMZN) - Get Amazon.com, Inc. Report. It doesn't. That's not the endgame. Not at any of the above or any other struggling physical retailer. But, before we even consider what the endgame might be, we have to establish something that might be more important -- do executives at Sears, JCP, Best Buy and such think they're on the way to executing a not merely acceptable, but profitable and successful endgame? 
Terrifyingly (my spellcheck tells me that's a word), I think they do.
Best Buy's a good example. I reckon management believes its strategy of "be the superstore showroom for all brands" is righteous. And, to a certain extent, I'll cede some ground and say there's at least something to it. Six months to a year ago I would've told you there wasn't any. But I'm willing to budge, particularly when TheStreet's Brian Sozzi thinks there's some merit to what Best Buy's doing. Sozzi's sharp. I often disagree with the guy, but I don't second-guess him. There's nuance in that distinction.
That said, Sozzi still isn't hyper-bullish. And neither am I. In Brian's article, you can get the near-term reasons why he's cautiously optimistic on Best Buy. Here I have to wonder about the endgame again. Exactly how well thought out is it across physical retail, namely at strugglers such as Best Buy.
Consider Amazon. Say what you will about the stock (I remain long-term bullish), but, from a company standpoint, Jeff Bezos has tunneled an unparalleled trajectory of unadulterated greatness at Amazon.
If you think he's making up what Amazon does as he's going along, you're nuts. But there's no doubt in my mind, that's -- relatively speaking -- what's happening at most physical retailers.
At Amazon, there's the initial and ongoing phase of disrupting and redefining retail. This has evolved on a logical roadmap -- from free shipping to fast shipping to two-day delivery to an expanding Prime offering to cloud services for consumers and businesses to Sunday delivery to online video to whatever's next (like drones?). Maybe I got the order wrong and/or left a few things out, but you get the drift.
And the drift is ... everybody else continues to react to Amazon with hastily tossed-together reactionary plans that remain a lot less exciting than what Amazon's doing. It's not nearly enough to do exactly what Amazon does and/or adapt Amazon strategies. But that's exactly what's happening.
"Shop Your Way" at Sears is little more than a poor man's Amazon Prime. It's for old people still afraid to use a real computer. And the Best Buy's "showroom within a showroom" concept is akin to taking how Amazon organizes its online presentation, tweaking it a bit and putting inside the same soulless stores you failed with over the last decade or so.
At some point, somebody's going to come along and be the next Amazon.com. That is ... there'll be a Jeff Bezos or a team of people like the group Howard Schultz assembled at Starbucks (SBUX) - Get Starbucks Corporation Report (you know the folks I was writing about in 2012 who made SBUX's digital mobile platforms the envy of technology companies) who come up with either the next big thing in retail or something different and dynamic enough to finally differentiate from and make inroads against Amazon. If I'm in retail, I'm looking for this person or these people.
As somebody who wants to see retail return to its glory days, I don't think this is happening. It pains me to come to the conclusion (without jumping!) that today's leaders in the brick and mortar space believe they're on the right track, even though it's a track not all that different from the one got them into the mess they're in.
--Written by Rocco Pendola in Santa Monica, Calif.
>>Read More:
Why J. C. Penney's Turnaround Still Isn't Good Enough
Why You Should Blow Off the Retail Sales Report
Yahoo! Is Out of Reasons For Not Paying a Dividend
Rocco Pendola is a full-time columnist for
TheStreet
. He lives in Santa Monica. Disclosure: TheStreet's editorial policy prohibits staff editors, reporters and analysts from holding positions in any individual stocks.