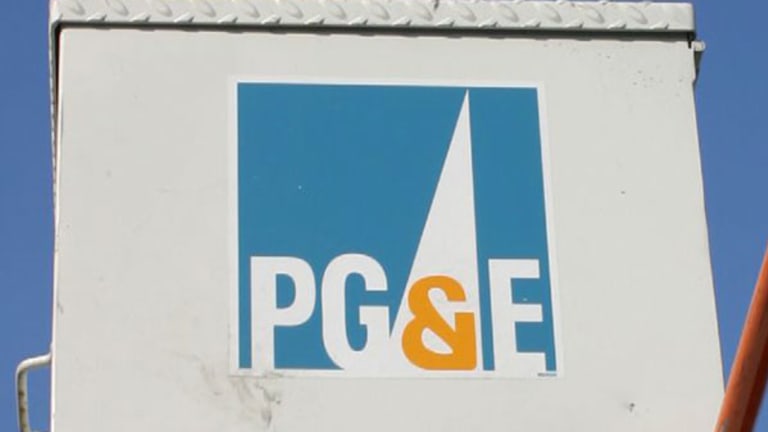 Publish date:
PG&E Can Power Your Portfolio Despite Reduced Earnings Estimates
There is a lot of untapped value in PG&E.
There is a lot of untapped value in PG&E.
Revenue have been hard to come by for PG&E (PCG) - Get Report , one of the largest natural gas and electric utilities in the U.S. Ahead of the company's third-quarter earnings due out before the opening bell Wednesday, it would seem analysts don't expect PG&E's prospects to immediately improve. But things are not as bad they seem.
In just the past 30 days, the average analyst earnings per share (EPS) estimate for the quarter that ended in September has been reduced from 98 cents a share to 96 cents. This is the third time in three months that PG&E, also known as Pacific Gas and Electric, has seen its EPS estimate reduced. Since the start of the quarter, the number had also been cut from $1.34 a share to $1.00 a share. Same goes for the full-year EPS estimate, dropping from $3.46 a share at the start of the quarter to $3.05.
Nonetheless, investors would be better served to ignore the declining estimates and hold these shares for the long term. Shares of PG&E, headquartered in San Francisco, are up about 1% on the year and up 1% in the past six months. PG&E stock has outperformed both the S&P 500 (SPX) index and the iShares U.S. Utilities ETF (IDU) - Get Report . The latter is down more than 6% on the year.
Despite its revenue struggles, the company continues to make money and has beaten Wall Street's earnings estimates in three of the last four quarters. And in the one quarter where it didn't beat estimates, its earnings results matched analysts' expectations. For that matter, in the last two quarters, the company has delivered earnings that has climbed by an average of 46% year over year.
Assuming PG&E does earn $3.05 a share for all of 2015, that would put the company on track to grow earnings in 2016 by about 23% year- over-year, reaching $3.74 a share. And that would amount to roughly four times the earnings growth produced by S&P 500 companies in the past couple of years.
In other words, with shares trading at around $52, below its average analyst 12-month price target of $56, there is a lot of implied value in PG&E, despite the lowered estimates. Its 45.5-cent quarterly dividend yields 3.40% annually -- 1.4 percentage points above the average yield paid out by companies in the S&P 500 Index.
This article is commentary by an independent contributor. At the time of publication, the author held no positions in the stocks mentioned.