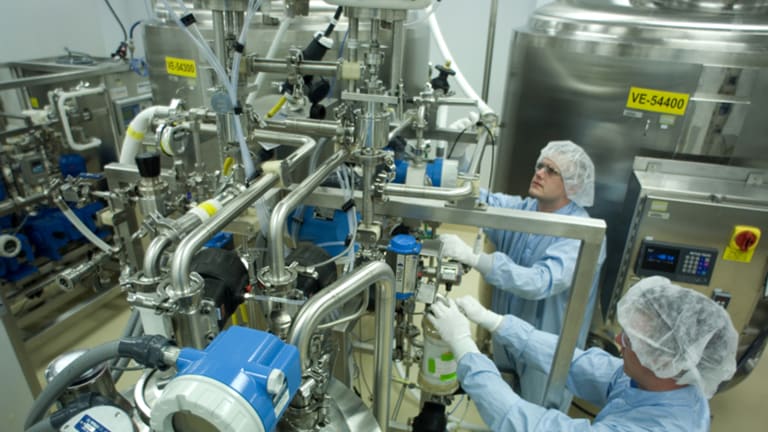 Pfizer vs. Merck -- Which Is the Better Dividend Stock Right Now?
Amid this wildly volatile market, investors may want to turn to safe, conservative big pharma stocks that pay dividends. Which of these two drug giants is the better stock?
Big Pharma stocks Pfizer (PFE) - Get Pfizer Inc. Report  and Merck (MRK) - Get Merck & Co., Inc. (MRK) Report have a combined market capitalization of more than $320 billion, which is greater than the gross domestic product of Israel.
Although that's an interesting piece of information, if you're an income investor, what matters most is dividends. If you know where to look, the market still offers several high-quality dividend-paying stocks.
Let's take an in-depth look at whether Pfizer or Merck is the better income pick. 
Dividend Growth
The dividend yields are fairly similar right now for these two stocks. Pfizer's is 3.96, and Merck's is 3.69. Out of the past 34 years, Pfizer has had 32 years of dividend increases. Over the same 34 years, Merck has had 27 annual dividend increases.
One important difference is the average dividend increase since 2000. While Pfizer's average dividend hikes have been 9.66%, Merck's figure has been much lower, at 3.2%.
Looking at more recent dividend trends, Pfizer has on average increased dividends by 9% each year from 2011 to 2015. Over the same years, Merck's average annual dividend increase has been only 3.5%.
Financials
Pfizer and Merck have massive drug development pipelines as well as rich and diversified portfolios of drugs.
Looking at past performance, Merck's margins are clearly superior. Merck's net margin on a trailing 12-month basis stands at 27.1% compared with 17.5% for Pfizer. Also, Merck's three-year average net income growth of 23.9% leaves Pfizer's -3% far behind.
Their price-to-earnings ratios (based on estimated earnings for the next 12 months) are similar, with Pfizer's at 12.8 and Merck's at 13.3 so one stock is not significantly cheaper than the other. If you look at price/earnings-to-growth ratios based on estimates for the next five years, Pfizer appears somewhat cheaper at 3.26, vs. 3.65 for Merck.
Since cash flow is a major indication of dividend payouts and growth, comparing the two firms on that parameter is essential.
While Merck sports a price-to-cash flow ratio of 20.5, Pfizer looks more attractive, with a price-to-cash flow ratio of less than 13. Both companies have about 50% of debt as cash, but we draw a greater sense of comfort from Pfizer on account of its higher ratio of free cash flow to net income, which is 1.67, vs. 0.44 for Merck.
Stock Performance
While dividend growth is the focus for income investors, it is always prudent to keep an eye on stock prices as major swings in dividend yields could demand attention. The best dividend stocks offer both income and capital appreciation.
Pfizer shares have fallen about 5% over the last year. On average, analysts have a 12-month price target of $39 on the stock, suggesting it could rise about 29% from recent levels. 
Merck shares have lost much more over the past year: 20%. On average, analysts expect the stock to hit a target of $61 in the next 12 months, which suggests shares could rise 24%.
On this count, Pfizer seems on track to deliver better than Merck.
The Verdict
For income investors considering either of the two, Pfizer on balance appears to be a better pick, with higher potential for total returns.
In these days of 1% CDs, it's tough to find a yield worth getting excited about. But did you know you could be investing in a publicly traded, perfectly legal investment loaded with tax breaks and delivering safe, out-of-this-world yields? I'm talking about cash cows that yield 8%, 9% and 10%. And you don't have to be a zillionaire to pull this off. You don't even have to be in a high tax bracket. Find out how you could be getting high yields, explosive growth AND tax-free income today. Click here to learn more.
You see Jim Cramer on TV. Now, see where he invests his money and why Pfizer stock is a core holding of his multimillion-dollar portfolio. Want to be alerted before Jim Cramer buys or sells PFE? Learn more now.
This article is commentary by an independent contributor. At the time of publication, the author held no positions in the stocks mentioned.