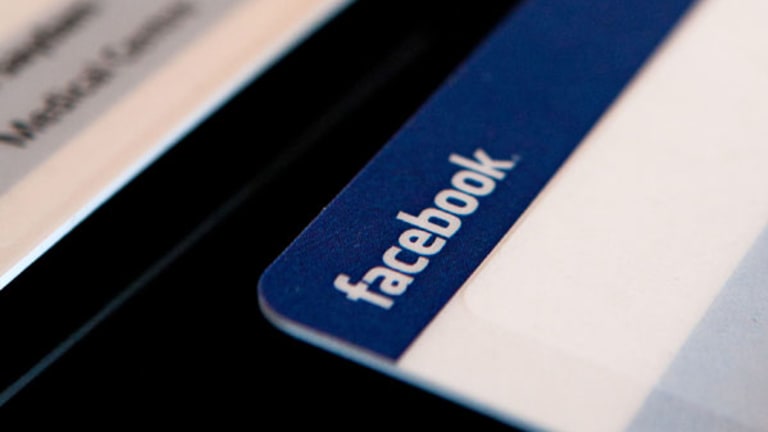 Pfizer, Facebook and AIG Report Earnings but Only Two Are Buys
Earnings season continues at breakneck speed. Don't get caught up in the emotion.
NEW YORK (TheStreet) -- The week of April 29 may not have Apple (AAPL) , and Amazon (AMZN) reporting but it's not without market-moving companies reporting.
I am particularly interested in earnings at one of them,
American International Group
(AIG)
, as I finish reading a captivating book titled "The AIG Story" by
former CEO Hank Greenberg and Lawrence Cunningham
. If you think you know AIG, you don't know the half of it without knowing its history. Greenberg and Cunningham splendidly layout the trials, setbacks and successes of this enormous insurance giant. It's a fun, engrossing read, and if you're an AIG investor you're crazy not to put your hands on a copy.
data by
Pfizer
(PFE)
is an attractive leader in the pharmaceutical space. Pfizer engages in the discovery, development, manufacture, and sale of medicines for people and animals worldwide.
52-Week Range: $21.40 to $31.15
Price To Book: 2.7
I covered Pfizer in several articles, including
"Rising Dividend Stocks That Don't Care About the Fiscal Cliff"
before the beginning of 2013. Since my bullish article, Pfizer's shares increased 20% even after dipping lower Friday as a result of Europe rejecting an arthritis medication. It appears the drop in price was another buying opportunity.
>>Also see: Google Still a Better Bargain Than Baidu >>
Investors are anticipating little to no profit growth in when it reports. Analysts are forecasting per share results below the equivalent quarter last year. The earnings release is planned before the market opens on Tuesday.
The average estimate is currently 56 cents a share, slipping 2 cents (3.4%) from 58 cents during the corresponding quarter last year. Analysts' estimates this quarter range from 52 cents to a high of 63 cents per share.
Analysts as a whole like this company. Currently, Pfizer has 16 buy recommendations out of 21 analysts covering the company, along with four holds and one sell rating. Shares have tremendously appreciated, gaining 32% in the last year, and the average analyst target price for Pfizer is $30.99. Don't be surprised if you begin to see analysts raising their targets above $31 if the earnings report is solid.
The company currently pays a monster 96 cents per share in dividends for a yield of 3.2%. The substantial yield is the primary reason I have steadfastly remained bullish through 2012, and why 2013 has the essentials for a great year to own Pfizer.
There is almost no desire from short sellers to position against this stock. Short interest doesn't even move the needle at only 0.8% of the float.
data by
data by
Facebook
(FB)
Facebook operates as a social networking company. I've been bearish on Facebook since before the IPO. I haven't found a reasonable edge investors can achieve from buying this one.
Sure, Facebook may increase in price; after all, I predict the odds, not the future. Subsequently, after factoring in downside risk I can't suggest buying shares. I'm not implying the Web site isn't great or it's not the best in class from a user point of view. I simply mean we can find lower-hanging fruit that offers a better opportunity.
52-Week Range: $17.55 to $45
Price To Book: 5.3
Expect the upcoming first-quarter earnings report after the market closes on Wednesday. The analysts' consensus earnings assessment is 13 cents a share. Analysts are estimating as low as 10 cents per share, up to the most optimistic estimate of 16 cents per share.
Unlike my pessimistic view, over half of the analysts covering Facebook rate it as a buy or strong buy, 21 of the 37 analysts covering the company give a buy recommendation, 14 analysts rate it a hold and two recommend selling.
>>Also see: Tweet Your Way to the Top: Find a job on Twitter >>
Additionally, Facebook now has nine analysts rating the company as a strong buy, up from eight a month ago. However, the number of analysts rating Facebook a strong buy during the last three months has shifted higher and lower. Overall, if you own Facebook, you may not have my bullish opinion, but at least the major analysts are in favor of the investment idea.
Earnings have been a mixed bag for the stock in the short time since its IPO. Expect a lot of volatility. If you're an investor who wants to sleep at night, look to sell call options before the earnings release as a means to hedge your position. It's also an ideal time to gain the outsized premium.
data by
data by
AIG
(AIG)
AIG engages in the provision of insurance products and services for the commercial, institutional, and individual customers in the United States and internationally. The company operates in three segments: Chartis, SunAmerica Financial Group and Aircraft Leasing.
AIG is forecast to show lower first-quarter earnings after the market closes on Thursday.
The average estimate is currently 86 cents a share, a decline of 79 cents (47.3%) from $1.65 during the equivalent quarter last year. Estimates from analysts range from a low of 75 cents up to the highest estimate of $1.04 per share.
Don't give as much weight to the earnings per share number as the forward guidance. AIG could miss or beat but the stock will act based on where the market believes AIG will be at the end of this year and into next.
I like AIG's stock almost as much as the book Greenberg wrote. The company climbed out of the 2009 abyss, paid back the U.S. government for its financial support during the crash and appears destined to continue appreciating. It's not too late to gain exposure during buying dips (it rarely makes sense to chase any stock higher) for a longer-term investment.
52-Week Range: $27.18 to $42.66
Price To Book: 0.6
Analysts like what they see in the company, with 12 of the 22 analysts covering AIG giving a buy recommendation. Ten analysts rate it a hold and there's not a single sell rating to be found. Overall, analysts have called this one correctly based on the share price during the last 12 months.
The shares have accelerated higher, with a one-year return of 30%. The average analyst target price for AIG is $43.03. Don't become overly surprised to watch the price target exceeded if investors like what they hear on Thursday.
AIG has a rising 60-day moving average trending above a rising 200-day moving average. In other words, the chart is displaying a strong and robust bull trend. Short-sellers are not finding AIG an attractive short with only 1.5% of the float shorted. With short interest so small, we can't expect a short-seller squeeze. But if AIG continues on its current path, the shares will continue higher without one.
AIG Revenue Quarterly data by
At the time of publication the author had no position in any of the stocks mentioned.
This article was written by an independent contributor, separate from TheStreet's regular news coverage.