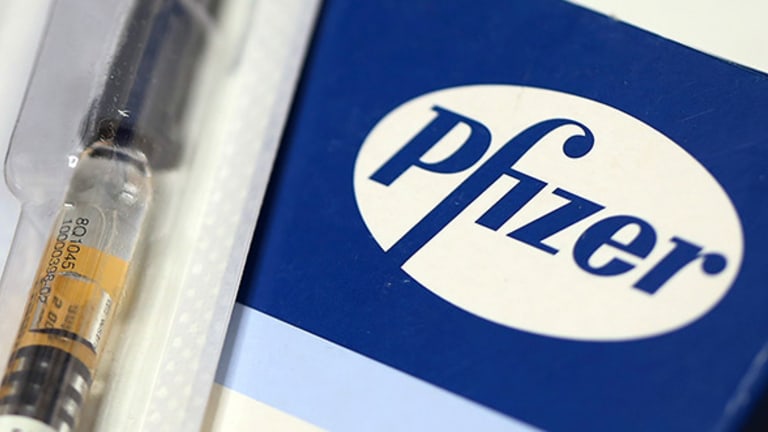 Pfizer-Allergan Deal Is About Tax Inversion, Financial Engineering
By moving its new headquarters to Allergan's Ireland base, the new combined drug giant will likely save billions of dollars in taxes.
This week, Pfizer (PFE) - Get Pfizer Inc. Report and Allergan (AGN) - Get Allergan plc Report announced a $160 billion merger, in which the corporate headquarters of the combined companies will be headquartered at Allergan's Ireland base, even though Pfizer is the larger partner in the transaction.
Why? Taxes.
This deal is a perfect example of something called "corporate inversion." Corporate inversion occurs when a U.S. company acquires a foreign-based firm and then locates the headquarters of the new entity to the foreign-based company's base. The primary rationale for such an arrangement is taxes. The United States has the world's highest corporate tax rate. By locating a headquarters in the other country, the combined companies will lower their tax rate and save billions of dollars.
The Obama Administration raised serious objections about these corporate inversions in the fall of 2014. U.S. Treasury Secretary Jack Lew's opposition in the fall of 2014 slowed the number of corporate inversions that occurred. President Obama called such inversion transactions, "unpatriotic." Some deals in progress, particularly one by Johnson & Johnson, were taken off the table.
It has been some time since the Obama Administration has dabbled in a corporate inversion issue. Some observers have believed that a stronger opposition won't occur unless Congress will gets involved, and that that is unlikely to occur before the next president is sworn in. However, last week, as rumors of new inversion deals spread, the Treasury Department and the Internal Revenue Service presented new rules to further limit the benefits of such transactions.
At first glance, the transaction appears to be a move to lower the tax rate of the combined companies below that of the two companies treated separately. Investors will likely be focusing on this factor. However, there are two other issues to note.
First, financial engineering. Pfizer CEO Ian Read seems interested in creating value in an environment where not much value is being created through organic growth. Such financial engineering falls in the same category as efforts to buy back stock and issue debt to pay higher dividends. The companies will become the world's biggest pharmaceutical giant with combined revenues of approximately $63 billion.
Investors have seen this scenario before during the current economic recovery. A number of companies that have experienced slow growth in recent years have sought mergers that would create larger companies. These larger companies could, in turn, be divided into individual pieces that could be spun off to create more market value. While good, in the short term, for investors, not much real value is being created. 
In Pfizer's case, the discussion has surrounded the division of the company into one unit that focuses on Pfizer's innovative products, a unit that now comprises about 55% of its 2015 revenue. This area had been growing at around 10% a year despite the presence of a strong dollar.
The other unit would be Pfizer's older products areas that carry a lower profit margin, a unit that has declined by about 18% a year. 
The Allergan acquisition will only add to the attractiveness of such a separation. Earlier this year, Pfizer acquired generic drugs manufacturer Hospira. That added value to Pfizer's older products area.
Pfizer management has said that it would decide about a potential separation by the end of 2018. Pfizer has also indicated that it would begin a $5 billion accelerated share buyback program in the first half of 2016.
The second issue involves what's happening in the health care industry.
United HeathCare announced last Thursday that it might withdraw from Obamacare exchanges after reporting losses of around $700 million for the year. "Drug companies, especially midsize companies, have been aggressive at M&A in recent years to build the heft to negotiate strongly with health plans, drug-benefit managers and hospitals over the prices of medicines," said a Wall Street Journal story. 
The point is that the health care industry has been trying to adjust to the passage of the Affordable Care Act of 2010, which has changed incentives, costs and other areas.
It will be interesting to see whether the Treasury Department or the IRS put up roadblocks to this deal. 
This article is commentary by an independent contributor. At the time of publication, the author held no positions in the stocks mentioned.