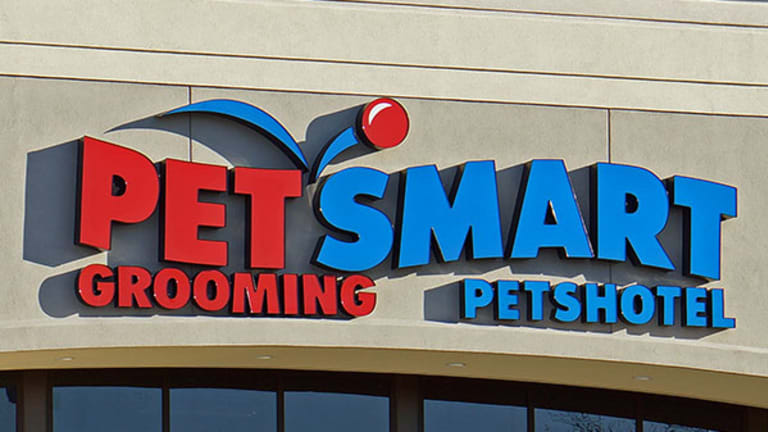 PetSmart Is a 'Heads You Win, Tails You Breakeven' Trade
The stock decline by the specialty retailer after reporting first-quarter earnings is a typical overreaction and the stock is a buy.
The stock decline by the specialty retailer after reporting first-quarter earnings is a typical overreaction and the stock is a buy.
NEW YORK (TheStreet) -- Specialty retailer PetSmart (PETM) is a dividend-paying stock crushed after reporting slower-than-expected first-quarter growth earlier this week. The market is overreacting and I think the stock is a buy.
As a short-seller, I recognize a heavily shorted stock with increasing earnings per share and a growing dividend is no longer a short candidate if it falls below fair value.
Short-sellers have called this one right, but they are also intensely crowded with over 17% of the float shorted. Following the price decline the tide has shifted, and short-sellers are planning their exit strategy.
At around $55.30, PetSmart shares are down 24% for the year to date.
On a typical earnings disappointment, it takes two or three days to fully discount the news and form a new support base. Because the stock market on any given day moves on emotion, it also has a strong tendency to overshoot on the way up, and back down again. It's the reason active traders will buy on the third day looking for the dead-cat bounce.
Petsmart is a Friday and Monday dead-cat bounce candidate for traders, but as I will illustrate, the short thesis is no longer valid based on the current and expected financial metrics. It's why I'm motivated to get long Petsmart at this current attractive level as a trade and for long-term dividend investors.
I posted a Real Money Pro trade alert for active traders including an option play with exact entry, profit target, and stop loss that you may want to consider for a trade right now.
Wall Street focused on declining same-store sales of 0.6%. Considering overall retail weakness and specifically in competitors Walmart (WMT) - Get Report and Target (TGT) - Get Report, I believe the stock decline is a typical overreaction and the stock is a buy.

From a shareholder viewpoint, same-store sales softness is offset by increases in overall revenue generated from an increase in store count and company stock repurchases for a 6.1% net increase in earnings per share.
On its own, growing earnings is clearly positive, but coupled with a thrift-sale discounted forward price-to-earnings ratio of 11.6, a 1.2% dividend yield, a17% payout ratio, positive cash flow, 4.5% year-over-year services growth and the above-mentioned massive short interest makes this stock positioned to appreciate.
Historically, growing companies with P/Es under 20 outperform the general market. In comparison, Walmart's forward P/E is 13.3, Target is 12.6, and online competitor Amazon (AMZN) - Get Report is 92.8. In this retail space, Petsmart is the value buy.
At first glance, the dividend doesn't jump out as remarkable, but the rate of increases and prospects of expansion are. Because per share income is improving and the payout ratio (the amount of profits generated allocated to dividends) is relatively small, investors should expect larger quarterly checks in the mail.
At the start of 2009, the dividend was 3 cents per share. The company increased the dividend every single year since and the dividend is now 19.5 cents per share each quarter. Is the company finished raising the payout? Not likely, based on earnings and each increase creates excitement from new investors.
Turning our attention towards the short interest we are able to reach a few conclusions and assumptions.
First, almost one out of every five shares traded is short. When shorts pile on that thick, they obviously create downward pressure all on their own. In other words, all else being equal, that much short-selling depresses the stock price without the company doing anything wrong.
Second, after reviewing the historic short interest levels, I can see that short interest climbed rapidly into earnings. In fact, at the start of May, short interest was the highest in over a year and would take a full 12 days of average day volume to cover. Think of it like a powder-keg that only requires the fuse to get lit for shorts to blow up.
An upward surprise guidance announcement or another positive development is all it will take. Once started, short squeezes can reach a critical mass that self-feeds itself, lifting shares dramatically higher. A short squeeze isn't required for shorts to exit, though. Diminishing returns and cost to carry the position is enough.
Third, as the stock declines in price, the amount of potential profit declines for short-sellers. Additionally, unlike shareholders who receive a quarterly dividend payment, short-sellers are required to pay a dividend-like payment called "in lieu of" to the owners of the shares they shorted.
Unless short-sellers believe the P/E ratio can fall into single digits at the same time earnings per share are growing, we can expect they will use the recent price decline to bank some profits and buy shares to cover.
For long-term investors, Petsmart appears to be a classic "heads you win, tails you breakeven" proposition. If conditions don't improve, the stock will likely languish at this price level and shareholders will continue collecting a dividend.
I think the disappointment is fully priced in now. As stated above, three days to wash out is the length of time Wall Street expects. However, at the slightest indication the company is returning to stronger growth, or a positive headline event, and $61.74, the low before gapping down will get tested quickly.
I'm confident enough that I initiated a long position into the close on Thursday and added to it Friday morning.
At the time of publication, the author was long Petsmart.
This article represents the opinion of a contributor and not necessarily that of TheStreet or its editorial staff.
>>Read more: Why HP Needs to Cut More Jobs