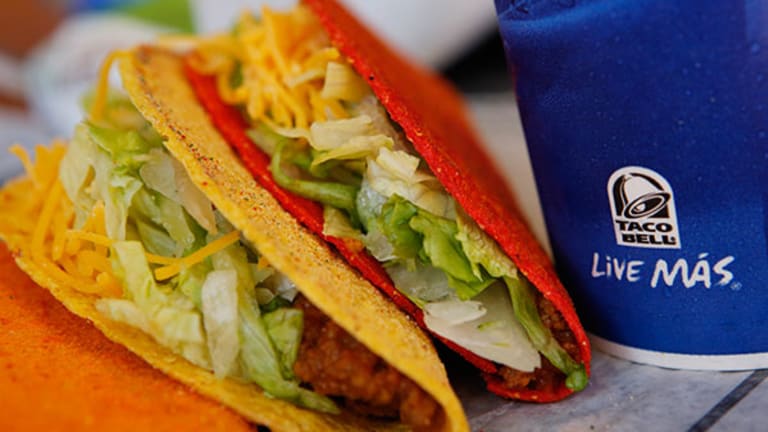 Pepsi Will Pop if Mountain Dew Baja Blast Breaks Out From Taco Bell
Baja Blast could see its decade of exclusivity end at Taco Bell. What does it mean for Pepsi and Taco Bell?
Baja Blast could see its decade of exclusivity end at Taco Bell. What does it mean for Pepsi and Taco Bell?
NEW YORK (TheStreet) -- Since 2004, Taco Bell (YUM) - Get Report restaurants have offered an exclusive Mountain Dew Baja Blast flavor, made by PepsiCo (PEP) - Get Report. In 2012, the company took it a step further with the Baja Blast Freeze.
According to several rumors, Taco Bell's exclusive contract to sell the cult Baja Blast brand is running out. (Pepsi has stayed quiet on the topic.) Pepsi could see a boost in its carbonated beverage sales with a national rollout of the otherwise inaccessible drink.
Pepsi stock closed Thursday at $81.86, down 1.3% year to date and up 6.26% over the past 52 weeks. Yum! Brands, Taco Bell's parent company, closed Thursday at $75.25, down 0.48% YTD and up 7.19% for the past year.
An Instagram picture has set the internet buzzing about a possible launch of Baja Blast in bottles or fountain to the world outside Taco Bell. The pictures suggest a rollout in May of 2014. Pepsi officials refused to comment on the speculation.
Pepsi's silence makes me think this is not just a rumor or hoax.
The popular tropical lime-flavored drink has been a staple to Taco Bell stores for the last decade. The cult favorite Baja Blast -- along with food offerings from Pepsi's Doritos brand -- have likely been a major factor in Taco Bell's increase in same-store sales.
In January, Taco Bell launched exclusive drinks Mountain Dew Sangrita Blast and Diet Mountain Dew Baja Blast, plus several new Pepsi flavors, including Manzanita Sol, Brisk Mango Fiesta, Brisk Iced Tea and Lemonade and SoBe Lifewater Yumberry Pomegranate. With a wider rollout of Baja Blast, Taco Bell could gain traffic by remaining the only source of diet Baja Blast.
Mountain Dew continues to be the gem of Pepsi's beverage division. In 2012, Mountain Dew was one of a handful of carbonated beverages that increased its market share and unit volume. In 2012, Mountain Dew was the fourth-highest selling carbonated beverage in the United States, with a share of 6.8%.
In the battle versus Coca-Cola (KO) - Get Report, Pepsi continues to lag in the carbonated beverage department. Coke's two big brands of Coca-Cola and Diet Coke dominate the market with shares of 17% and 9.4% respectively. Pepsi and Mountain Dew remain in the number three and four spots, with market shares of 8.9% and 6.8%. Coca-Cola also dominates the fountain beverage market with deals from McDonald's (MCD) - Get Report, Subway, and Burger King (BKW) .
Pepsi has deals with Yum! Brands and recently partnered with Buffalo Wild Wings (BWLD) . Perhaps Buffalo Wild Wings will find a way to integrate Baja Blast with alcohol, creating cult cocktails for fans of the drink. 
Pepsi has been increasing its promotional efforts and launching several new beverages. Recently, the company doubled its Kickstart lineup. Kickstart, promoted as a morning energy drink, now has four flavors and advertises as a healthier option than other rivals. The beverage brand, which contains 80 calories per 16 oz., has sold more than $150 million since its launch in 2013.
Investors now have a chance to buy Pepsi shares that have stood still pricewise in 2014. Shares are currently down around 1% in 2014 and have traded in a pretty tight range. Back in 2013, shares of Pepsi increased 20%.
With possible market share increases and a growing snack business, investors would be wise to invest in Pepsi.
At the time of publication, the author held no positions in any of the stocks mentioned.
This article represents the opinion of a contributor and not necessarily that of TheStreet or its editorial staff.