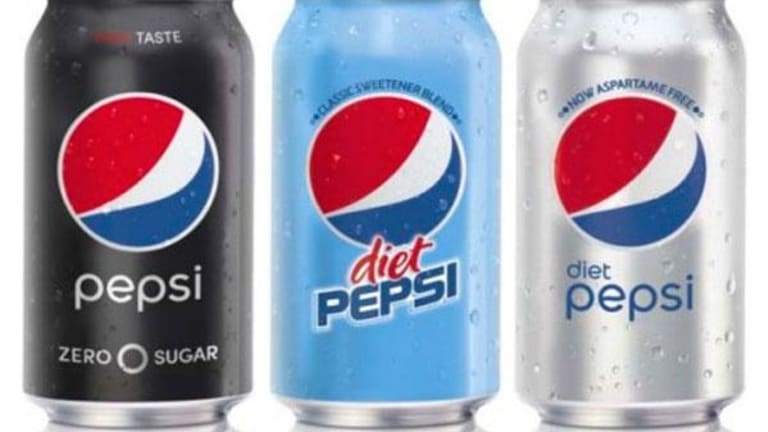 Pepsi Shares May Be Poised for a Pop
The soda giant reports earnings Thursday and investors expect more good news.
The soda giant reports earnings Thursday and investors expect more good news.
Back in February, PepsiCo (PEP) - Get Report finally broke through $100 per share, closing Tuesday at $107.50. PepsiCo reports earnings before the bell on Thursday. Can the stock keep popping?
PepsiCo reported fourth-quarter results in February and the report forced the stock through $100 a share. For the December quarter, PepsiCo posted revenue of $18.59 billion, down 6.8% and earnings of $1.06 per share. Organic revenue grew 4%. Foreign exchange had an 8-point unfavorable impact.
But that wasn't the best part of the story.
Gross margin rose 165 basis points, but operating margins dipped 20 basis points. The dip in operating margin was because the company increased ad spending by 85 basis points. Earlier in the year, Coke Cola (KO) - Get Report  got more rational on pricing and better pricing helped the entire soft drink industry.
While both KO and PEP have been ravaged by foreign currency exchange rates, as well as large exposure to lousy economies like Brazil and Russia, PEP seems to have been able to manage through it. The company also unwound ("deconsolidating") its business in Venezuela, since the country's currency and inflation rate have played havoc with earnings.
On the conference call, management forecast fiscal 2016 earnings of $4.66 versus the consensus of $4.79. The company also said revenue would rise 1% to $63.69 billion and organic revenue would grow 4%, excluding the impact of a 53rd week in the year.
The board of directors felt comfortable enough in the outlook to increase the dividend 7% to $3.01 per share from $2.81. In addition, the company plans to buy back approximately $3 billion worth of shares and calculates the company will have returned over $7 billion to shareholder by the end of fiscal 2016.
All that was good news to PepsiCo shareholders. Investors celebrated by pushing the stock through $100, which had proven to be a tough celling to pierce. With its earnings Thursday, investors are expecting more good news.
PepsiCo is a holding in Jim Cramer'sAction Alerts PLUS Charitable Trust Portfolio. Want to be alerted before Cramer buys or sells PEP? Learn more now.
Looking back, the fourth quarter was the bottom in operating margins. In fact, operating margins have improved four quarters in a row. Better pricing, lower raw material costs, productivity improvements and better organic sales have largely offset an unfavorable mix shift in geographies and currency exchange rates.
Like many food and beverage companies, PepsiCo has focused on cost reduction and stepped up innovation, especially around healthier snacking to help the company meet consumers changing tastes. Management believes "everyday nutrition" is a growth category and is investing aggressively investing to bring new products to market.
PepsiCo is also targeting annual productivity savings of approximately $1 billion through 2019, through increasing automation, implementing global "smart" spending and by leveraging its global capabilities. Annually, PepsiCo spends $53 billion, so it can save a lot of money by tweaking its cost structure. Since 2013, the company "rationalized" 30 manufacturing plants and estimates it saved $3 billion from 2012 to 2014 and can save a total of $5 billion through 2019.
Since 2012, management estimates these changes have added 285 basis points to its core gross margins and 195 basis points to its operating margin, while still spending heavily (110 bps since 2011) on advertising and marketing.
I think investors will largely look through Thursday's results and look towards fiscal 2017 guidance. While the consensus is looking for 2016 revenue to be down about 1% to $62,2 billion, next year analysts are looking for revenue to be up 3.5% to $64.4 billion. Earnings per share are poised to jump 9% to $5.15.
Historically, PEP trades between 22 and 24 times forward estimates. If you assume the stock can trade at the mid point, then it's easy to see the stock trading over $118. Some analysts have price targets as high as $125 per share.
It seems PepsiCo is managing though a very difficult environment, especially when you consider over 44% of revenue comes from outside the United States and the strong U.S. dollar has wrecked the income statement. I think PEP can pop higher over the next year as it finds new ways to drive earnings.
This article is commentary by an independent contributor. At the time of publication, the author held no positions in the stocks mentioned.