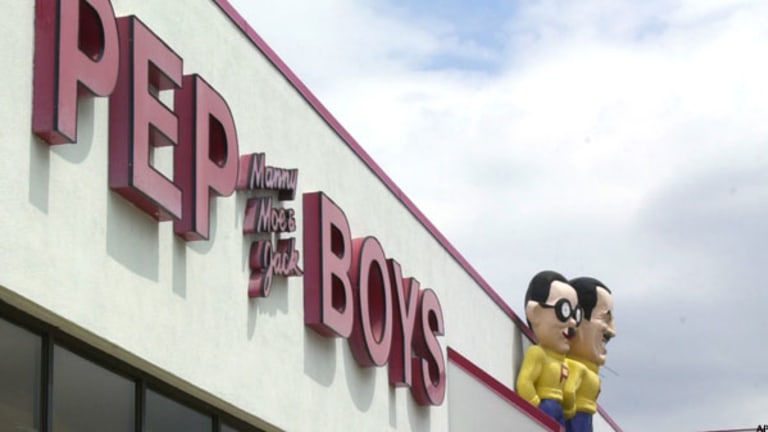 Pep Boys Still Needs a Tune-Up
Pep Boys management hasn't shown it knows what's under the hood.
NEW YORK (TheStreet) -- On more than one occasion, I've raised concerns about what appears to be constant misdirection at Pep Boys (PBY) - Get Prospect Capital Corporation 6.25 % Notes 2018-15.06.28 Report. The company's been leaking oil for as long as I can remember.
But it hasn't always been its fault. Given the lackluster results from rivals
Advance Auto Parts
(AAP) - Get Advance Auto Parts, Inc. Report
and
AutoZone
(AZO) - Get AutoZone, Inc. Report
, it is fair to say Pep Boys, which has been marred with weak same-store sales and eroding margins, has not been alone in its struggles.
I won't deny that after a couple of tune-ups, management had made meaningful progress. But I'm still concerned by the air being sucked out of the company's operating model. Not to mention,
Wal-Mart
(WMT) - Get Walmart Inc. Report
, which has an auto services business of its own, is beginning to encroach more on Pep Boys' merchandise business and its services revenue.
However, with shares of Pep Boys now up more than 22% year to date, the Street assumes the company will eventually get its house in order. But that has always been a big bet. It's not the first time investors have chosen a favorite, even if the business model looks flawed. But Pep Boys, which has become a perpetual turnaround story for 15 years, no longer deserves the type of pass that it has gotten.
Read: Dramatic 48-Hour Shift in Apple Sentiment
After what was another disastrous quarter, during which the company missed on both revenue and earnings, I have to wonder if investors, who have shown incredible faith in this company, are not being taken for a ride. Bulls will likely disagree. Look, I appreciate that the U.S. is still dealing with some economic challenges -- many of which have adversely impacted not only Pep Boys' operation, but that of other retailers.
To that end, as with Wal-Mart and
McDonald's
(MCD) - Get McDonald's Corporation Report
, I'm willing to give Pep Boys the benefit of the doubt, accepting that consumers might have postponed vehicle repairs due to the weak economy. But here's the thing: I said this same thing regarding Pep Boys not only last year, but also
. After Monday's debacle, which included a 9-cents earnings miss and a revenue shortfall, there's no place today for Pep Boys to hide.
What's more, given the fact there continues to be an obvious divergence in the company's service/merchandise model, management should now seek to do what the numbers say should have been done several years ago -- kill merchandise. This is the only way to get Pep Boys back to solid growth. It's costing too much money to compete with Wal-Mart's lower prices.
For instance, while same-store sales did decline again this quarter by 1.3%, the service business still grew -- albeit modestly by 0.2%. The merchandise business, however, declined year-over-year by 1.7%. But when looking at the merchandise business on a GAAP basis, the same-store number is even worse, coming in at decrease of 2.6% year over year.
Read: Understanding Obamacare: 4 Things You Need to Know
Essentially, that part of the business, from which Wal-Mart has been stealing share, is not carrying its weight. I don't believe that management has made it clear how it plans to turn things around and get back the leverage that it needs. Plus, consumers have long complained that Pep Boys stores are, in most cases, in "undesirable locations." I don't know if I necessarily agree with that. But I don't think this is the sort of reputation that serves the interest of sales growth.
To date, I doesn't seem like management has publicly discussed what (if anything) it plans to do about its "locale" status. But after the company's purchase last week of 17 Discount Tire Centers from
AKH Company
, it's clear that Pep Boys certainly "loves L.A." This acquisition, which now brings the total of Pep Boys stores in the U.S. to 750, means that 20% of the stores (150) are now located in California.
If this deal was an answer to Pep Boys' dubious store image, it may work. But given the expectations presumed in the stock price, I will be more impressed if the 17 new stores can help drive better revenue and comps. To the extent this deal can bring better store efficiency and space utilization, it's not out of the question to expect Pep Boys to generate better long-term cash flow. But that's a big if.
As I've said, after so many long battles with failed improvement attempts this is still a company that has been in a perpetual turnaround mode for almost two decades. Management has not shown that it can repair the engine, at least not without an excruciating waiting period. To that end, until there are clearer signs of progress, I can't in good conscience recommend this stock.
At the time of publication, the author held no position in any of the stocks mentioned
.
Follow @saintssense
This article was written by an independent contributor, separate from TheStreet's regular news coverage.
Richard Saintvilus is a co-founder of
where he serves as CEO and editor-in-chief. After 20 years in the IT industry, including 5 years as a high school computer teacher, Saintvilus decided his second act would be as a stock analyst - bringing logic from an investor's point of view. His goal is to remove the complicated aspect of investing and present it to readers in a way that makes sense.
His background in engineering has provided him with strong analytical skills. That, along with 15 years of trading and investing, has given him the tools needed to assess equities and appraise value. Richard is a Warren Buffett disciple who bases investment decisions on the quality of a company's management, growth aspects, return on equity, and price-to-earnings ratio.
His work has been featured on CNBC, Yahoo! Finance, MSN Money, Forbes, Motley Fool and numerous other outlets.
Follow @saintssense