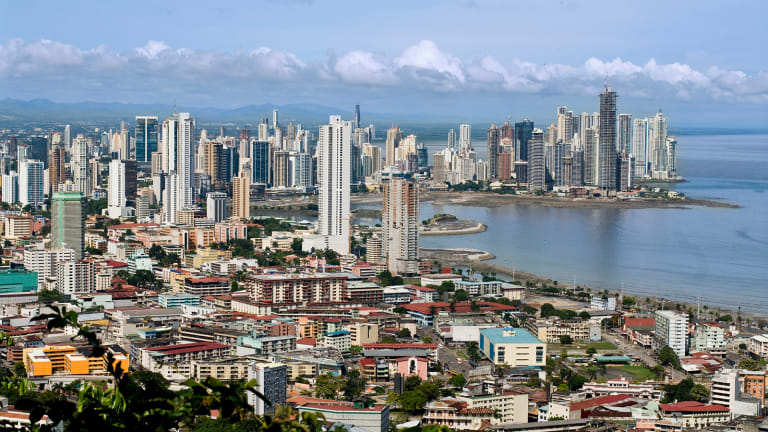 Publish date:
Pedasi, Panama Offers a North Shore Hawaii Lifestyle at an Affordable Price
The Pacific coastal town offers a laid back lifestyle, fresh fish and great waves.
The Pacific coastal town offers a laid back lifestyle, fresh fish and great waves.
Virtually anyone who has ever visited Hawaii asks himself or herself the same question: "How can I live here?"
After what is usually a short investigation, the brutal answer is: You can't. It costs too much.
But you don't have to live on the North Shore to enjoy the same lifestyle at an affordable price. 
In Panama, close to the south-eastern tip of the Azuero Peninsula, on the Pacific Ocean, sits the town of Pedasi with a population of roughly 2,500. Pedasi has one main road, a small plaza, great fishing, fabulous surfing nearby, a relaxed, laid-back attitude, a growing expat population and several large and not-so-large real estate developments.

Cost of Living in Pedasi
Former North Carolinian Jade Wills said you could rent a two-bedroom home for $800 in Pedasi, and a family of two would spend about $400 per month on groceries. Electricity would run about $100 per month, water would cost less than $20 per month and garbage pickup is about $20 per year. "In Pedasi, a couple could definitely live like they did in the States for $2,000 per month, and this would be living well," she said. 
Expanding on the price of food, native Panamanian Manuel Baruco said that Pedasi is a fishing town where "you can buy freshly caught fish for $2 to $3 per pound and you could buy a bottle of beer for 40 cents." 
Wills said that it's easy to live frugally. "You could walk to the beach, which doesn't cost anything, and if you wanted to, you could ride your bicycle around town in order not to have a car, or just because it's pleasant here to ride your bike," she said. 
UK native Alan Stone said that crime is low in Panama but that Pedasi is particularly safe, "It's the small town charm and security of Pedasi where we feel the safest," Stone said. "In this area, crime is almost unheard of and friendly locals always watch out for each other." 
Baruco said that, "Many people don't even lock their doors to their homes or their offices when they leave during the day." He added that, "There is essentially no crime here. When anything at all happens in Pedasi, it is so unusual that it becomes big news." 

Pedasi Weather
Renate Jope was one of the earliest expat residents of the Pedasi area, when she moved from Germany in 1985 to what is now a well-known surfing beach called Playa Venao, about 30 minutes by car from Pedasi. Jope raised her two children there in the early years without electricity. (There are now two higher end resorts on the beach in front of her home and running electricity is not a problem.) 
She said that December is the "nicest month." "The rains have stopped, the trade winds are slowly setting in and everything is still lush, green, and crisp looking. From December until May Pedasi basically gets no precipitation at all. The ocean temperatures rise steadily as the trade winds bring the deeper waters to the surface and, sun, sun, sun, is what you get. Time to build homes, enjoy the beach, and live outside; the climate is perfect." 
Jope said that the rainy season "sets in gently with much anticipated showers here and there, leaving the smell of water seeping into the grounds. The rains get stronger over the months and heaviest rainfalls are in September until November. Then, we're back in December." 


Pedasi Lifestyle and Retirement
The expats in Pedasi are mainly a mix between American and Canadian retirees in their 50s and 60s. But there is a growing group of young entrepreneurs from Europe and Israel, said Isabelle Shahverdian, who is originally from Switzerland, moved to California, and now runs a B & B in Pedasi. She says that they are "people in their thirties and forties who left their economically struggling countries to start a small business and have a more independent and carefree lifestyle here in Pedasi."
Pedasi offers a closeness to the environment and the land. Many of the locals follow a modern Western trend of eating local food in season. Many expats said that there are many food carts called trucks, which is where they do the bulk of their food shopping. Wills said, "the owners of the veggie trucks get their produce from where it's grown in the mountains and sell it in Pedasi. Different veggie trucks appear on different days of the week. You just have to find your favorite one." 
Wills told us that she regularly goes into town and flags down her favorite vendor, or, sometimes, they just stop by her house. "You just have to know when they're coming. It's awesome. You can buy a bag full of groceries from the veggie truck in Pedasi for the week for $10!" 
Pedasi has world-class surfing nearby in Playa Venao, which has held two ISA World Surfing Championships), year round sport fishing, jungles, several good restaurants, quietude, and plenty of other activities, including scuba diving and snorkeling.
However, Pedasi is not for everyone. There is no nearby high-end shopping or larger hospitals, and those craving a cosmopolitan feel will have to travel to Panama City, about 5 hours away by car. 
The "diversions" of Pedasi are mostly natural, low intensity, and most likely social or outdoors. "A typical day in Pedasi would include trying to catch the veggie truck in the morning, making smoothies, a walk on the beach, and taking a yoga class in the afternoon," Wills said. "Maybe later I could catch up with local friends at Smiley's (a local restaurant where expats gather)." 
Wills also said that someone could cycle or "just experience the wildlife while sitting on your front porch listening to different birds. It's just a beautiful place to be." 
Baruco said that Pedasi has a welcoming environment. "Whenever you're here in Pedasi, you feel welcome;" Baruco said. "You feel that you belong to the place. It's a really special feeling. I know I may sound over-dramatic, but I feel that it's a little bit magical here."
This article is commentary by an independent contributor. At the time of publication, the author held no positions in the stocks mentioned.