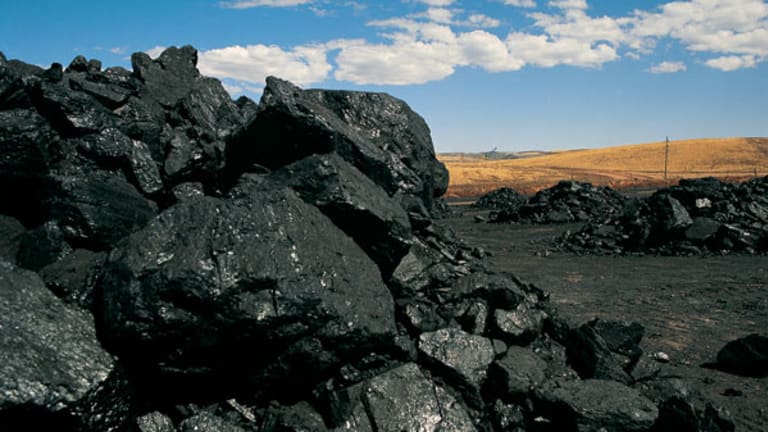 Publish date:
Peabody Energy Running Out of Juice
Until management figures out how to reverse the long-term decline in operating income, investors should avoid this stock.
Until management figures out how to reverse the long-term decline in operating income, investors should avoid this stock.
NEW YORK (The Street) -- With mixed results already in hand from Alpha Natural Resources (ANR) and Cloud Peak Energy (CLD) - Get Report, the Street wasn't expecting a dominant performance from Peabody Energy (BTU) - Get Report, which has long been considered the "coal standard" within an industry that has been ravaged by poor market conditions.
But with Peabody shares having gained as much as 33% over the past three months, investors have begun to appreciate that, despite all of the doom and gloom that surrounds the industry, there's value in this high-quality coal producer. This has now raised questions as to whether new investors are too late to the party. The way I see it, it's a good thing they were never invited.
[Read: Time Warner Cable Sees Rivals Join in Bidding]
While I never believed that Peabody deserved the same treatment as Alpha Natural Resources, which has been down 65% over the past couple of years, it seems premature that the stock is now being priced as if a strong rebound in coal is imminent. While I do believe this industry has already seen the worst, I wouldn't chase this stock just yet. The "easy money" has already been made.
My valuation concerns aside, Peabody's third-quarter earnings results, which produced 13% year-over-year revenue decline, suggests that there may still be some above-average risk here. As with Cloud Peak Energy and Alpha Natural Resources, Peabody's revenue struggles were driven by weak coal prices. And this was even though the company posted a 4% increase in production from the previous year.
Ordinarily, this is the part where I would praise management for "doing more with less." Growing production amid a brutal environment is not easy. However, with operating income falling close to 60% year over year, unlike Cloud Peak Energy, which revealed some positive signs in the quarter, Peabody failed to reveal any silver linings.
Perhaps my expectations were a little higher than most. But this comes from the company's reputation for solid execution. I'm not suggesting that investors who still believe in this name should abandon their shares, but there's no warm and fuzzy feeling following such a significant profit decline. And let's not forget, this was preceded by a 56% decline in the July quarter.
What's more, even on an adjusted basis, earnings per share still came in a penny lower. By contrast, Cloud Peak Energy just posted a 2-cent beat. Essentially, unlike Alpha Natural Resources and to a lesser extent CONSOL Energy (CNX) - Get Report, it doesn't seem as if Peabody was able to take advantage of the slight uptick in the demand for coal and natural gas.
Investors will likely disagree. But we have to now ask if the 33% run-up in the stock, which began in August, was justified. I'm not going to deny that $90 million profit in the July quarter was a pleasant surprise. But the $185 million tax benefit Peabody received during that quarter now makes the results appear much stronger than they really were. I say this with full appreciation of what is said about hindsight.
[Read: 'Tis the Season for Holiday Tablets: A Frugal Buying Guide]
With average prices falling 24%, and the company still struggling with debt from its 2011 acquisition of Macarthur, taking a position here in the stock is just too great of a risk, especially after a 33% jump. Alpha Natural Resources, which I happen to like, is dealing with similar concerns. But unlike Peabody, Alpha Natural stock is trading on low expectations.
While that's not an ideal investment criterion, both companies operate in an environment and market that have low expectations. So why should the prospects for the stock be higher? Even if the market for coal recovers moderately, there's always the risk that stricter government regulations on the horizon will restrict many of these names from reaching the valuation levels they once enjoyed.
If so, Peabody will likely never see $70 per share again. Yes, never. And unless management figures out a way to reverse the continuous decline in operating income, not to mention deleverage the business from debt, Peabody may soon lose both its status as a solid coal producer and its reputation as a worthwhile stock in a risky industry.
At the time of publication, the author held no position in any of the stocks mentioned.
Follow @saintssense
This article was written by an independent contributor, separate from TheStreet's regular news coverage.
Richard Saintvilus is a co-founder of StockSaints.com where he serves as CEO and editor-in-chief. After 20 years in the IT industry, including 5 years as a high school computer teacher, Saintvilus decided his second act would be as a stock analyst - bringing logic from an investor's point of view. His goal is to remove the complicated aspect of investing and present it to readers in a way that makes sense. His background in engineering has provided him with strong analytical skills. That, along with 15 years of trading and investing, has given him the tools needed to assess equities and appraise value. Richard is a Warren Buffett disciple who bases investment decisions on the quality of a company's management, growth aspects, return on equity, and price-to-earnings ratio. His work has been featured on CNBC, Yahoo! Finance, MSN Money, Forbes, Motley Fool and numerous other outlets.