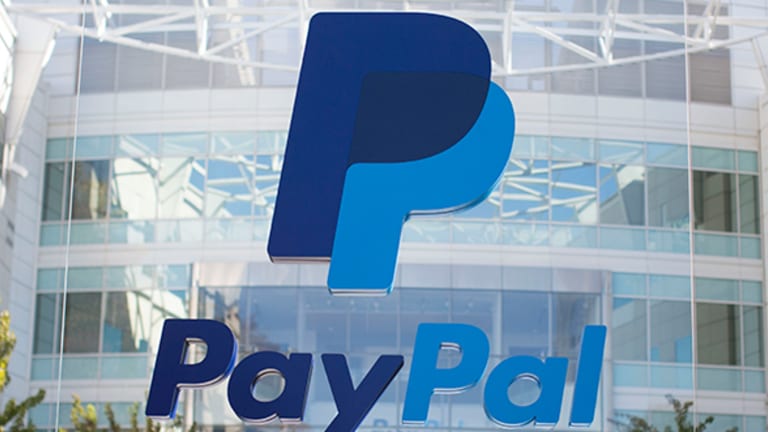 PayPal's Latest Investment Could Yield Big Payoff With Millennials
The payment giant's investment in Acorns may be a drop in the bucket for now, but it has the potential to bring PayPal deeper into financial services.
PayPal's (PYPL) investment in a millennial-focused investment app may be drop in the bucket on its balance sheet, but it has the potential to become something much bigger, analysts say.
Acorns, a micro-investing app, announced Thursday it raised $30 million in Series D financing, including a strategic investment from payments giant PayPal.
PayPal will have a minority stake in the Newport Beach, California-based startup, which allows investors to round up their daily purchases and automatically invest the leftover funds in a portfolio of ETFs. Paypal already owns Venmo, a fast-growing mobile payments platform that's extremely popular among millennials. 
While the investment in Acorn might not have business implications for PayPal now, that could change down the line, said James Cakmak, analyst at Monness, Crespi, Hardt & Co., in a phone interview.
"When you think about the longer-term strategy with Venmo and extending its reach, there would be opportunities to further strengthen ties with millennials through working with Acorns," he said.
PayPal has made no secret of its desire to connect with the highly-coveted millennial market. It acquired Venmo via its $800 million purchase of Braintree in 2013, and launched a similar service, PayPal.me, in September 2015. It has also targeted younger consumers with Easy Payments, which allows them to divide larger purchases into fixed monthly amounts.
Acorns, which says 75% of its users are between the ages of 18 and 34, fits well with PayPal's millennial strategy, said Wedbush analyst Gil Luria in a phone interview.
"It gives them an opportunity to take those Venmo customers and put them into a small-scale savings business," he said.
Luria compared it to Alibaba's (BABA) Alipay in China, which allows consumers' balances to gain interest through money market accounts. While the near-zero interest rate environment currently in place in the U.S. currently means such a scheme wouldn't really be relevant here, something like Acorns, which invests in ETFs, might.
"I actually think it's very interesting," Luria said. "This brings PayPal a little deeper into financial services."
"The move reflects PayPal's ongoing efforts to invest in financial innovation -- in particular mobile -- targeted towards millennials. I like seeing the company take a piece of its multi-billion dollar cash balance and use it to invest in such a technologically-savvy, in-trend and unique business model. PayPal's ecosystem -- which spans from the core app/site to Braintree to Venmo to Paydiant to Xoom -- drives our underlying long-term growth thesis," said Jack Mohr, research director of Jim Cramer's Action Alerts PLUS portfolio, which owns PayPal. 
A spokeswoman for PayPal said the company looks forward to developing its strategic partnership with Acorns and pointed to comments made by Joanna Lambert, vice president of global consumer product and engineering at PayPal, in a statement announcing the deal.
"Acorns and PayPal share a vision of democratizing financial services and offering innovative solutions to help people build financial health," she said. "PayPal is excited to support Acorns as they continue to use mobile technology to innovate in micro-investing, and empower millennials to take charge of their finances."
The investment in Acorns is a way for PayPal to test the waters outside of the payments space and keep a pulse on where the industry is going.
"Financial services is going to be one of the next big industries to see transformative changes, and it doesn't hurt to have more irons in the fire," said Cakmak, who has a neutral rating on the stock, given the competitive landscape surrounding it.
"They've been able to show that they are still a force to be reckoned with when it comes to digital payments and power in e-commerce," he said. "But it's an attractive space. It's attracting a lot of powerful players, including Apple (AAPL) , [Alphabet's] Google (GOOGL) and Amazon (AMZN) , as well as startups like Stripe," he said. "It's really gauging how they can continue to maintain their competitive edge."
Acorns or something like it could help them do it.
"There's a big potential to sell more financial products to [their] customer base," said Luria. "Investment products is a hard addition unless you find something like Acorns which is very small-scale, and its tech focus is very much aimed at digital-native consumers."
PayPal shares have climbed 11% in 2016 and were up 0.15% in mid-day trading on Thursday to $40.14.