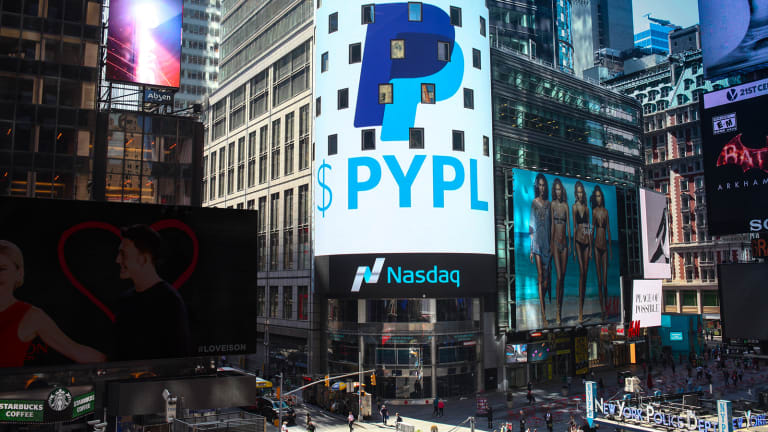 Investors Remember PayPal Has Largest Financial Wallet in the Western World
PayPal shares have managed to shrug off concerns about its relationship with EBay. Here is why.
PayPal's (PYPL) - Get PayPal Holdings Inc Report stock has managed to put some money back into the pockets of investors after an early February rout on concerns over its relationship with EBay (EBAY) - Get eBay Inc. Report .
Shares of the fintech play have rallied about 10% since hitting a low on Feb. 8, slightly out-performing the Nasdaq Composite.
It seems investors have calmed down a bit after eBay announced it will end its agreement with PayPal as its first choice for payments in 2023 in favor of a smaller European competitor called Adyen. The mood on Wall Street is that PayPal will be just fine and that the EBay relationship isn't ending overnight. So why not stay bullish? 
"We believe investor pushback remains relatively consistent, centering on valuation and potential disintermediation and/or loss of market share," writes Credit Suisse analyst Paul Condra. Aside from EBay (which represents an unusual situation), we see little evidence PayPal is losing share and note volume growth has generally exceeded expectations."
Reminds Condra, "We view PayPal as the largest branded financial wallet in the western world."
PayPal's Chief Financial Officer John Rainey continued to be upbeat in an interview with TheStreet after earnings in February. 
Rainey: "I'd lose my mind if I tried to predict what Wall Street does and why. There is a lot of speculation about our announcement as well as eBay's announcement (Wednesday, Jan. 31) and what that means for us. This was completely anticipated as part of the natural evolution of the agreement we had with eBay. This was not unexpected for us. It was planned for in our financial performance and included in our guidance and it does nothing, nothing to change the long-term earnings profile for this business."
Investors appear to agree.