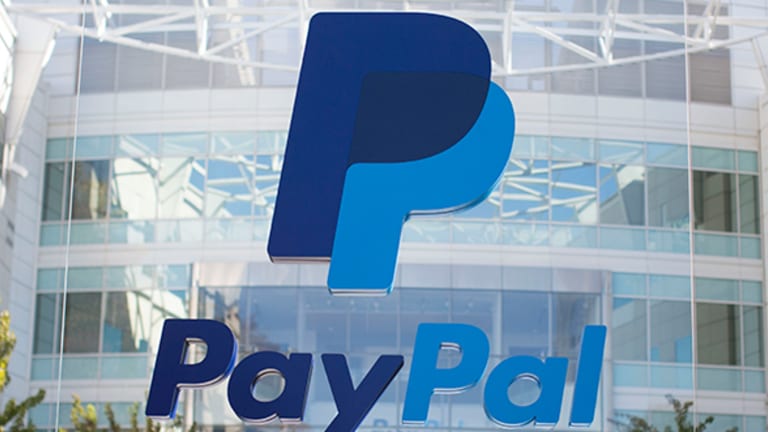 PayPal Is Poised to Outperform Alphabet, Amazon, Netflix in 2016
Looking for the next hot technology stock? Here is why this online payment platform will crush the market and surpass even the most glamorous companies.
Online payments company PayPal Holdings (PYPL) has indeed come a long way, from just an electronic alternative to traditional paper methods to one of the world's largest Internet payment companies with a massive mobile presence. No wonder analysts are crazy about this stock.
For the year to date, it is up more than 7%, outperforming the likes of Alphabet (down more than 3%), Amazon (down more than 13%) and Netflix (down more than 14%). And Netflix still has plenty of momentum left, positioning it to be one of the biggest growth stock winners of the year.
Meanwhile, Apple's Apple Pay isn't capable of taking the wind out of its PayPal's sails, so the recent weakness in the stock presents a smart opportunity to tank up on this exciting payments company.
Some investors may be comfortable buying a stock when it is near its 52-week high, but remember, price has little to do with value. With an anticipated 18.77% earnings-per-share annual growth rate for the next five years, PayPal isn't really trading at 22.24 times expected one-year future earnings.
The stock is trading at a huge discount, and with a price-to-earnings growth ratio of 1.39, PayPal is brimming with robust growth potential and is dirt cheap compared with Amazon and Netflix.
PayPal is a debt-free company, with more than $3 billion in cash, a solid earnings trajectory and a clear plan to dominating its payments landscape. One of the best ways to make money over the long haul is to invest in nimble tech companies with a lock on their market, and PayPal fits the description.
But beyond the numbers, what separates PayPal is the way that it is lining up brick after brick to build its empire.
The company's new carrier partnerships and market expansion plans and the revamp of its mobile application are clear indications of how PayPal is looking at expanding its payments ecosystem.
PayPal literally "owns" desktop usage, and when buying online it possesses an obvious edge over Apple Pay and Samsung Pay because small businesses generally put faith in trust and track record. PayPal's rapid pace of innovation, while safeguarding user experience, has earned it a huge captive user base.
Smaller players such as Squareare minnows in front of PayPal.
What is also appealing about the company is its strategy to acquire and integrate complementary companies, such as Bill Me Later, Braintree & Venmo, Modest, Paydiant and XOOM. That puts PayPal in a position that isn't enjoyed by any of its peers.
PayPal is a strategic partner of social-media providers, business services and e-tailers when it comes to contextual commerce. For instance, Braintree powers Pinterest's buyable button.
Despite increasing sales at a faster clip than MasterCard and Visa, between 2012 and 2015, PayPal at just 5.3 times price-sales was at is at a deep discount to the 11 to 12 times multiples of the two payment biggies.
This discount will narrow as PayPal outperforms on the sales growth front. It is already forecast to ramp up sales by about 15% this year and next.
PayPal should easily double in price over the next two to three years as it improves its profit margins.
You see Jim Cramer on TV. Now, see where he invests his money and why PayPal stock is a core holding of his multimillion-dollar portfolio. Want to be alerted before Jim Cramer buys or sells PYPL? Learn more now.
Don't buy Apple. Buy this technology stock instead: There is a battle raging in the fast-moving world of Silicon Valley. Just as VHS tapes snuffed out Betamax and CDs killed cassettes, the winner of a new "gold standard" for data is about to be crowned. Here is a tiny company that figured out a way to corner this new $10 billion market, no matter who comes out the winner. Click here to learn more.
This article is commentary by an independent contributor. At the time of publication, the author held no positions in the stocks mentioned.