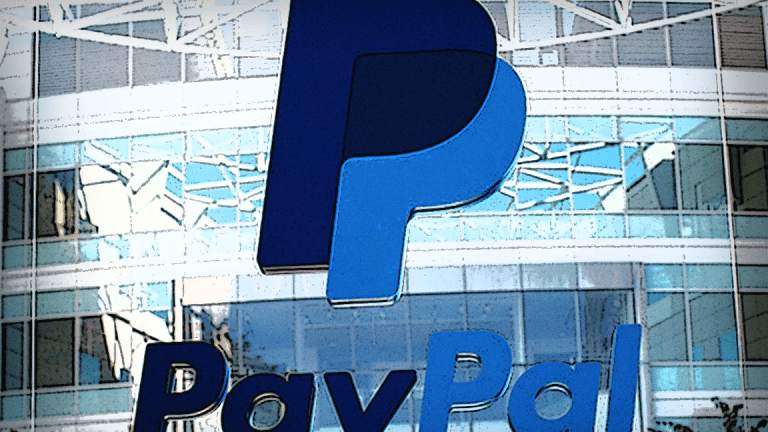 Publish date:
PayPal Strikes Again, Facebook, and AT&T -- 3 Tech Stories You Must Know
PayPal has made another notable acquisition, and AT&T is reportedly looking to do the same. Facebook, meanwhile, appears hungry to grow its ad inventory.
PayPal has made another notable acquisition, and AT&T is reportedly looking to do the same. Facebook, meanwhile, appears hungry to grow its ad inventory.
Here's a look at the implications of three major tech stories in the news on Wednesday:
1. PayPal Buys Payout Service Provider Hyperwallet for $400 Million
As PayPal (PYPL) - Get Report gets set to see a major drop in revenue from one big online marketplace, it's stepping up its effort to get more revenue from others.
On Tuesday afternoon, the online payments giant announced it's doling out $400 million in cash to buy Hyperwallet, which provides a variety of services to help online marketplaces and commerce platforms quickly pay out the consumers and businesses relying on them. The deal is expected to close in Q4.
Though PayPal already offered payout services that relied on its platform, Hyperwallet provides a number of additional payment options, such as to bank accounts, payment cards, checks and cash pickup. It also supports over 200 countries; Expedia  (EXPE) - Get Report is a client, as is Amazon.com's (AMZN) - Get Report Australian marketplace.
Taking stock of the deal, payments vet Tom Noyes observes in his blog that Hyperwallet gives the platforms supporting it a much simpler and more convenient way to handle international commercial payments, which carry gross margins of around 65%, relative to traditional services offered by major banks. Look for PayPal to aggressively promote Hyperwallet to the many marketplaces and commerce platforms that it counts as clients.
News of the deal comes four months after eBay (EBAY) - Get Report , which accounted for 13% of PayPal's Q4 payment volume, announced it plans to gradually shift the majority of its transaction volume to an internal payments solution backed by white-label payment processor Ayden. It also comes a month after PayPal announced it's spending $2.2 billion to buy Sweden-based Square (SQ) - Get Report rival iZetlle, while adding it plans to offer iZettle's services (currently available in just 12 European and Latin American countries) in additional markets.
The company also spent $183 million last year to buy Swift Financial, a provider of working capital for small businesses. As it battles the likes of Apple  (AAPL) - Get Report and Amazon, PayPal clearly isn't shy about using M&A to expand its service lineup and make its platform "stickier" for clients large and small.
2. Facebook Starts Showing Video Ads Within Messenger
Facebook's (FB) - Get Report latest move to grow its ad inventory and monetize its giant messaging platforms is a bold -- and potentially risky -- one. 
On Monday, Facebook began showing autoplay video ads within the Messenger app. Though Messenger monetization remains in its early days, Facebook had already been showing some users non-video ads on Messenger's home tab that look much like news feed ads, and has also begun supporting in-game ads and purchases for its Instant Games platform, which runs on both the core Facebook app and Messenger.
As many others have noted, running autoplay videos within an app that consumers use to chat with Facebook friends -- and in the cases of some Android users, to send traditional text messages -- could annoy many users. However, Facebook told TheStreet that the ads won't automatically play with sound; a user has to engage with the ad for sound to play. Considering how accustomed users are to seeing autoplay video ads on the core Facebook app and elsewhere, that might be enough to avoid a major backlash.
"We will be rolling out [Messenger] video ads gradually and thoughtfully," said a Messenger spokesperson. "People that use Messenger are our top priority and they will remain in control of their experience."
Some context: Video ads carry higher average prices than non-video display ads, and Facebook badly needs to open up new ad inventory as limited supply growth puts upward pressure on news feed ad prices. In Q1, Facebook's ad impressions rose just 8% annually, while its average price per ad rose 39%. While one can question to what degree the companies mentioned in them are reflective of Facebook advertisers overall, reports of advertiser frustration with higher Facebook prices have been growing.
Instagram has been doing a lot to help Facebook grow ad inventory, and given its recent moves, it might be only a matter of time before the same holds true for Messenger. And in light of WhatsApp's recent leadership change, one has to wonder how long it will be before Facebook starts running video ads for WhatsApp Status, its most widely-used Snapchat Stories clone.
Though Facebook's stock isn't as cheap as it was while the Cambridge Analytica uproar was in full swing, a decent case can still be made that Facebook's valuation doesn't yet fully reflect the long-term value of Instagram, Messenger and WhatsApp.
3. AT&T Is Reportedly in Talks to Buy Ad Marketplace AppNexus
It looks like AT&T's (T) - Get Report plans for becoming a digital media giant go beyond acquiring Time Warner.
Just days after AT&T got court approval to buy Time Warner (the deal was closed shortly afterwards), Cheddar reports the telecom giant is in talks to buy AppNexus, the owner of a major independent online ad exchange. It adds that "one person close to AppNexus" says the company, which reportedly filed to go public in 2016 (but never did), likely wouldn't sell for less than $2 billion.
AT&T has made no secret of its wish to use its data and Time Warner's to help deliver targeted video ads to its pay-TV subscribers and more generally to consumers of Time Warner's video content. Buying AppNexus, whose supply-side platform (SSP) for online publishers has emerged as a popular independent alternative to Alphabet/Google's (GOOGL) - Get Report DoubleClick unit, would give those efforts a shot in the arm, given AppNexus's technology assets and advertiser base.
Moreover, adding AT&T and Time Warner's digital inventory to the AppNexus exchange would grow its scale, which could help attract more publishers and ad-buyers.
On the other hand, a sale to AT&T/Time Warner could make some publishers -- especially ones selling video ad inventory -- nervous about how independent AppNexus will remain going forward. It's also worth wondering if AT&T, which already faces the colossal task of integrating Time Warner and continues to see both pay-TV and wireless revenue pressures, is biting off more than it can chew.
PayPal, Facebook, Amazon.com Apple and Alphabet are holdings in Jim Cramer's Action Alerts PLUS member club. Want to be alerted before Jim Cramer buys or sells PYPL, FB, AMZN, AAPL or GOOGL? Learn more now.