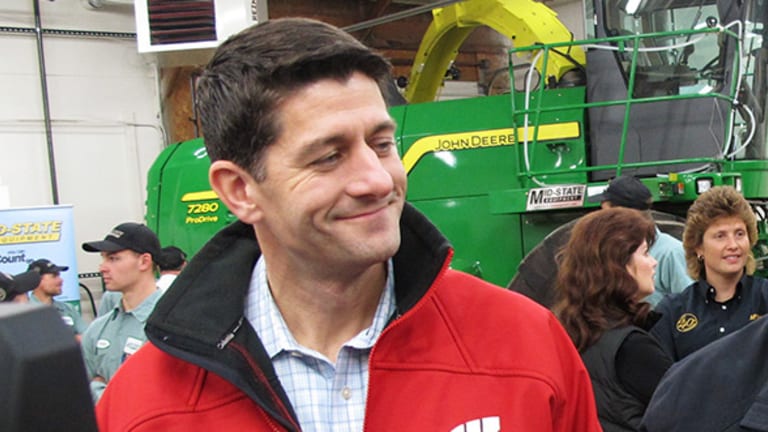 Publish date:
Paul Ryan's Most Important Strength as Speaker Has Nothing to Do with Him Being 'Wisconsin Nice'
The Paul Ryan brand matches the Wisconsin brand: nice. But it is the middleness of his hometown of Janesville, Wisconsin that is most telling of the Speaker of the House.
The Paul Ryan brand matches the Wisconsin brand: nice. But it is the middleness of his hometown of Janesville, Wisconsin that is most telling of the Speaker of the House.
In 2012, Paul Ryan went to a birthday party at a mini-golf course off the highway in Janesville, Wisc. that my aunt and uncle happen to own. His kids were in attendance, and the devoted dad went to hang. So did the Secret Service, because at the time, Ryan was running for vice president on Mitt Romney's Republican ticket.
Thinking back to that day, my aunt summed up her take on the newly elected Speaker of the House. Whether or not you agree with his politics, "he was a nice guy," she said.
But there is more to Ryan than nice.
On a national level, the Paul Ryan brand matches the Wisconsin brand of a polite, quaint disposition. Plenty has been said about the niceness of his hometown of Janesville, too. But they key to understanding the newly elected Speaker of the House isn't rooted in a stereotype of pleasantries -- it is recognizing that, on a local level, his hometown is as middle as it gets. And if anything is going to help him as the newly-inaugurated Speaker of the House, it's that.
The Republican party is now divided between the party establishment, led by outgoing speaker John Boehner, and the upstart tea party, a band of outsiders. Ryan, now caught in the middle, should find this position familiar, having grown up in Janesville.
There are only three cities in Wisconsin with 100,000 people or more -- Milwaukee, Madison and Green Bay -- and just 164 towns in the Badger state that have populations of over 1,000. The rest is farms, schools, churches, cows and bars.
Janesville, population 63,820, is the sort of the monkey in the middle. Not quite the big city, but not Hicksville, either.
I grew up in Edgerton, a small town about 15 miles north of Janesville, that has exactly one stoplight. A New York Times reporter somehow managed to stumble upon my hometown back in 2008 for an article exploring an issue of which most Wisconsinites are already well aware: If there is one thing the Badger state likes more than the Green Bay Packers, it might be alcohol. See our baseball team name: Brewers.
Janesville was pretty much the "big city" growing up, basically because no one's mom would let them take the family car to Madison. As an adult, I recognize that just because a place has a Target does not mean it is a hotbed of urban life.
In Madison and Milwaukee, you can go for Sunday brunch, hit up the farmer's market for organic produce and eat vegan. In rural Wisconsin, you might have your work cut out for you in finding a restaurant, and even if you do, it will more than likely be a local diner or, if you're lucky, a Packers-themed tavern. You may be able to pick up corn from a farmer's stand on the side of the road during the summer. Locally grown? Definitely. Organic? Don't ask.
In Janesville, you won't find truly fancy fare, but you will be able to find a place where the waitress' work tenure isn't forever. Breakfast? You've got Perkins, open 24/7. Date night? There's Olive Garden. And if you want to go local, the HHFFRRRGGH Inn (not a typo -- that is its real name), a place that has charm, but without the pretense of some city establishments. 
When it comes to shopping options, Janesville pales in comparison to the bigger cities, but it beats a lot of the state. Out in the country, buying a pair of underwear is going to entail at least a 20-minute drive.
Target, Walmart and Kmart used to all be conveniently located at the same intersection in Janesville, though today, just Target remains. Walmart has moved to a different part of the city, and Kmart is long gone. Luckily, shoppers have the Janesville Mall, which houses names like Sears, American Eagle and Kohl's. It used to have a J.C. Penney, but the store was shut down along with 32 other locations last year.
Rock Theatre, which closed its doors in 2010, met the same fate. So did the local GM plant back in 2008.
Virtually every town in Wisconsin has at least one big festival at some point during the year, and Janesville's is the Rock County 4-H Fair. An opportunity for the farm kids to come to the city and show their stuff (as in, prize livestock), it also has a carnival, stands and rides. It can draw in some pretty big musical acts, too, especially if you're into country. But boyband NSYNC performed there in 1998, just before they hit it big.
For summer entertainment, the city also offers the Rock Aqua Jays water ski show team and Rotary Gardens (if you have ever been to southern Wisconsin, you know both of those things are a pretty big deal). Palmer Park is a popular destination as well, especially Camden Playground, the city's first handicapped-accessible park that has been there since 1993.
As is the case in any place, in Janesville, there are rifts as to who is more "city" and who is more "country." Students at Craig High School call rival, Parker, "cow-pie high." To Ryan's credit, he went to Craig, and in fact was elected prom king. Now he's been elected king of the House of Representatives.
In interviews, Ryan paints an idealistic picture of the Janesville -- which, to be fair, at this time of the year is gorgeous. "You don't know how great it is until you've been away from it," Ryan said in a 2013 speech delivered at a dinner hosted by Forward Janesville, a local private economic development organization. "The stress of D.C. literally just rolls off of me as I put the miles on and come into town."
And as speaker, Ryan will be under more stress than ever. The fifth-generation Wisconsinite whose Twitter profile up until yesterday read (among other things) "Go Pack," is now third in line to be the President of the United States.
He assumes the position in an environment of extreme Congressional chaos and is already being lambasted by his political foes. And in such a position, it will be Janesville's middleness, not its niceties, that will serve him most in his new role.
In fact, it already has.
It was the 38-member freedom caucus that ultimately pushed John Boehner to suddenly abandon his position as speaker of the house. The group's non-support of front-runner candidate to replace him, Kevin McCarthy, kept him from the job, too. Ryan, by being a more palatable choice to both the freedom caucus and the establishment not only stepped into the unenviable job but was able to extract buy-in before doing so. 
Born in neither the city nor the country, Ryan just might be the right person to bridge the gap between the two.
This article is commentary by an independent contributor. At the time of publication, the author held no positions in the stocks mentioned.