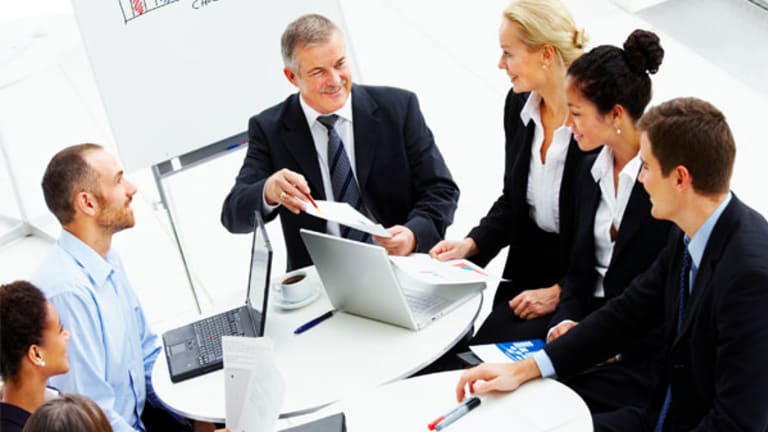 Paul Krugman Declares Depression Defeated: Today's Outrage
Paul Krugman, as the self-appointed referee of the banking bailout, declares that Big Government saved the world.
Paul Krugman, as the self-appointed referee of the banking bailout, declares that Big Government saved the world.
NEW YORK (
) -- Paul Krugman is taking on the self-appointed role of government bailout referee.
Somebody had to. How else would we know whether all this government largesse had done anything more than reward the incompetence of greedy bankers who bilked the economy until it went bust.
In this newly established position, Krugman is throwing up the touchdown signal and declaring victory for the government in averting a repeat of the Great Depression.
Krugman, the Nobel Prize-winning Princeton economist, declared in his
New York Times
column that deficit spending is "actually a good thing right now" and that the trillion-dollar bailout of financial institutions such as
AIG
(AIG) - Get Report
,
Bank of America
(BAC) - Get Report
,
Citigroup
(C) - Get Report
and
Wells Fargo
(WFC) - Get Report
-- coupled with stimulus spending -- helped prevent a recession from turning into a depression.
Everyone can relax now. Banks can go back to lending, companies can go back to hiring and homeowners can go back to paying their mortgages.
Well, not quite.
Krugman goes on to say that the economy is in worse shape than anyone would have thought possible a short time ago and no improvement is in sight -- rather "things are getting worse more slowly."
Don't be confused. Krugman, as the arbiter of Big Government policy success, is trying to show his impartiality by acknowledging that problems remain and the government response hasn't been perfect.
His main point is that "the private sector is the problem, and government is the solution."
Krugman makes a good point about the private sector, in particular the financial services industry. It's hard to defend the lenders and bankers in the wake of the mortgage mayhem they created and the subsequent credit crunch they caused.
I fear, however, that most people are going to gloss over Krugman's underlying message that budget deficits are "a bad thing in normal times."
While I don't consider Krugman to be a very impartial economic referee, I do hope he has enough of an independent streak to throw down a flag if deficit spending continues when normal times return.
Now who's going to determine what normal is?
Glenn Hall is the New York-based Editor in Chief of
TheStreet.com
. Previously, he served as deputy editor and chief innovation officer at
The Orange County Register
and as a news manager at
Bloomberg News
in Frankfurt, Amsterdam and Washington, D.C. As a reporter, he covered business and financial markets, worked in both print and television in the U.S. and Europe, and conducted in-depth investigative coverage at
The Journal-Gazette
in Fort Wayne, Ind. His work also has been published in a variety of newspapers including
The Wall Street Journal
,
The New York Times
and
International Herald Tribune
. Hall received a bachelor's degree in journalism and political science from The Ohio State University and a certificate in project and program management from Boston University.