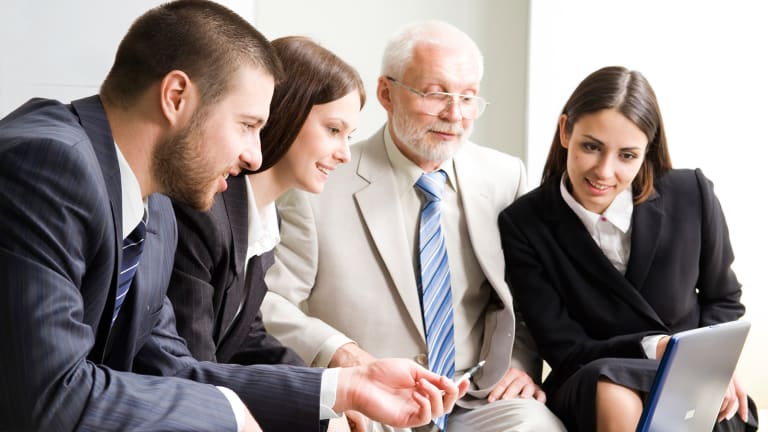 Part-Time Jobs for Retired Americans That Have Perks and Pay Well
Seniors take part-time jobs during retirement to supplement their income, especially if they have been hurt financially by stock market crashes.
NEW YORK (TheStreet) -- Audrey Oquendo is retired but works five hours a day, five days a week as a baby sitter at Metropolitan Hospital in Manhattan in exchange for a monthly stipend, car fare and lunch every day. The 70-year-old former United Nations secretary secured the part time job through the New York's Department of Aging.
"I interact with the children who are patients in the hospital playroom," Oquendo told TheStreet. "I don't have children of my own so this job is fulfilling and I earn just enough to meet my monthly expenses and to take a vacation once in awhile."
Oquendo is among the 22% of retired people who have returned to work in retirement, according to T. Rowe Price.
"Some people are not prepared financially or mentally to retire," said Michael Bivona, a retired CPA and author of the book Retiring? Beware!! Don't Run Out of Money and Don't Become Bored (iUniverse 2014). Some must work because of losses in the stock market.
Like those working in their prime, the best part-time jobs in retirement are the ones that pay the most.
"If retirees look around there are specialty jobs that pay much more than minimum wage," Bivona said in an interview. Those jobs include cruise ship employment, librarian, bookkeeper, virtual assistant and baby sitter.
"Flexible working hours is a common denominator for these jobs," said Bivona. "Taking care of children and traveling around the world in comfort on a cruise ship while earning extra money are certainly desirable part-time occupations."
"Bridge jobs" are full-time positions that become part-time for an employee who is about to retire. Such a transition is common for professionals with computer-, accounting-, legal- and bookkeeping-related experience.
"The future retiree would either stay on a part-time basis doing the same work or in many cases be hire out as a consultant on an hourly pay basis in their field of expertise," Bivona said. "If the organization is a national one with an office in Florida, relocating and staying with the same company can always be a nice option."
Like skilled trade laborers such as electricians, auto mechanics, plumbers and HVAC technicians, even doctors, dentists, accountants, computer specialists and teachers can find part-time work on an on-call or substitute basis.

Popular Web sites for finding work include www.monsterjobs.com, www.aoljobs.com, AARP.com and www.indeed.com. 
"When a retiree has experience that's in demand such as computer, engineering and accounting related experience, negotiating payment terms with a prospective employer is easier," said Bivona. "If a person doesn't have a skill that is in demand then trying to negotiate better terms than those offered by prospective employers becomes difficult."
While the hourly wages of a part-time librarian can run from $8.86 to $23.33 an hour at a school, for example, the true attraction of working as a part-time bookkeeper or virtual assistant is telecommuting.
"There are usually no set hours as these two jobs require getting a certain amount of work done at your own pace with no one looking over your shoulder," Bivona said. "A bonus for both jobs is that retirees don't have to concern themselves with traveling or office politics."
Seniors take part-time jobs during retirement to supplement their income especially if they have been hurt financially by stock market downturns, Bivona added. "There's others who choose part-time work to keep busy, to socialize and to maintain their social and mental acuity," Bivona said.
Whatever the reason, boomer retirees who find themselves working part time offer a special gift to their employers. "It's a way for me to give back to a generation that helped me get where I am today," said 28-year-old Michael Hering, who employs his retired mother Robin. 
This article is commentary by an independent contributor. At the time of publication, the author held no positions in the stocks mentioned.