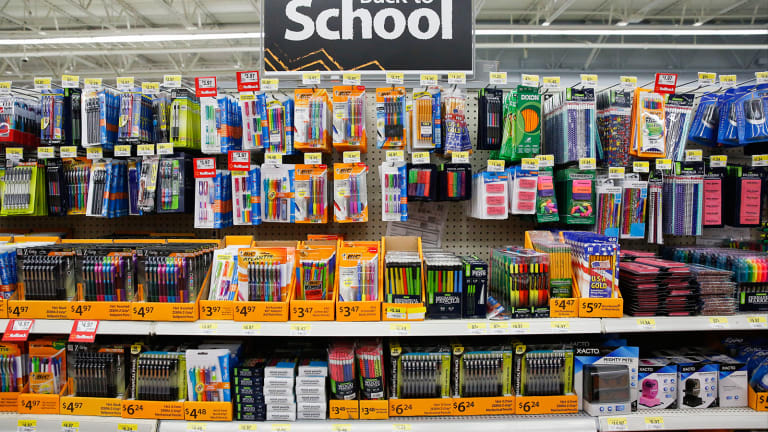 Parents to Spend More In-Store Than Online for Back-to-School Needs
The brick-and-mortar stores are still alive this back-to-school season, according to a new survey.
Brick-and-mortar stores are still alive this back-to-school season, according to a new survey.
On average, parents expect to spend $273 on back-to-school related items in-store and $109 online. The survey's undecided category clocked $106 in spending. That figure is expected to be split between both channels.
"Consumers are using the digital channels to pre-shop -- to find the deals they want," said Lokesh Ohri, a senior manager at Deloitte. "But they still want to go into the store to try the products and finally close the sale."
The survey found parents expect to spend $488 for back-to-school, compared to the $434 they expected to spend last year. About 87% of parents said they plan on spending the same or more than they did last year.
"Consumers are shopping a lot earlier, and the ones who are shopping earlier are spending a lot more," he said, adding that consumers are also spending more money in the electronics category.
When asked how much money parents expect to spend within each category, an average of $456 will be spent on computers and hardware, while $286 will be spent on electronic gadgets, compared to $239 for clothing and $122 for school supplies, according to the Deloitte report.
It's no secret the retail sector has been struggling, with retail stocks in the S&P 500 falling 11% over the past 12 months. But Ohri says there's a huge opportunity for retailers.
"Having deals and promotions available earlier in the season will help them boost their sales," he said.
Ohri also said the use of omni-channels -- that is, in-store, online and mobile -- will also be a boon to revenues.
He says consumers prefer to buy products online and pick them up in-store. According to Ohri, consumers want the ability to find a product through any channel, buy through any channel and receive it at the location of their choice.
Ohri wasn't sure if Amazon (AMZN) - Get Report will be the clear winner in this season's back-to-school frenzy. The online retailers that offer flexible shipping and return policies will likely succeed.
Amazon is a holding in our Growth Seeker's portfolio. Learn more now.