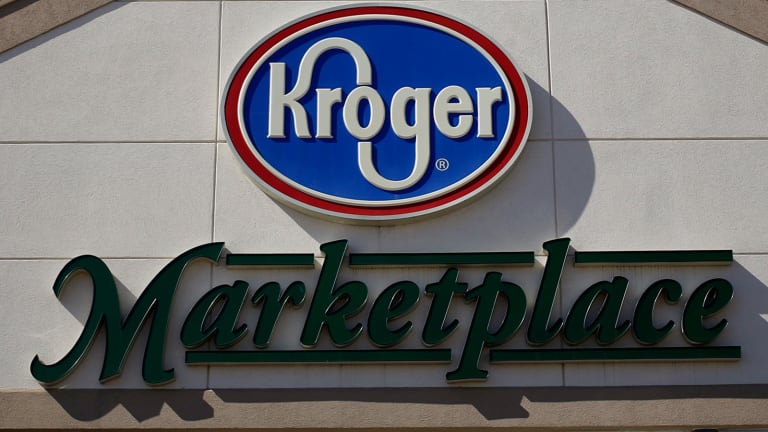 Grocery store chain Kroger (KR) - Get Kroger Co. (KR) Report wants to add another weapon to its arsenal besides just enhancing its selection of organics and assortments of veggies and packaged food.
That weapon? Technology that adds a personal touch back to shopping. "How do I bring back the feeling of having a butcher in grocery stores without having to hire hundreds of butchers?" said 84.51 CIO Yael Cosset in a presentation at the National Retail Federation on Tuesday. 84.51 is a wholly-owned subsidiary of Kroger that focuses on developing new technology that helps personalize one's shopping experience.
For Kroger, which has over 2,600 stores, leveraging the power of technology means the days of mailing out paper circulars and coupons -- long a staple in the grocery business -- may be nearing an end. Kroger estimates that 50% of its customers are still using paper circulars to make shopping lists and clip coupons. 
Kroger's recently updated mobile app allows a shopper to load online coupons directly to its rewards program. Users can create online shopping lists that can be continually updated, as well as view weekly ads and quickly add key items from those ads to a shopping list.
"We are better able to predict your behavior [through this type of technology]," said Kroger vice president of digital Matt Thompson in an interview with TheStreet. Thompson added that Kroger is still in the early stages of using technology to boost sales, and that the company's sales success of the past year-plus is more tied to a focus on offering better products such as organics, as well as more more deals.
"We ultimately want to make things seamless," Thompson said.
Kroger's use of technology to feed its bottom line may only strengthen what has been an impressive stretch of sales for a grocer that dates back to 1883.
Kroger's third quarter marked an astounding 48 consecutive quarters of same-store sales growth. For the quarter, Kroger's same-store sales rose 5.4%, outpacing Whole Foods' (WFM) 0.2% decline. Kroger said it saw an increase in both the number of households shopping at its stores and a lift in the number of visits per household.
All geographies and departments notched same-store sales growth in the quarter, with deli and produce leading the way. Same-store sales from Kroger's natural foods department, where its private label Simple Truth continues to be well-received by consumers, rose by a double-digit percentage, according to the company. Simple Truth set a record high for total sales in the third quarter.
Kroger went on to raise its full year earnings guidance to a range of $2.02 to $2.04 a share, compared to $1.92 to $1.98 a share previously. Same-store sales, excluding sales at over 1,300 fuel stations, are expected to increase 4.0% to 4.5% in the fourth quarter.
Shares of Kroger have gained about 15% in the past year compared to a 7% drop for the S&P 500.