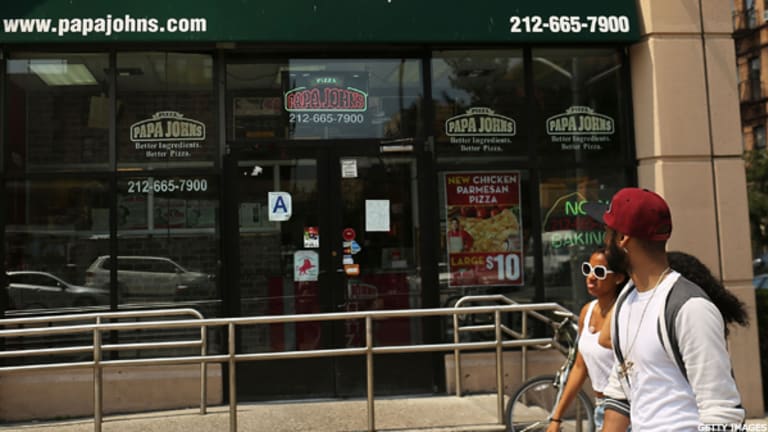 Papa John's Founder, CEO on the Pizza Wars: 'Now We're Back to Our Culture of Tinkering'
The great pizza wars are likely to heat up in 2015. Brian Sozzi talks with the founder and CEO of Papa John's to see what the chain is cooking up.
The great pizza wars are likely to heat up in 2015. Brian Sozzi talks with the founder and CEO of Papa John's to see what the chain is cooking up.
NEW YORK (TheStreet) -- The pizza wars are as hot as ever, and chains like Papa John's (PZZA) - Get Report are trying out different recipes to lure more customers. All indications show that 2015 will be equally competitive. So TheStreet interviewed Papa John's founder and CEO John Schnatter about the future of the pizza business.
"Now we're back to our culture of tinkering," Schnatter said of Papa John's. "We offered a Greek pizza and a spicy pulled pork pizza this summer, and that success has encouraged us to try more."
Papa John's recently launched a limited-time offering in its ultimate meats pizza. The pie features pepperoni and salami, 100% real sausage, Canadian bacon, hickory smoked bacon, and according to Schnatter, an "extra kick of bacon flavor."  Schnatter added, "Our limited-time offers have been popular."
For its part, Domino's Pizza (DPZ) - Get Report launched its specialty chicken offering in mid-April, and has since been playing up its mobile ordering platform and value promotions. On Oct. 6, the company introduced "Dom," a virtual voice-ordering assistant for orders taken on Apple (AAPL) - Get Report devices and Google (GOOG) - Get Report Android devices. It coincided with the start of a two-for-$5.99 promotion.
Not all of the new, heavily-marketed products pan out, however, which is a risk to investors in the companies.
Pizza Hut, owned by Yum! Brands (YUM) - Get Report , is trying to bounce back from a disappointing year for sales and profits. The company plans to "launch further initiatives to drive same-store sales growth beginning in the fourth quarter," said Yum! Brands long-time chairman and CEO David Novak on an Oct. 8 earnings call. He went onto say that "our plan is to launch new advertising positioning, designed to better connect with millennials."
Schnatter expects Papa John's to be the "first brand to reach 50% of total online sales this year in delivery and carryout." About 45% of sales at Domino's Pizza are digitally derived, with Pizza Hut's digital sales mix now over 40% on its delivery and carryout business, after increasing by 5% in the third quarter from the second quarter.
Mobile ordering seeks to capitalize on hungry people walking around with iPhones or Androids. And it makes for buzz-creating headlines. But fast-food and quick-service restaurant chains are all about what's on their menus first and foremost, and they have historically loved to introduce new products to address changing consumer preferences. Think Starbucks (SBUX) - Get Report selling small bites for the happy hour crowd or Dunkin Brands (DNKN) - Get Reportintroducing a steak platform this fall.
The mission with the new products is to add sales volume. The profit margins in fast food are notoriously razor thin, especially during bouts of ingredient inflation.
When asked about the possibility of introducing a breakfast offering in 2015, Schnatter said, "We've gone that route and it wasn't a good fit for us. About five years ago we offered up a breakfast pizza in some test markets." But "there wasn't much of a demand for it so we decided to shelve the idea," said Schnatter.
Other companies are forthright about failed experiments. Domino's Pizza launched its "Failure Is an Option" marketing campaign in April. In its national television advertising, the company pokes fun at its failed Oreo Dessert Pizza launched in 2007.
So how are pizza companies looking to investors?
Papa John's shares are down 11.9% year to date compared to a 9.7% rise for Domino's Pizza and an 8.3% drop for Yum! Brands.
Papa John's has missed the Street's profit forecasts in four consecutive quarters, highlighting the competitive challenges that tend to weigh on profit margins in the fast food sector. With the major chains poised to unwrap even more new products in 2015, likely accompanied by value-based marketing on television and social media, the business of selling pizza won't be getting any easier.
But unlike Domino's Pizza and Pizza Hut, Papa John's has an intangible factor in its favor: a founder continuing to lead the company's menu innovations, television marketing and leadership initiatives.
On the topic of leadership, Schnatter shared, "My leadership style stems from my values and is rooted in a concept I call 'Go Left.' It evolved out of my first year, when I was trying to keep my father's bar open. He had just passed away and I had two choices: mourn his passing sitting at the bar, or finish my work building out the broom closet to the left of the bar area."
Schnatter added, "I made the decision to get back to work on the closet.... I had passion and drive, and from there grew my vision to over 4,500 stores in 30 years."
As for the next generation of entrepreneurs, Schnatter notes that "most of them have the passion." He "just encourages them to maintain that drive, to take risks (to tinker), to surround themselves by equally motivated people, and not be afraid to start small and think big."