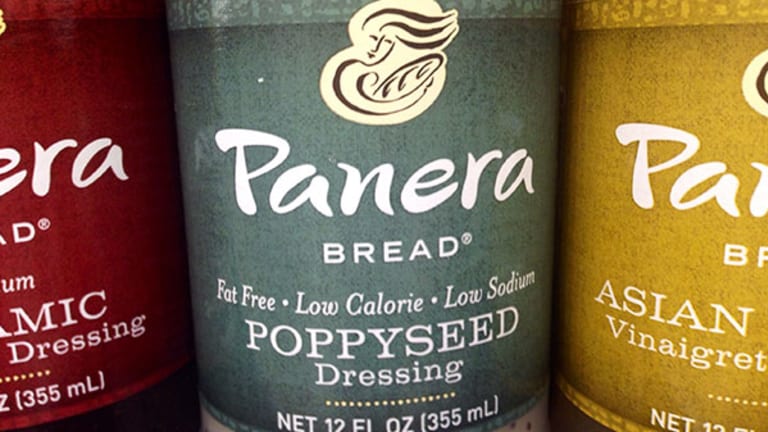 Panera Bread May Be Sitting on a Billion-Dollar Business Rooted in Clean Supermarket Food
Panera Bread waves goodbye to artificial ingredients in its products found on supermarket shelves.
Panera Bread (PNRA) is taking its ongoing mission to eradicate artificial ingredients from its food to a new arena: supermarket aisles. 
The company announced Wednesday that it will remove the remaining artificial flavors, sweeteners, preservatives and colors in its packaged food products found at over 12,000 retail locations and online by the end of this year.
Panera At Home, as the company calls it, has grown to a pretty sizable business for a restaurant chain known for its artisan breads and hearty soups.
Panera's packaged goods portfolio spans 50 products such as a range of salad dressings, soups and breads. According to Panera, its consumer packaged goods business racked up $150 million in sales in 2015, and has been grown at a compound annual growth rate (CAGR) of about 50% over the past three years.
Over time, Panera expects the business to reach $1 billion in sales. 
Saying Panera Bread has a distaste for artificial ingredients may be an understatement. 
In January, the company declared all of its soups as "clean," which is the popular industry buzzword that denotes food free of artificial ingredients. The news came on the heels of an October launch of a clean version of its pumpkin spice latte, featuring real pumpkin. 
By the end of this year, Panera will likely complete the removal of more than 150 ingredients, including artificial colors, flavors, sweeteners and preservatives, that was part of its "No No List" unveiled in 2015.
"From a broader lens, we are in Panera for the long term and would look to the inflection point in earnings to occur next year (15%-20% earnings per share growth targeted), driven by Panera 2.0 [technology] efficiencies, as the reason we remain bullish,"  said TheStreet's Jim Cramer and Jack Mohr, portfolio managers of the Action Alerts PLUS Charitable Trust Portfolio in a recent note.
Exclusive Look Inside:
You see Jim Cramer on TV. Now, see where he invests his money and why Panera Bread is a core holding of his multi-million dollar portfolio. Want to be alerted before Jim Cramer buys or sells PNRA? Learn more now.
Panera isn't the only player in supermarkets and mass merchants such as Walmart (WMT) - Get Walmart Inc. Report looking to clean up its ingredient lists to appease more health conscious shoppers.
Campbell's Soup (CPB) - Get Campbell Soup Company Report plans to remove artificial colors and flavors from nearly all of its North American products by the end of fiscal 2018. Additionally, Campbell's will move away from using high-fructose corn syrup in certain products, including the complete line of Pepperidge Farm fresh breads by the end of fiscal 2017.
About 75% of General Mills' (GIS) - Get General Mills, Inc. Report cereals were free of artificial flavors and colors in January, with the total reaching 90% by the end of 2016. Meanwhile, Kellogg's (K) - Get Kellogg Company Report is on track to discontinue use of artificial ingredients in its cereals and other products by 2018. Right now, half of all cereals produced for North America by Kellogg are made without artificial flavors, while 75% are made without artificial colors.
TheStreet talked with Panera Bread founder and CEO Ron Shaich on the move to clean packaged foods products, and what he is seeing by competitors. What follows is an edited and condensed version of our discussion.
Panera's packaged foods could be found in most grocers across the country. 
TheStreet: When Ron Shaich goes to a grocery store, what do you see going up and down the aisles?
Shaich: Here is the deal. I see a lot of people that I am confused by. I think we all live in this world where there is this lack of clarity on who is really with me, and who is really against me, and who is my ally for wellness and who isn't. I think we are increasingly in a world in which consumers know what's good for them and what they want. Those that have brands that are absolutely clear and consistent all the way across are the ones I am more willing to trust.
The interesting point to make is that when I go into a supermarket, I don't see any of the large food manufacturers -- from Kraft Heinz (KHC) - Get Kraft Heinz Company Report to Campbell's Soup to Nestle to General Mills -- who are taking a comprehensive approach. These guys are picking certain product lines to improve, or certain ingredients such as removing artificial colors but not flavors. What we are trying to say in a world where there is a lot of confusion is that Panera in an absolute sense has removed these ingredients in its cafe and now at retail stores.
I think that's what consumers want, they want clarity.
TheStreet: How do you market "clean" ingredients to consumers, do they even know what it means?
Shaich: You don't even know what clean means right now. If you look at us compared to others in the restaurant and grocery industries, you have a whole bunch of people that are interpreting clean in much more modest ways than we are. We think our responsibility, and that of journalists, is help people understand what clean is really all about.
I think 30 years ago the paradigm of business was selling, it was product advertising -- it was let me convince you to do something. And then 20 to 25 years ago when I first came into business it was about brand management, and the brand being about what created the promise among consumers. For the last five or so years, we have entered a world of brand promises not being relevant, as consumers don't believe any of what they are being told. They want to make their own judgments, they don't want to be told how to feel or what they should do. They want the information so they can decide their relationship with the product.
What Panera is trying to do is to do the doing, to actually not do the screaming and talking. I think this is as strong a position as anybody has out there in the categories in which we compete. And hopefully smart people could make sense of what we are doing.
Panera's clean food mission continues. 
TheStreet:Amazon (AMZN) - Get Amazon.com, Inc. Report is increasingly becoming a player in the grocery business. How are they influencing Panera, your packaged food products are found on the site.
Shaich: I think Amazon is increasingly a powerful, powerful form of distribution. They control e-commerce in many senses of the word. And I think unless you are offering a value added experience at the point of retail in some way or another, Amazon is the path of least resistance.
Smart people will understand they have to work with Amazon as a point of distribution, along with others. But for us, what we are about is the experience that goes with Panera -- and most importantly, what are the values when you are ordering a product that has the Panera name on it.