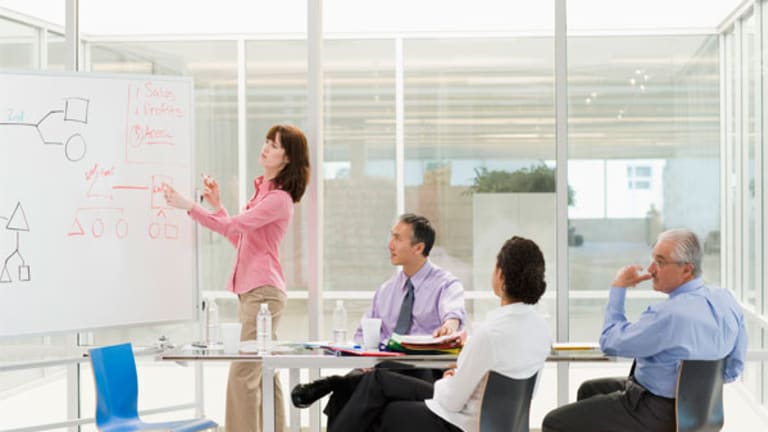 Pandora's Solid Results Could Help Facebook
Both companies unique ability to monetize burgeoning mobile usage make them screaming buys for long-term investors.
NEW YORK (TheStreet) -- Investors continue to turn misconceptions into memes when attempting to discuss the interrelated new media and mobile landscapes.
Pandora's
(P)
first-quarter 2013
results and conference call
should help dispel myths and alleviate concerns over not only Pandora's ability to effectively monetize mobile usage, but
Facebook's
(FB) - Get Meta Platforms Inc. Class A Report
as well. In fact, I expect Pandora to, at least in part, help open the door for Facebook to a considerable number of prospective mobile advertisers.
How Pandora Does Mobile
Pandora Chairman and CEO Joe Kennedy did an excellent job explaining his company's general trajectory, with a focus on mobile.
First, Kennedy discussed two trends the company considers crucial to monetizing its multiple platforms:
Advertisers continuing to shift more of their dollars to the (increasingly mobile) platforms where their customers are; and
Pandora's continued disruption of the radio industry, particularly its aggressive encroachment on the $17 billion in ad sales radio stations across the country collected last year.
Kennedy then detailed four points that provide Pandora with an advantage over radio as well as other types of new media outlets:
It is cross-platform, as in its users listen in desktop and various types of mobile environments;
It can target advertising to users on the basis of age, gender, geographic location and musical taste;
It sells advertising in a medium - radio - where consumers expect to hear it and accept it;
And it has what Kennedy called a "virtual real estate" advantage.
Let's flesh that out, with particular attention focused on mobile.
On average, Pandora listeners interact with the service seven times per hour across platforms. This means that they actively engage the interface to thumb up, thumb down or skip a song more than one time every 10 minutes. Kennedy noted that Pandora only shows users a visual ad after some type of interaction. Simply put, it does not display a visual ad until it has a captive listener.
More on Radio: Will Sirius XM Go Extinct? >>
And, because Pandora provides "auditory" content, it has an unusually large amount of space to display ads. Kennedy contrasts this with other platforms that rely primarily on visual content. In these situations, space for advertising must compete with space for content. He called this expanded "virtual real estate" the "Pandora advantage." Kennedy stressed that because Pandora only "serves video ads" after a user interacts with the platform, it can guarantee advertisers a focused prospect.
I often quote author Haruki Murakami after laying something like this out in such methodical fashion:
If you can't understand it without an explanation, you can't understand it with an explanation
. But, I provided one anyway, because that's my job.
Why Pandora's Mobile Success Could Help Facebook
Kennedy could not talk enough about Pandora's progress and ongoing plans to disrupt radio and capture more and more of the industry's $17 billion advertising market. I am not certain that investors fully comprehend the magnitude of what this company is doing and is about to do to radio sales.
Facebook sells advertising using a pitch similar to the one Kennedy outlined. Specifically, there's no question that any new media destination with an increasing percentage of mobile users is explaining to ad buyers that they need to be where there customers are.
More on Facebook: Keep Hating on Facebook; Long-Term Investors Love Cheap Shares >>
It's quite similar to what has taken place in television over the last year or two. As viewers started to spend more time consuming programming on mobile devices, such as smartphones and tablets, as well as computers, content providers had no choice but to provide more
TV Everywhere
options. Resistance to this shift in consumer preference equals corporate suicide. Viewers expect to be able access television programming on multiple platforms, therefore content owners need to make it available across screens.
Just as content providers could not ignore this phenomenon, advertisers cannot stick with traditional channels if their target customer abandons them. So, simply put, if Pandora and Facebook users are overwhelmingly accessing the platforms via mobile environments, namely on smartphones, advertisers have little choice to make the migration.
To understand this with or without an explanation requires the ability to vision the future. That means seeing the future, to some extent, before it actually happens. Or, as the great Bruce Springsteen said,
We're living in the future and none of this has happened yet
.
If advertisers are hesitant to make the jump to mobile via Facebook, Pandora could help break the ice. It can have it both ways. It can seek any type of advertiser it wants, but it can hyper focus on going after clients who presently spend considerable amounts of money on radio. This simplifies the sales process, as Pandora reps can drill down to the advantages Pandora has over terrestrial radio for advertisers.
Ever since Facebook announced it would go public, we have seen other new media stocks pop by association. Now, with Facebook's post-IPO stumbles, we see other new media tickers (e.g.,
Zynga
(ZNGA) - Get Zynga Inc. Class A Report
) sell off.
By and large, Pandora has bucked the Facebook trend. After Wednesday's strong earnings report, which included increased guidance for the fiscal year, it might be Pandora, not Facebook, that helps investors better understand the opportunity that exists in mobile. At day's end, both companies are perfectly positioned to become leaders in the space.
At the time of publication, the author was long FB and P.