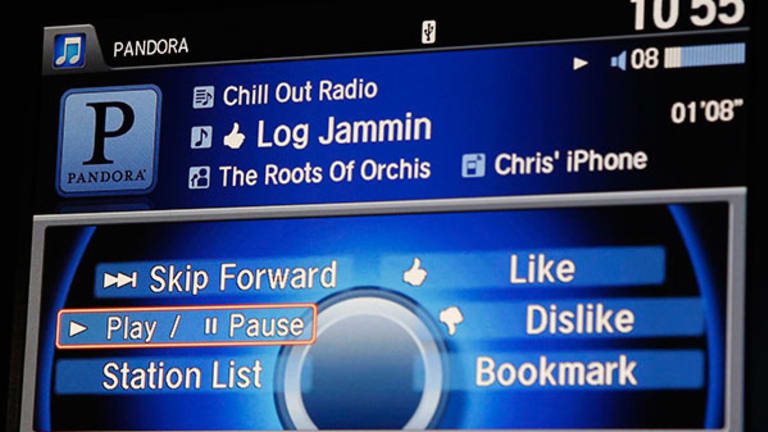 Pandora vs. Spotify: Which Is the Better Investment Option for You?
With Spotify expected to go public in 2015, we compare user growth, financials and valuations of Pandora and Spotify, to find the better investment in pure play online music streaming.
NEW YORK (TheStreet) -- Spotify may be putting off its expected plans to go public in 2015, instead moving to raise $500 million with the help of Goldman Sachs (GS) - Get Free Report , but one day soon retail investors should be able to buy a piece of the music streaming business. Meanwhile, competitor Pandora (P) is already listed with a market cap of about $3.7 billion. Once you have the chance to buy both, which one should you invest in?
Music streaming is a very hot space, with the likes of Apple (AAPL) - Get Free Report, Google (GOOG) - Get Free Report, Twitter (TWTR) - Get Free Report and Amazon (AMZN) - Get Free Report trying to make headway. Spotify and Pandora have carved out niches for themselves with their sole focus on online music streaming.
Spotify vs. Pandora: User Base
There is a subtle difference in the way Spotify and Pandora operate. Spotify is an online music streaming service whereas Pandora is an online radio service. What they have in common is that they're both going after deep music fans, and, for now, Spotify has the edge.
As of November 2014, Pandora is ahead in terms of total users, with 77 million, versus Spotify's monthly active user base of about 50 million.
When it comes to paid subscribers though, the narrative is quite different, and that's what you should focus on as an investor. The Spotify subscriber base of about 12.5 million users is 3.5 times as big as Pandora's subscriber base of 3.5 million.
Due to "licensing constraints," Pandora is available only to listeners in the U.S., Australia and New Zealand. In contrast, Spotify has a presence in 58 countries.
Pandora currently has more users than Spotify, but licensing constraints are bound to hurt scalability, and so, when it comes to users and user growth, Spotify looks more solid.
Spotify vs. Pandora: Revenue Models 
Pandora earns most of its revenue from advertising, whereas Spotify earns most of its revenue from subscription revenue.
Pandora earns about 80% of its revenue from advertising, and about 20% from subscriptions. Spotify on the other hand, earned about 91% of its revenue from subscriptions, and the rest from advertising (as of 2013 -- 2014 numbers are pending). Further, according to Spotify, 80% of its paid users or subscribers started off as free users, and later started paying for the service, a healthy conversion rate.
On the whole, the Spotify revenue model is the more robust one.
Pandora vs. Spotify: Profitability
As is evident from the graph, Spotify has a larger revenue base than Pandora, and yet, it's growing at a faster pace. On the revenue front, Spotify leads the race.
When it comes to profitability, Pandora has hovered around that 5% net loss margin. On the other hand, Spotify, which still loses money, has shown a significant improvement in profitability, with losses shrinking in percentage terms. We would be keen to see if profit margins can improve significantly from current levels. It remains to be seen if margins can improve significantly from here.
Challenges for Spotify and Pandora
Music streaming companies have royalty and licensing costs inherently built into their business models. Spotify pays about 70% of its revenue to music rights holders. So naturally, there's a ceiling on profitability. Can Spotify be profitable? Spotify's 2014 financials are not yet out.
Apart from the high licensing costs, these businesses also have a high dependence on artists. Recently Taylor Swift walked away from Spotify, causing a stir among her fans who are on Spotify. The music licensing agreements, which are opaque and complicated, are controlled by big labels and artists, making music streaming services vulnerable to their whims and fancies.
Pandora vs. Spotify Valuations
It's been a year to forget for those who hold Pandora shares. Since peaking to a 52 week high of $40 a share in March 2014, Pandora now trades around $17 with a market cap of $3.71 billion.
Following its latest round of funding, Spotify valuations stood at $4 billion. At comparable valuations, Spotify definitely looks more attractive of the two companies. However, when Google reportedly tried to acquire Spotify, the company flashed a $10 billion price tag. That was before Spotify grew its subscriber base by an additional 25% in six months. Come the Spotify IPO, that price is headed north, which means it won't be all that attractive anymore in terms of a price-to-sales comparison.
From an investment perspective, watch the pricing of the Spotify IPO. With a better looking subscriber graph and revenue model, if valuations aren't too ambitious, the Spotify IPO could turn out to be a very interesting prospect in 2015.
This article is commentary by an independent contributor. At the time of publication, the author held no positions in the stocks mentioned.