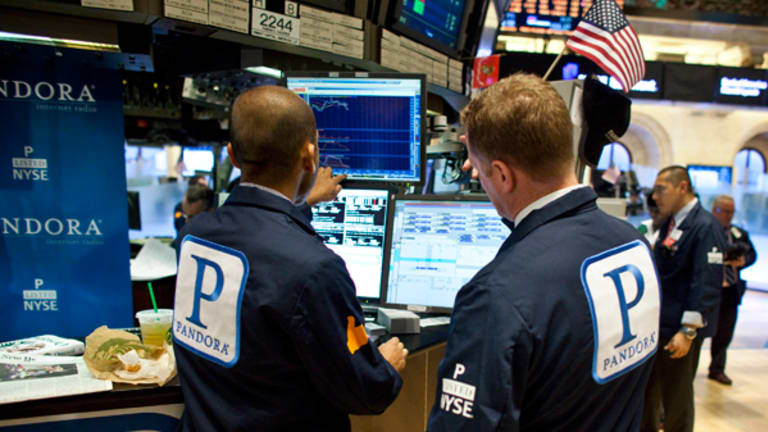 Pandora: The Definitive Look Back and Look Ahead
After a look in the rearview mirror, Rocco Pendola considers what lies ahead for Pandora.
NEW YORK (TheStreet) -- It's interesting, if not dismaying when a music writer, immediately upon release of the most recent Pandora (P) earnings report, pulls the most important piece of information. But that's what Glen Peoples of Billboard did a couple weeks ago when Pandora's Q3 stats hit:
Not one Wall Street analyst or financial media scribe went right to the "royalties accounted for just 48% of revenue" tidbit. As has been the case since Pandora went public, they all flocked to the traditional metrics they're most comfortable with. In the process, they fail to even acknowledge, let alone understand, the story line that matters.
The way royalties have shook out at Pandora speaks to the rest of the story.
At the beginning of 2013, for the period ended Jan. 31, content acquisition costs ($76,695,000) accounted for 61.3% of revenue ($125,089,000). That number increased to 66% three months later and dropped back down to 52% three months after that. At 48% in the most recent quarter, Pandora generated $180,376,000 in revenue, while paying out $86,989,000 in music royalties.
So the raw dollar amount shelled out for content continues to increase, however the percentage of revenue drops because sales continue to increase, led by Pandora's first $100 million mobile revenue quarter. Add to the mix, the moderation of listener hours, as predicted and anticipated by Pandora two years ago and you have the very situation I wrote about two years ago (!), over at Seeking Alpha, playing itself out:
Undoubtedly, the royalties Pandora pays (referred to as "content acquisition" costs) have skyrocketed over the years. For FY 2008, content acquisition costs totaled roughly $6.4 million. For FY 2012 that number increased a whopping 2,223% to about $148.7 million. During the same period revenues soared by approximately 1,819%.
In this analysis, you have to consider the reasons why each number expanded at such a stratospheric pace. You can associate the increased content acquisition expenses with a massive uptick in users and listener hours. Pandora expects those numbers to naturally moderate, which should result in a leveling off of content costs. That said, they'll still eat a more-than-comfortable share of the company's revenue, at least until Pandora can strike new, and more favorable, royalty deals.
The revenue growth coincides with Pandora stepping up its game with relation to advertising and subscription dollars. Between FY 2008 and FY 2012, advertising revenue increased by a stunning 1,702%. Subscription and "other" revenue exploded by 3,391%. It's remarkable to consider the fact that the company is in the infancy stage of its multi-platform audio, video and display advertising efforts. And it has yet to introduce ways to increase subscription revenue outside of the $36 annual fee it charges for an ad-free version of its service.
I wrote that in April 2012.
I referenced Pandora "expect(ing)" users and listener hours "to naturally moderate" pursuant to an interview I published with the company's CFO at the time, Steve Cakebread:
(Pandora) feels that, over time, the number of listeners and hours listened will hit a certain level and sustain, slowing and, ultimately, stopping the growth of royalty payments. As Cakebread put it, they're not going to keep growing to 100% market share.
That's from January 2012. If you were paying attention and doing the work then, nothing that has happened between then and now (or will happen in the future) should come as a surprise. Let the uninformed alarmists make wholly ignorant claims; I -- and presumably you -- have no time for that.
So that's where we were, which leads us to where we are now. But, where does Pandora go from here? The answer exists in an area that, interesting and dismaying in reverse, the music media does a relatively poor job covering.

As an Internet radio platform, I don't expect Pandora to change much, if at all. Nor do I think they should.
Pandora arrived where it is today by focusing, obsessively, on providing the best personalized radio and music discovery experience in the business. Bar none. This tunnel vision has allowed it to absorb real and imagined threats made by everybody from Apple (AAPL) - Get Apple Inc. Report (real) to Twitter (TWTR) - Get Twitter, Inc. Report (imagined). Going forward, Pandora will further refine the listening experience by continuing to harness the power of its Music Genome Project (MGP), an edge nobody, not even Apple, has.
That doesn't mean Pandora will stand still.
Expect Pandora to evolve and improve in two interrelated areas:
Staying true to its core mission of connecting fans with their favorite music (and artists) and vice versa; and
Continuing to grow largely advertising-based revenue by taking dollars from traditional radio budgets and increasing powerful music-related branding opportunities for clients.
This means, for one, more Pandora Presents concerts.
Over the summer, I chided Pandora for not doing enough of these shows that, simply stated, bring advertisers on board to sponsor concerts by musicians of all sizes. By October, I lauded the company's stepped-up Pandora Presents efforts. Obviously, somebody, somewhere was listening.
Check out the links in the previous paragraph for details on how Pandora fine grains the concert experience, nearly from soup to nuts, for client, performer and listener like nobody else can.
You can't underestimate the power of these shows. The MGP makes them possible. Pandora's targeting abilities ensure everybody along the food chain gets paid. It's a remarkable and replicable process that will help drive advertising revenue beyond the media's obsession with how many traditional commercial "spots" Pandora plays per hour.
In the above-linked article, I discuss a General Motors (GM) - Get General Motors Company Report-sponsored Pandora Presents show in Los Angeles with local act the Mowgli's.
What's stopping Pandora from turning that ad buy into a five-show stop with the band? If GM can get in front of a targeted, captive and happy audience in LA, why not duplicate it in New York, Austin, Nashville, Portland or any other place where the Mowgli's or another band have a following?
Because, based on its treasure drove of real-time dynamic data, Pandora knows everything it needs to know -- and more -- about the where, when, why and how of the Mowgli's and other bands' followings. I have seen the artist dashboard that collects and organizes this data. It's the real deal. A difference maker in a music industry still holding out false and feeble hopes that digital downloads have not gone the way of physical sales.
There's no reason why Pandora should -- or will -- stop at merely putting on concerts that get advertisers in front of the demos they want and connecting listeners with their favorite bands and vice versa. They can take ownership of other parts of the process ranging from promotion and ticket sales. That's why it's a no-brainer, as I wrote in early October, for Pandora to combine forces with Ticketmaster-killing Ticketfly.

I provide just one illustration of how Pandora's future might turn. No matter how things play out, the key takeaway is that, contrary to popular (ignorant, reactionary and false) belief, Pandora absolutely has a future beyond how the royalty situation resolves itself (or doesn't) in Congress and elsewhere.
Maintain focus on the MGP, the people who continue to improve that technology and, most importantly, the salesforce that, for all intents and purposes, sells the MGP to advertisers.
Many of these people come from terrestrial radio. They come from places such as Clear Channel. And they have relationships with clients who already and will continue to move more of their money to Internet radio and other digital and mobile platforms, rendering broadcast radio, as we know it, an afterthought.
That's the story that has been playing itself out since Pandora went public. The company didn't open sales offices across the nation just to blow IPO cash. They built, and continue to build, the necessary sales infrastructure to use the MGP to its fullest potential, both to generate revenue to make investors happy and to best serve Pandora's righteous social mission. One that nobody, including Apple, has any inclination or need to serve.
Pandora continues to expand. When I first visited the company's Oakland headquarters a couple of years ago they occupied one floor and part of a second. Now they have more than doubled their Oakland real estate across two buildings in side-by-side downtown skyscrapers. At the same time, Pandora outgrew its Union Square digs in Manhattan. Again, they're not getting bigger because that's what tech companies do; they're doing it because the opportunity in front of them is that big.
And nobody in the space is in the position to seize that opportunity. In fact, when you drill down to what Pandora actually does -- personalized radio, music discovery, advertiser-backed Pandora Presents shows, artist data, selling advertising and marketing opportunities to brands -- you realize, contrary to media-driven misinformation, that, actually, nobody else does exactly what Pandora has been doing and continues to do. Not even close.
As an investor -- or just somebody who likes a good story -- isn't that what you look for in a company?
Prime position in the middle of opportunity that has barely even begun to emerge.
--Written by Rocco Pendola in Santa Monica, Calif.
Rocco Pendola is a columnist for
TheStreet
. Pendola makes frequent appearances on national television networks such as
CNN
and
CNBC
as well as
TheStreet TV
. Whenever possible, Pendola uses hockey, Springsteen or Southern California references in his work. He lives in Santa Monica.