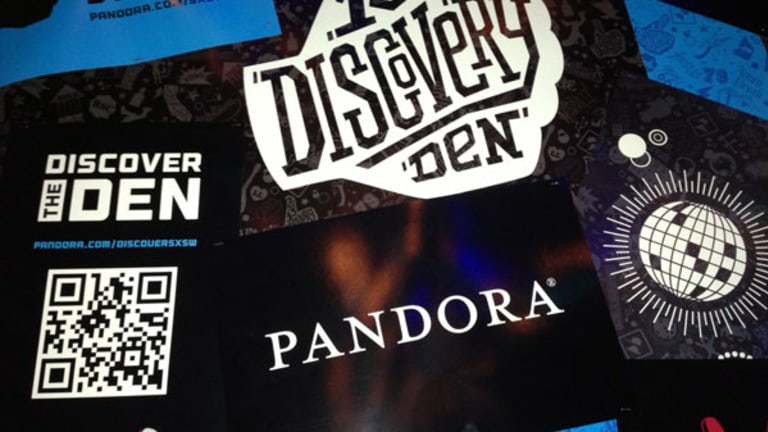 Pandora Steps Up Its Game in a Big Way
The Internet radio leader signs a major act to its personalized concert series, opening the next chapter in its bullish long-term story.
NEW YORK (TheStreet) -- I expected more fromPandora (P) :
From what I understand, Pandora will do more Pandora Presents type events like it did with Walk The Moon. I'm just not sure what they're waiting for. While I understand they do not have to worry much about a competitor doing the same thing -- nobody, other than Clear Channel, has the scale of Pandora -- it's time to strike while the iron is hot.
And the company has come through.
While it was non-specific and off-the-record, several Pandora insiders told me to not only expect more but something big. And, regardless of how you feel about the artist in question, this qualifies as big:
Celine Dion has announced a very special New York City engagement later this month with Pandora ... Pandora will present an intimate evening with the multi-platinum-selling and five-time Grammy Award-winning musical icon as the latest performer for Pandora Presents, the company's series of live, personalized concerts. The performance will be brought to passionate fans that have added a Celine Dion station on Pandora, are located in the New York Tri-State Area and are age 21 and over. The special event will be free of charge and will take place on October 29 at the Edison Ballroom.
... To date, the series has taken place in a variety of cities across the country. Pandora has the unique ability to determine the artist for each city by analyzing the musical preferences of local listeners, such as stations they have created and songs they have thumbed-up. Invitations to the events are then extended to a group of Pandora listeners who have demonstrated an affinity for the identified artist and in some cases, similar artists as well, for an added element of music discovery.
Big names such as Celine Dion help raise Pandora's profile. And a musician like Dion, past the pinnacle of her epic career, gets a much-needed boost ahead of a record launch. But this isn't about signing well-known acts to the Pandora Presents series. It's about Pandora differentiating itself from others in Internet radio on factors such as scale, which gives it the ability to, and core mission, which provides the desire to put these shows on with artists you may have never heard of.
To this end, Pandora can generate just as much excitement among segments of its fan base -- and sign advertisers such as General Motors (GM) - Get General Motors Company Report in the process -- by doing free concerts with lesser-known local bands such as LA's the Mowgli's.
I had never heard of the Mowgli's before Pandora invited me to a Pandora Presents show it put on with the group a few weeks ago in Silverlake, an iconic neighborhood just east of Hollywood known for its indie rock roots. GM's Chevrolet brand was there, showing off its fuel-efficient fleet of cars to the demographic it asked Pandora to bring out.
This approach not only helps build brand affinity for Chevrolet, it helps Pandora further connect with its audience. It's nothing short of cool to get an exclusive invitation to what feels like a secret show to a band you listen to consistently and/or love while downing unlimited free drinks in the process.
Everybody wins -- Pandora, music listener, music industry, the label, the band, the advertiser (in this case, the massive General Motors).
The more Pandora does this -- and the more it partners with startupsthat help artists make money and brands advertise outside of traditional models -- the faster holdouts in the music industrial complex will view it, and streaming as a whole, as friend not foe. This will help take the emphasis off of royalties, quite possibly ease Pandora's cost structure and, thereby, help the stock not only live up to its valuation, but continue heading higher.
That said, it's a volatile number to own right now, despite its recent outperformance. Any perceived dent in the next few months from Apple's (AAPL) - Get Apple Inc. ReportiTunes Radio will knock Pandora back.
I don't give stock advice all that often. However, I called this one well ahead of it tripling from single-digit lows. Investors will misread Apple's iTunes Radio gains, which I expect to come, and Pandora's moderated growth, which I also expect to continue, for trouble. But again, they're missing the real story, the next chapter in Pandora's evolution just as they did with mobile advertising and such. They are missing Pandora's ability to change the music industry and open up new lines of revenue for itself, its partners, particularly artists of all sizes, and sign advertisers to deals that focus on key local markets and demographics.
So, if I could own Pandora (TheStreet's insider trading policy prevents me from owning individual stocks) and I had profits on paper, I would sell now, wait for the inevitable Apple-related dips and buy modest amounts on any dives below $20 a share. If it never gets that low, who cares? You're much better off having played it conservative, taken profits and protected yourself so you can live to fight another day.
--Written by Rocco Pendola in Santa Monica, Calif.
Rocco Pendola is a columnist and
TheStreet's
Director of Social Media. Pendola makes frequent appearances on national television networks such as
CNN
and
CNBC
as well as
TheStreet TV
. Whenever possible, Pendola uses hockey, Springsteen or Southern California references in his work. He lives in Santa Monica.